Clean-energy summit engages multiple topics
September 7, 2010 - 1:28 pm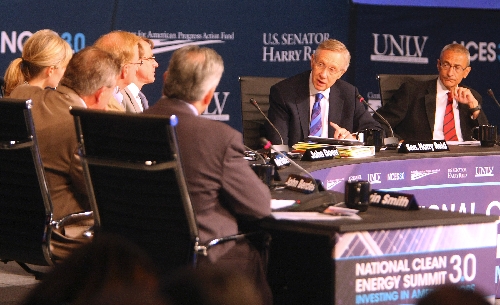 To a state buffeted by nation-leading joblessness, Gradient Resources has brought welcome news.
In relocating its headquarters from Oregon to Reno in August, the geothermal-power developer plans to hire 100 full-time professional workers, including engineers, accountants and scientists. What's more, it will employ roughly 1,000 construction workers in the Silver State to build geothermal projects here in the next five years, and its plants will require 100 operating employees after completion.
At Tuesday's National Clean Energy Summit 3.0, roughly 30 policymakers, environmental advocates, energy executives and private investors met at the University of Nevada, Las Vegas to discuss generating more such success stories.
The summit, organized by Senate Majority Leader Harry Reid, D-Nev., focused on practical strategies and solutions to lasso the power of renewable energy as a force for job creation in the Silver State.
The afternoon session emphasized specific progress the renewables sector has made in Nevada.
Craig Mataczynski, Gradient's chief executive officer, said his company had to transport drilling workers from Oklahoma and Louisiana when it began exploring here about two years ago, because Nevada didn't have workers trained in the necessary technologies. But a program to train workers through Western Nevada College now allows Gradient to hire more than 50 percent of employees on its Nevada projects from the state's labor markets.
Other panelists agreed that Nevada is ripe for a transformation into a national renewable-energy force.
But "serious" job formation in the green-energy sector can't happen without a strong push into manufacturing of materials for renewable projects, said Matt Crosson, president and chief executive officer of the Las Vegas Chamber of Commerce.
And that's starting to happen, noted Jaime Cruz, a programs manager for local labor-development agency Workforce Connections. The state's renewables industry hasn't even begun to replace all of Nevada's lost construction jobs, Cruz acknowledged, but there is progress, including Amonex's solar-panel manufacturing plant, which could ultimately employ 300 in North Las Vegas. Lawmakers and business leaders are also in talks to lure a big wind-turbine manufacturing and assembly facility that could employ as many as 1,000 workers in Southern Nevada, Cruz said.
Still, it's not enough to create jobs, said panelist Danny Thompson, executive secretary and treasurer of the Nevada chapter of the AFL-CIO.
"We have to ensure we hire Nevada contractors and businesses who in turn hire Nevada workers," Thompson said.
Thompson said his group is especially eager to see construction begin on the One Nevada Transmission Line, a joint project of electric utility NV Energy and transmission developer LS Power. ON Line will employ about 400 workers at peak construction. It's scheduled to break ground in November.
The AFL-CIO is looking at current bidding laws and bidders' preference regulations to determine how it can help Nevada companies benefit from renewables construction. The labor group also plans to be active in "ensuring (renewable) manufacturing jobs are well-paying, decent jobs with good benefits, so that employees don't become wards of the state," Thompson said.
Panels and keynotes earlier in the day revolved around national and global efforts to boost demand for renewables and link capital to clean-energy projects.
Reid led a morning discussion that brought together venture capitalists, utility executives and renewable developers to discuss connecting financing with ideas.
The panel's basic message: The private and public sectors must work together to ease the energy-construction permitting process and increase demand for green power.
The 2009 federal stimulus bill infused more than $70 billion in funds into clean-energy programs, Reid said, but those investments provided a mere spark for the nascent renewable sector.
"We need to take that spark and turn it into a wildfire," Reid said. "We need to improve incentives for clean-energy investments and give businesses more certainty."
A prominent venture capitalist added that the United States is woefully behind in spending and research on renewables.
"The total amount we're spending on clean-energy research and development programs is right around $5 billion," said John Doerr, whose California investment firm helped finance Google, Netscape and Amazon.com, among others. "Americans spend more on potato chips than we spend on clean-energy research and development."
Among the myriad prescriptions panelists suggested to reverse that trend: Carbon taxes, a national renewable-energy mandate for power companies, additional federal investments in green-power technologies and streamlining permitting for renewable projects.
Doerr, for example, said his partnership has plowed $500 million into 50 green-energy companies, and he expects to make similar numbers of investments in the next three years. But achieving broader growth in the renewables sector will require "putting a price on carbon," Doerr said to applause from the crowd.
"That price signal would tell all investors and corporate leaders that these (green investments) are investments that will be rewarded," he said.
Other participants criticized the bureaucracy businesses must maneuver to make new investments.
Peter Darbee, president and chief executive officer of California utility Pacific Gas & Electric, spoke out against the "Byzantine gauntlet" of local, state and federal agencies his company must endure to build new projects.
Reid agreed, noting that it can take 19 years to permit and build a transmission line in the United States.
Reid even took the U.S. Department of Defense to task for blocking renewable projects.
In 2009, officials at Nellis Air Force Base said they opposed the construction of SolarReserve's Crescent Dunes solar project near the base's training range because it would put classified information at risk and interrupt radar signals.
"We get through permitting, and in comes the Defense Department," Reid said. "Investors have millions invested, and here comes the military, saying we can't do that. We have to figure out a way to get through this permitting process more quickly. We have got to get everyone to wake up and stop being concerned about their own fiefdom."
After additional discussions with SolarReserve, Air Force officials decided in fall 2009 that the developer could go ahead with Crescent Dunes.
Asked backstage to elaborate on his criticism of the Defense Department, Reid said he'd been very patient with the agency and its branches.
"They've said solar panels interfere with their radar. Well, if our radar can't handle solar panels or windmills flipping around, we have real problems," he said. "The military has to be part of the solution."
Reid said that he plans to hold a fourth summit next year, but he is not sure what the focus will be.
Contact reporter Jennifer Robison at jrobison@reviewjournal.com or 702-380-4512.
National Clean Energy Summit 3.0