DOE Secretary Chu, who battled Yucca project, resigns
February 1, 2013 - 6:08 pm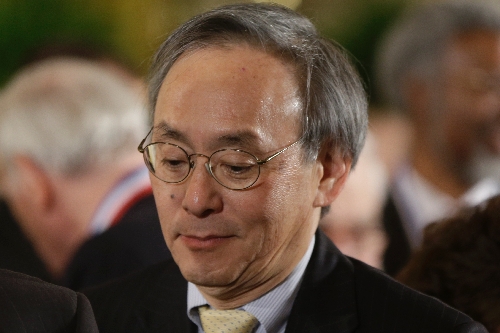 WASHINGTON – Energy Secretary Steven Chu, who carried out the Obama administration's plan to shut down the Yucca Mountain nuclear waste project and oversaw the distribution of billions of dollars in loans to boost renewable energy, said Friday he will step down from the Cabinet post he's held for four years.
In one of the marks of his tenure, Republicans criticized Chu for his handling of a $528 million federal loan to solar panel maker Solyndra, which went bankrupt in 2011, laying off its 1,100 workers. Republicans said Chu and his staff missed many warning signs about problems at Solyndra, based in Fremont, Calif., and compounded them by approving a restructuring of the loan even after problems were discovered.
A North Las Vegas solar panel manufacturer, Amonix, also went belly-up, leaving about 300 workers without a job after the plant, subsidized by more than $20 million in federal tax credits and grants, ceased operations in May.
A few high-profile failures overshadowed Chu's overall push for green energy. Through the Obama administration's economic stimulus, his department backed scores of renewable energy projects that backers contended created jobs but that critics said were not worth the investments.
In addition to funding solar projects like Crescent Dunes near Tonopah with a $737 million loan backing, the Department of Energy during Chu's tenure granted loan guarantees totaling $791.5 million for geothermal projects in Nevada and for the One Nevada transmission to carry electricity from Ely to Las Vegas.
Sen. Harry Reid, D-Nev., in a statement Friday, praised Chu for spearheading the demise of the Yucca Mountain Project and for blazing a trail "that helped our nation to finally get serious about tapping its clean energy potential."
"During his tenure he also led our nation away from the failed Yucca Mountain project and toward a new nuclear waste management policy that gives states and communities a meaningful role in the decision-making process," Reid said.
He was referring to the Blue Ribbon Commission on America's Nuclear Future chartered by Chu to set a new course for nuclear waste disposal absent of Yucca Mountain. The Obama administration zeroed out funding for the project, ending a 25-year quest by Chu's predecessors to entomb highly radioactive used fuel from nuclear power reactors in the mountain, 100 miles northwest of Las Vegas.
Bob Halstead, executive director of the Nevada Agency for Nuclear Projects, said Chu was a breath of fresh air for Nevada after a string of energy secretaries tried to cram the Yucca Mountain Project down the Silver State's throat when no other state was pegged for shouldering burial of 77,000 tons of spent nuclear fuel from commercial power plants and the military.
"It's a pleasure to be able to say a secretary of energy has done the right thing for Nevada, and the right thing is to walk away from Yucca Mountain," Halstead said from Carson City.
Under Chu's watch, his staff asked the Nuclear Regulatory Commission to withdraw the Energy Department's license application for the planned Yucca Mountain repository that was prepared after $11 billion from a ratepayers' fund was spent studying and exploring the site. A panel of federal appeals court judges is still weighing whether to force the NRC to restart the licensing process.
The Associated Press contributed to this report. Contact reporter Keith Rogers at krogers@reviewjournal.com or 702-383-0308. Contact Stephens Washington Bureau Chief Steve Tetreault at stetreault@stephensmedia.com or 202-783-1760. Follow him on Twitter @STetreaultDC.