Electric-charging stations planned between Las Vegas, Northern Nevada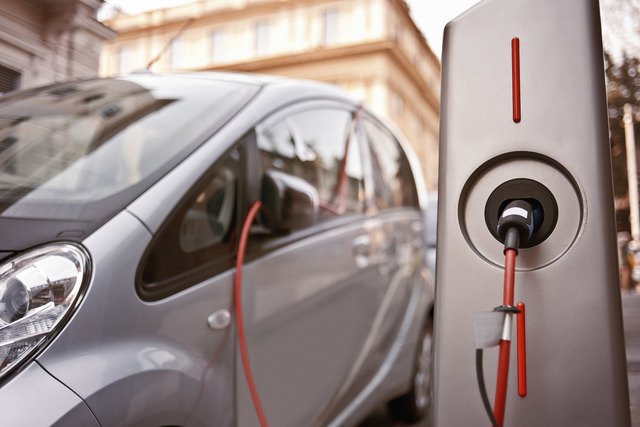 CARSON CITY — An initiative announced Tuesday by Gov. Brian Sandoval seeks to turn a desolate Nevada roadway into an "electric highway" dotted with charging stations for electric cars.
Sandoval and NV Energy officials held a news conference to announce the initiative to install charging stations in key rural communities along the U.S. 95 corridor between Las Vegas and Northern Nevada.
The stations along the 400-plus mile stretch will mean electric vehicle users will be able to make the trek through Nevada's remote heartland without running out of juice.
NV Energy President and Chief Executive Paul Caudill said the Governor's Office of Energy is soliciting "partners" along the route, specifically in Fallon, Hawthorne, Tonopah and Indian Springs, where charging stations can be installed.
Cost of installation will be split between the utility and grants administered by the state. Electric car users will be able to power up for free, at least for an initial period.
Sandoval said Valley Electric Association has committed to installing a charging station in Beatty, about 120 miles north of Las Vegas.
He added that having charging stations will also encourage tourism to the rural communities.
"We've all driven this road and sometimes have anxiety about getting gas," Sandoval said, noting the wide distances between towns and services.
Once completed, the state's charging infrastructure for the first time will connect Nevada's urban centers in Clark and Washoe counties.
"This is a big deal," Sandoval said.
Paul Thomsen, director of the Governor's Office of Energy, said each charging station will have one DC fast charger and two Level 2 chargers.
DC, or direct current, chargers, can charge a vehicle in less than an hour, while Level 2 chargers typically require several hours for a full charge.
That means drivers using the slower charge will have more time to spend exploring towns or getting a bite to eat.
Host sites are responsible for the cost of the power being made available for the initial time frame, though Thomsen said his office is working on a five-year program to reduce any "demand" charges they may incur associated with DC fast chargers.
The news conference was held in the parking lot of the Carson City Community Center, where two charging stations were installed last year. City officials said about 10 cars a week use the service, which is free to users for five years. The cost to the city was about $300 in the past year.
Marie Steele, manager of NV Energy's electric vehicles and renewable energy program, said there are about 1,400 electric cars registered in Nevada. The distances they can go between charges range widely, depending on the make and model.
But electric cars do not have the distance capabilities to make the seven-hour trip nonstop.
Paul Caudill, president and chief executive officer of NV Energy, said the utility has been working for about four years to expanding the network of electric vehicle charging stations through a shared-investment program with interested businesses around the state.
There are about 150 charging stations currently in Nevada, and most of those are in the urban centers.
Sandoval said the program will make U.S. 95 among the first rural highways in the nation to be electric-car friendly.
"We're not aware of a road as remote as 95," he said.
Businesses and local government agencies interested in participating can apply online at www.nvenergy.com/EV. Applications will be accepted through July 10, and officials said they hope to have all the stations installed by the end of the year.
Sandoval also noted that his office is working with Tesla to install charging stations for Tesla vehicles throughout the state.
The electric-car maker was granted $1.3 billion in tax incentives last year to build a $5 billion battery factory at the Tahoe-Reno Industrial Center just east of Reno.
Also on the governor's wish list — making Highway 50, aka "the loneliest road in America," friendly territory for electric vehicles.
Contact Sandra Chereb at schereb@reviewjournal.com or 775-687-3901. Find her on Twitter: @SandraChereb
RELATED
Nevada is in an electric car evolution
Electric cars may aid zero energy living