Experts wary of possible import tarriffs on solar panels
September 11, 2017 - 5:27 pm
Updated September 11, 2017 - 9:20 pm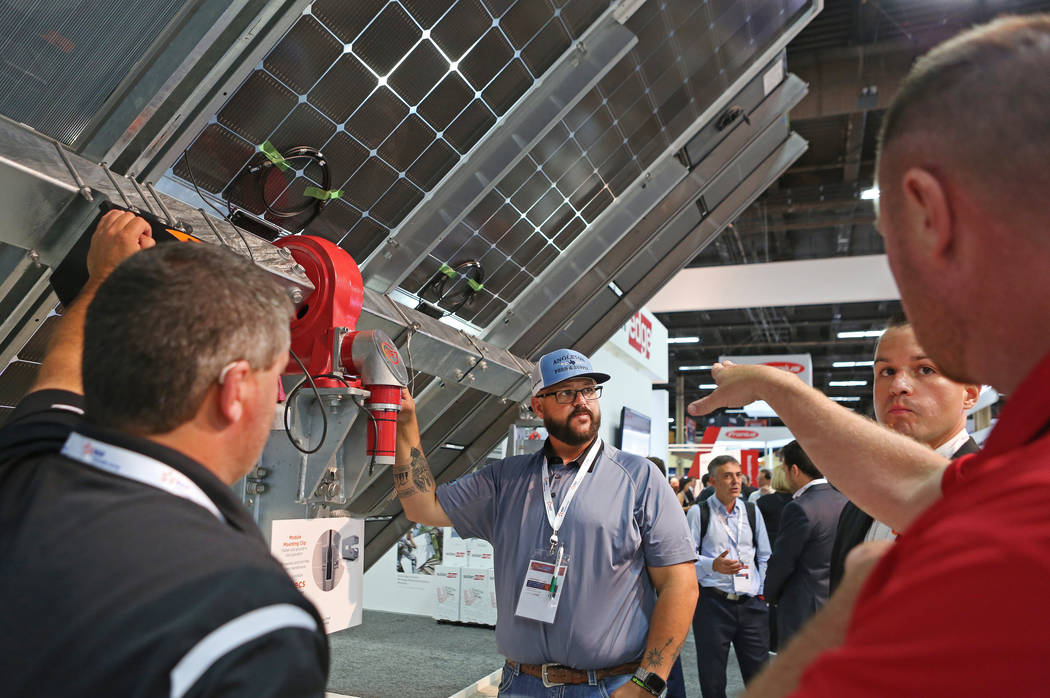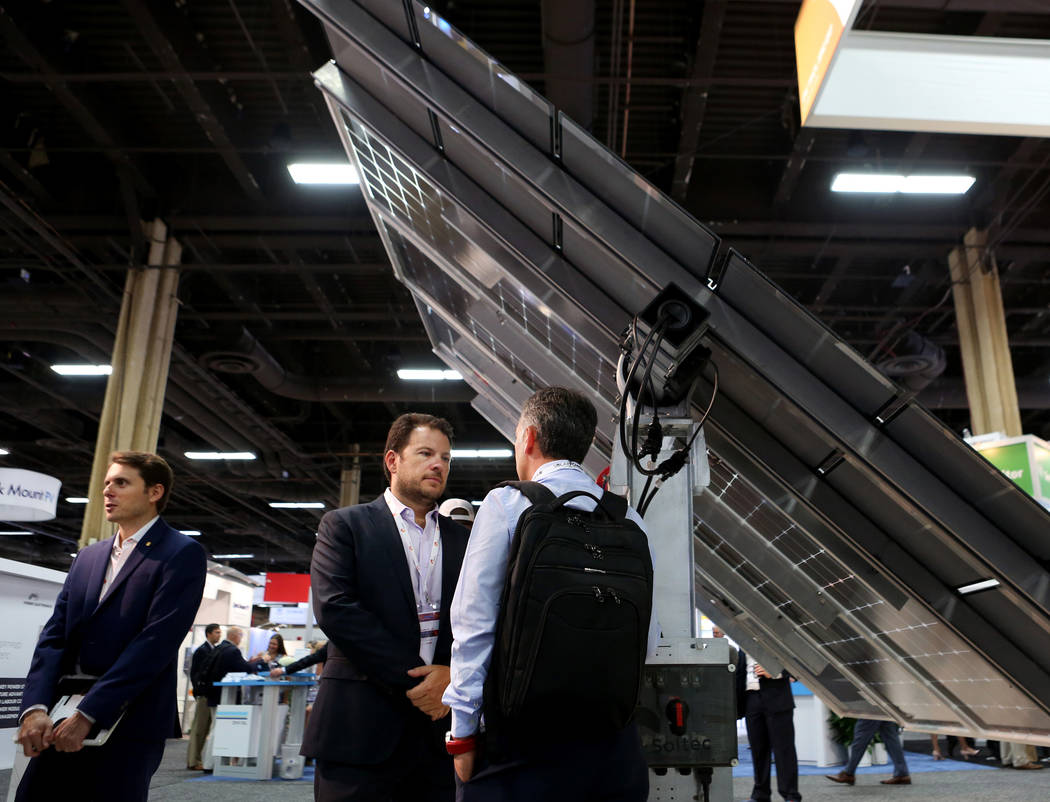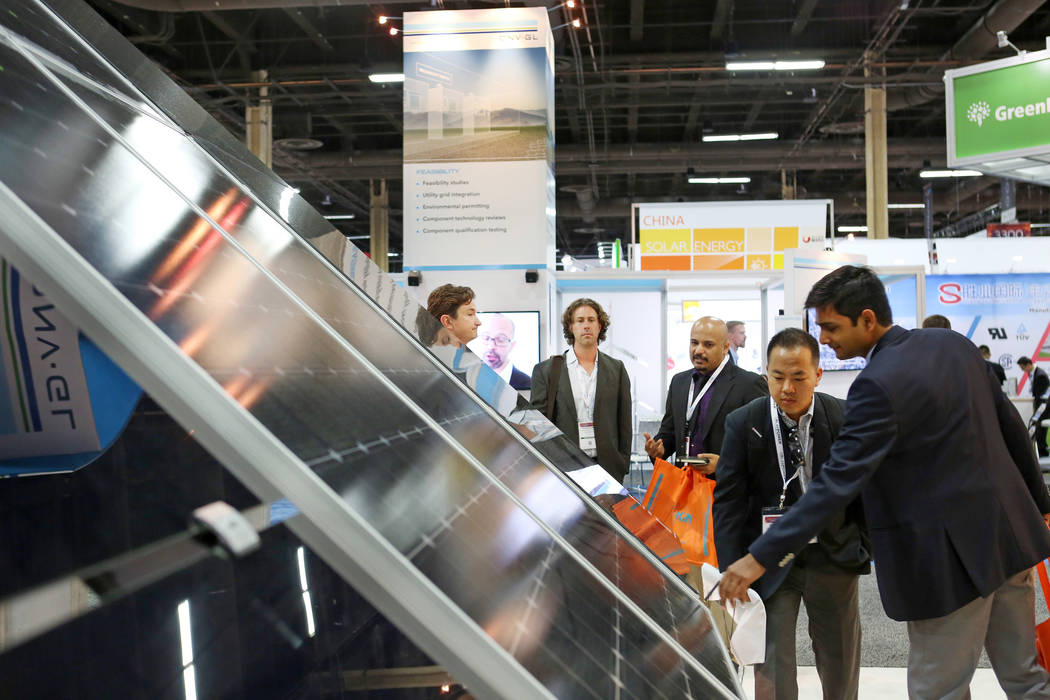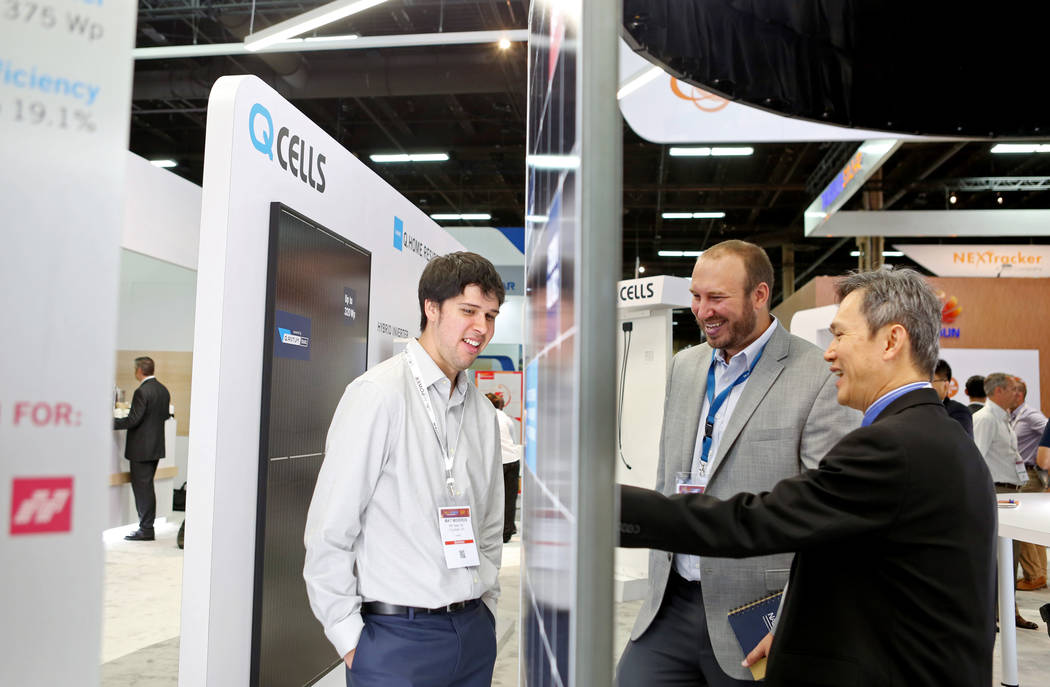 Storm clouds are casting a shadow over this year's Solar Power International Expo at the Mandalay Bay Convention Center.
As nearly 20,000 solar power professionals gather this week for the industry's largest U.S. conference, officials in Washington will be finalizing a decision that could ravage the industry like a tornado, executives and lobbyists say.
The U.S. International Trade Commission will announce Sept. 22 whether it will impose tariffs on imported silicon cells and solar panels to protect domestic manufacturers. The trade case was initiated by Suniva, an Atlanta manufacturer that filed for bankruptcy protection in April.
President Donald Trump has made protecting American manufacturing a key pillar of his economic program and has threatened to use tariffs against countries likes China to achieve his aim. Solar industry executives and lobby groups, though, say more jobs will be lost than created by import tariffs.
2,000 Nevada jobs
Tariffs would cause solar installation costs to jump, slamming the brakes on industry growth and threatening 80,000 jobs nationwide, according to solar executives and the Solar Energy Industries Association, a Washington, D.C.-based industry lobby and co-organizer of the conference. About 2,000 Nevada jobs could be at stake, the association notes.
The $23 billion industry employs about 260,000 workers nationwide. Nearly 70 percent of solar jobs do not require a bachelor's degree, according to the association. A large portion are installation jobs.
"Every single one of your jobs depends on the outcome of this case, and I am not kidding," Abigail Ross Hopper, president and chief executive officer of the association, told hundreds of people at the opening session Sunday evening.
Industry divide
Not everyone believes job loss is inevitable.
Mayer Brown, a law firm specializing in renewable energy, published a report in August saying the tariffs would result in a net employment gain of between 114,796 and 144,298 jobs. Mayer Brown's report was conducted on behalf of Suniva and SolarWorld Americas, another struggling American manufacturer that joined the trade case.
The report said Chinese companies are trying to get around trade measures that level the playing field by shipping solar products to the U.S. that they produce in other Asian countries.
"The surge in imports is the result of massive overcapacity, particularly in Asia and driven first by significant, illegal subsidization of Chinese producers as well as subsequent efforts by Chinese producers to develop manufacturing capacity in third countries, such as Malaysia, Vietnam and Thailand," Mayer Brown said in its report.
Suniva is controlled by a Chinese company, while SolarWorld is owned by a German company.
Blame game
Three industry executives said Suniva and SolarWorld can only blame themselves for their problems. The executives bashed the companies during a Monday morning session dedicated to the tariff case, saying Suniva and SolarWorld struggled to deliver quality products on time. Suniva and SolarWorld could not immediately be reached for comment.
Bill Vietas, president of Cincinnati-based RBI Solar, told the audience Suniva and SolarWolrd are holding the industry "hostage" and that panel prices have risen since the trade case was filed.
George Hershman, senior vice president and general manager at Swinerton Renewable Energy, agreed the industry is already seeing an impact.
"People are sitting on the sidelines because they can't make decisions on what the [solar panel] supply and price is going to be,'' said Hershman.
While tariffs would deliver a temporary "blow" to the industry, Ross Hopper said there is plenty of momentum to overcome setbacks.
"This is not going to define our industry," she told the audience Sunday.
'Unprecedented' growth
Though tariff talks are clouding the conference this year, it was all blue skies at the 2016 show.
The U.S. industry was in the midst of its best year ever when attendees gathered last year. Companies rushed to complete installation projects before the Solar Investment Tax Credit expired at the end of 2016.
However, in late 2015, Congress extended the program, giving the industry the pricing clarity and stability needed to continue its rapid growth.
The extension gives a 30 percent federal tax credit for solar systems on residential and commercial properties through 2019. The tax credit decreases incrementally over the following three years to 10 percent.
"Last fall, everyone knew solar installations were off the charts. It was an unprecedented year," said Ross Hopper. Additionally, the extension of the tax credit offered "a clear roadmap for businesses to plan their next five years."
U.S. solar capacity installation growth nearly doubled last year to 14.6 GW, creating 51,000 solar jobs, according to the association. Solar accounted for 39 percent of new U.S. installed power last year — the first time it topped all other energy sources.
The industry is on pace to add another 12.4 GW this year, according to GTM Marketing and the association, lifting total U.S. installed solar power capacity above 50 GW.
Solar capacity is expected to triple over the next five years, assuming no tariff increases.
Contact Todd Prince at tprince@reviewjournal.com or 702-383-0386. Follow @toddprincetv on Twitter.
Tariff countdown
Suniva, a solar cell and panel maker, filed a petition with the International Trade Commission complaining of downward pressure on prices from imports. The ITC heard the case Aug. 15.
Here is a schedule of events.
Sept 22: ITC determines whether an "injury" has occurred to American manufacturers.
Oct. 3: ITC holds a remedy hearing.
Nov. 13: Deadline for ITC report on relief recommendations.
Jan. 12: Deadline for action by President Donald Trump.