Leaders agree task force is best way to move Nevada ahead on green energy
March 21, 2016 - 11:17 am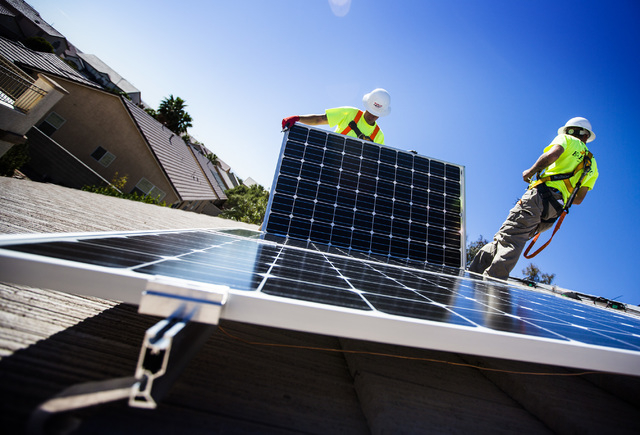 CARSON CITY — Nevada environmental and economic leaders said Monday that a task force reconstituted by Gov. Brian Sandoval is a great opportunity to move the state forward on green energy development, from solar and geothermal to wind power.
Speakers on a telephone conference call said an expanded focus on renewables, a major resource in Nevada, will generate both economic and environmental benefits. The comments came ahead of the first meeting Tuesday of Sandoval's New Energy Industry Task Force.
Sig Rogich, president of the Rogich Communications Group, said Nevada has awarded hundreds of millions in tax abatements for clean energy development that have generated a tenfold return in investment in the state.
Nevada is a leader nationally in solar jobs per capita, second in utility-scale geothermal energy production and produces enough wind power to serve thousands of homes, he said.
The task force will be able to develop bipartisan proposals now for consideration by the Legislature when it convenes in 2017 to expand on these successes, Rogich said.
University Regent Jason Geddes said there are also environmental benefits to developing Nevada's clean energy resources. Climate change is real and the issue needs to be addressed now before devastating weather impacts grow even worse, he said.
The task force, with new members appointed by Sandoval in February, is also expected to consider how to respond to concerns about the controversial decision by the Nevada Public Utilities Commission on net metering. The commission approved new rates for rooftop solar customers earlier this year that solar companies argue have damaged the industry going forward.
Existing rooftop-solar customers are also upset that they have been brought in under the new, less favorable rates for the excess electricity they generate to the grid.
Rogich called the decision a "bait and switch" where well intentioned customers invested in rooftop solar based on promises from the state that were then changed after the fact. The expectation that existing customers would be grandfathered in under the previous, more favorable rates was not approved by the PUC.
"We have to fix it," Rogich said. "The voters may decide as well."
Sandoval, who said he did not and would not influence the commissioners on the issue, nevertheless expressed disappointment at the final decision not to grandfather existing solar customers.
A coalition of rooftop solar groups is seeking to put the rooftop-solar decision to a public vote in November. The proposed referendum has been challenged by NV Energy and faces a hearing next week in Carson City District Court.
Rebecca Wagner, a former member of the PUC who also spoke on the conference call, said the task force could develop a proposed legislative fix to the grandfathering issue for net metering customers.
The plan is for the panel to come up with proposals by September to ensure enough time to prepare bill drafts to implement any final task force recommendations needing approval by lawmakers, she said.
The New Energy Industry Task Force is being chaired by Angela Dykema, director of the governor's energy office.
Contact Sean Whaley at swhaley@reviewjournal.com or 775-461-3820. Find him on Twitter: @seanw801