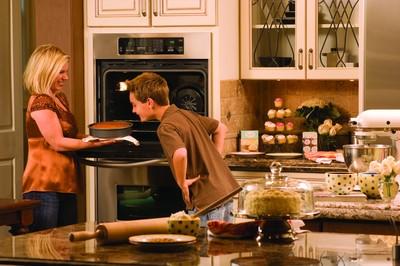 In today's environmentally conscious world, savvy consumers want home appliances that can help them save time, money and the environment. Thankfully, what they're looking for is right at their fingertips.
Clean-burning natural gas is the perfect solution because it has the ability to increase a home's energy efficiency, while reducing its energy costs. When combined with Energy Star-rated appliances, natural gas brings even more value to your energy dollar.
"Energy-efficient construction, products and appliances give consumers more control over their budgets, which in today's economy is more important than ever before," said Ruth Weaver, director of energy services and corporate communications at Southwest Gas Corp. "Plus, an energy-efficient, Energy Star home has a smaller carbon footprint and, thus, less impact on our environment."
New energy-efficient natural gas technologies not only provide savings in energy consumption, but these systems also help pay for themselves over time.
One new technology that's commercially available is a combination solar/natural gas water heater. This revolutionary "hybrid" water heater uses solar energy as the primary energy source to produce hot water. A high-efficiency natural gas back-up system picks up the slack on cloudy days and at night. Along with providing round-the-clock hot water, this state-of-the-art water heater can also be integrated with radiant floor and hydronic space-heating systems.
Keeping homes cool during the hot summer months can certainly take a toll on our pocketbooks. But now, commercial properties and large custom homes have the ability to heat or cool their interiors with natural gas heat pumps. This innovative system uses the same heat-transfer technology as a traditional electric heat pump, but with higher efficiency and lower operating costs.
Designed to deliver superb cooling efficiencies in the high summer temperatures of the desert Southwest, this gas heat pump system also can support as many as 33 thermostats (indoor zones) using one outdoor unit, and can be used in both ductless and ducted applications. Because the gas heat pump runs largely on natural gas, it can potentially reduce a consumer's total energy cost, especially in areas where time-of-use electric rates apply. Additionally, in the winter, this system is more than 50 percent more efficient than a gas furnace and produces much warmer air than an electric heat pump.
"Southwest Gas has long supported the need to diversify the mix of fuels our country relies upon to generate electricity," Weaver said. "To that end, we encourage the direct use of natural gas at the appliance, rather than burning it to create electricity at a power plant, because it's more cost effective and environmentally sensitive. This is because up to 70 percent of usable energy in natural gas is lost during the process of electric generation, transmission and distribution. With natural gas, from the wellhead to a consumer's home or business, the loss in only 10 percent."
For more information on natural gas appliances, discounts and other energy-saving tips, call the energy specialists at 800-OK-GAS-OK (654-2765). To learn more about Energy Star, go to www.energystar.com.