NV Energy moves to comply with law encouraging homeowners to invest in solar
Updated July 31, 2017 - 7:39 pm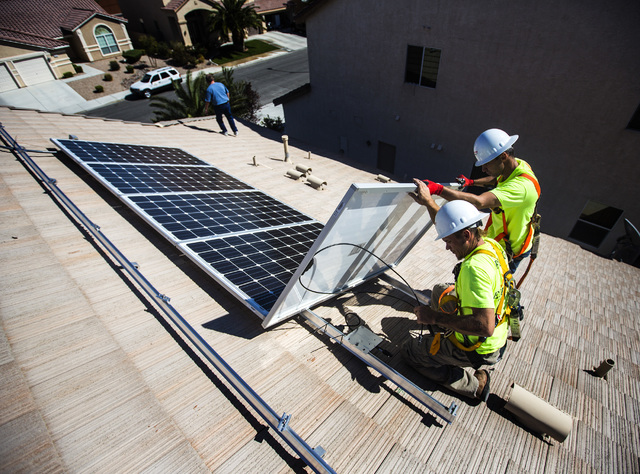 CARSON CITY — NV Energy has filed an application with the Nevada Public Utilities Commission to comply with a new state law aimed at encouraging homeowners to invest in rooftop solar technology and participate in net metering.
The law aims to reverse lower rates paid to net metering customers for the excess electricity they generate. Those lower rates took effect in 2016, stifling the rooftop solar industry's growth in Nevada.
The filing, released Monday, was submitted to the commission Friday.
The solar energy industry has praised the measure signed into law by Gov. Brian Sandoval this year, saying it will bring jobs and boost Nevada's economy.
In net metering, people with rooftop systems get a credit for excess energy they return to the grid. The net metering changes will provide homeowners who invest in rooftop solar a credit of 95 percent of the retail rate, or what the customer would have been charged by the utility for each kilowatt hour of excess electricity generated by the rooftop system.
The 95 percent credit rate for the first tier of new rooftop solar customers would drop in future phases as the amount of electricity produced by rooftop systems hit benchmarks of 80 megawatts.
The filing also includes a new uniform structure of utility rates and fees for customers, rooftop solar users or not. The structure isn't expected to increase customers' overall electrical bills.
The PUC must approve the measure; PUC spokesman Peter Kostes called it a "top priority." An initial meeting to discuss the measure is expected in mid-August.
The filing covers both of NV Energy's utility companies, Nevada Power Co., which serves Southern Nevada; and Sierra Pacific Power Co., which serves Reno and much of rural Nevada.
Contact Ben Botkin at bbotkin@reviewjournal.com or 775-461-0661. Follow @BenBotkin1 on Twitter.