Proposed Searchlight wind farm suffers another legal setback
November 1, 2016 - 4:52 pm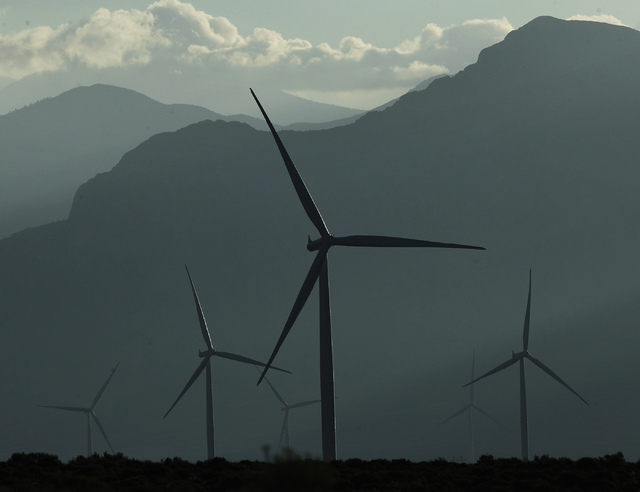 A federal appeals court has dealt another blow to a proposed wind farm near Searchlight.
The U.S. Ninth Circuit Court of Appeals in San Francisco last week dismissed an appeal by Apex Clean Energy that could have saved the Virginia-based company from having to restart the lengthy environmental review process for its project.
Apex wants to build 87 wind turbines, each about the height of the Planet Hollywood Resort, in four clusters spread across 9,300 acres of public land 60 miles south of Las Vegas. But a federal judge last year tossed out approvals for the wind farm from the Bureau of Land Management and U.S. Fish and Wildlife Service.
In her decision Oct. 30, 2015, U.S. District Judge Miranda Du ruled that the agencies hadn't adequately assessed potential impacts of the Searchlight Wind energy project on eagles, desert tortoises and other federally protected species.
Apex appealed Du's ruling, but the appellate court ruled against the company Oct. 26.
Searchlight homeowner Judy Bundorf, a plaintiff in the lawsuit that prompted Du's decision, said she was "very pleased" with the ruling but considers it an incremental step rather than an outright victory.
"It's really hard to predict what Apex will do," she said, adding that she hopes the company will ultimately decide the site is more trouble than it's worth.
Apex's website still lists an expected completion date for Searchlight Wind in 2020. It's unclear whether that estimate includes the time it will take to repeat, at least in part, a federal permitting process that took about four years the first time around.
"We have just learned about the court's ruling in this case, and we are currently evaluating our next steps," company spokesman Dahvi Wilson said in an email Tuesday.
The Searchlight wind farm was originally proposed by power giant Duke Energy in late 2008. Apex acquired the project in early 2014, after the Department of the Interior had signed off on the plans based on an environmental impact statement from the BLM and a biological opinion from the Fish and Wildlife Service.
Du tossed out that approval and the documents underpinning it on Oct. 30, 2015, citing "analytical gaps" that made it impossible to assess the project's potential risk to wildlife.
Bundorf, who has been fighting the wind farm from the beginning, said the array of 400-foot turbines is opposed by a majority of Searchlight residents and by American Indians worried about its proximity to Spirit Mountain, a sacred site for the Colorado River Indian Tribes and others.
Conservationists also object to its proximity to three different National Park Service units: Lake Mead National Recreation Area, Mojave National Preserve and the newly designated Castle Mountains National Monument.
"This was never a good choice for a wind project location" said Kevin Emmerich, co-founder of Nevada-based Basin and Range Watch. "An industrial-scale wind-energy project in this location would not only harm wildlife but be visible for many miles at both day and night."
Contact Henry Brean at hbrean@reviewjournal.com or 702-383-0350. Follow @RefriedBrean on Twitter.