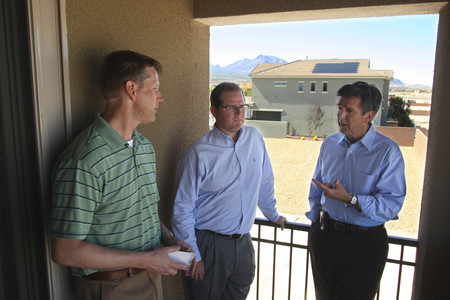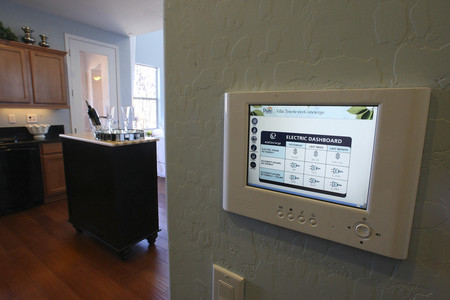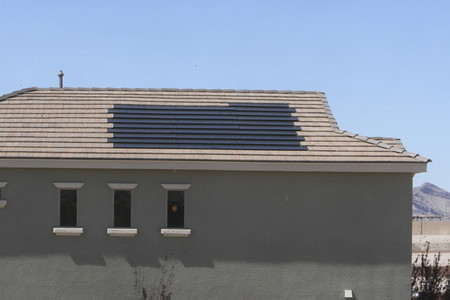 The technology is here, and incentives are in place, but the task of retrofitting homes in the Las Vegas Valley with solar panels is mired in the sagging economy.
That was the observation Monday by NV Energy Chief Executive Officer Michael Yackira, who discussed the much-touted promise for solar power in sunny Las Vegas between sessions of the National Clean Energy Summit 2.0 at the University of Nevada, Las Vegas.
The $45,000 price tag for installing enough solar photovoltaic tiles on a patio cover or rooftop to generate 4.5 kilowatts is cut in half by a rebate and federal tax credit.
But even with that, Yackira said, homeowners must be able to afford the upfront cost, which translates to about $22,000 after a $13,500 federal tax credit and a $9,450 rebate.
"At a time of economic downturn, it's pretty difficult to believe a lot of people are going to come in and utilize the great rebates that we give plus what the federal government gives to support solar energy," Yackira said.
"We're there. We support every solar panel that is put on rooftops within our state," he said. "We're mandated to do that, and I'd like to see more of it, but it really gets down to economics at the end of the day."
NV Energy's rebate incentive program for 2010 is based on $2.10 per watt for residences and small businesses with maximum residential rebates set at $10,500 and $63,000 for small businesses.
Through what is called "net metering," on sunny days and ideal conditions homeowners can be given credit that is reflected in billing statements if they produce more electricity than is needed for a home.
Even with solar panels, power from NV Energy is needed to accommodate electricity use at night and on overcast days.
On average, a Las Vegas home uses 1,250 kilowatt-hours per month, 15,000 kilowatt-hours per year, said John Hargrove, NV Energy's senior program manager for energy efficiency and conservation.
Based on what a homeowner saves on energy costs through solar panel retrofitting, it would take about 22 years for a homeowner to recover the $22,000 investment.
One builder, Pulte Homes, is building 185 homes in a Summerlin neighborhood that will have photovoltaic solar tiles built in rooftops in addition to other "green" features including special insulation, tankless water heaters and double-pane windows with argon gas to block heat from the sun.
"I wouldn't be surprised if in five or 10 years, all homes are built with solar or some type of renewable energy source," said Walter Cuculic, Pulte's director of strategic and consumer marketing, when the first zero-energy homes were under construction in May.
The advantage to building these features in new homes as opposed to retrofitting existing homes is that the cost is financed over the 30-year span of a mortgage.
NV Energy wants to see solar power prosper because doing so will help the company meet state requirements to have renewable energy such as solar, wind and geothermal power account for 20 percent of its retail electricity sales by 2020 and 25 percent by 2025.
Renewables accounted for 9 percent at the end of 2008, the latest available figure, and the state requires the company to achieve 15 percent of electricity from renewable sources by 2012.
Environmental groups are skeptical of NV Energy's solar retrofitting program.
Peggy Maze Johnson, a board member of Citizen Alert, a statewide environmental justice organization, said that there is a list of about 200 homeowners waiting for solar panel installations.
"They're in it to make a profit," she said, referring to NV Energy. "I believe essential services should be not for profit."
Jane Feldman, spokeswoman for the local Sierra Club, said there is no compelling reason for the owner of a large building to invest a large amount of money in solar retrofitting to put excess power on the grid.
"There's no incentive to produce more energy than it takes to operate the building because they'd have to give it away to NV Energy," Feldman said.
Contact reporter Keith Rogers at krogers@reviewjournal.com or 702-383-0308.