Twenty-five years later, 'Screw Nevada' bill elicits strong feelings
December 21, 2012 - 4:14 pm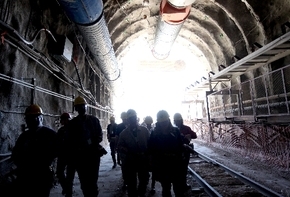 "This was raw, naked politics."
That's how Richard Bryan remembers his time as Nevada governor in 1987 when Congress acted to designate Yucca Mountain as the only place scientists would study as a burial site for the nation's deadliest nuclear waste.
Today, desert weeds sprout along the fenced-off portions of the Yucca site 100 miles northwest of Las Vegas. But even as Nevada has all but won a long fight to keep high-level radioactive waste outside its borders, memories of actions that took place on Capitol Hill 25 years ago this week continue to evoke strong feelings.
In the early morning of Dec. 22, 1987, the House and Senate passed a major spending bill that was signed into law by President Ronald Reagan later that day. In its 2,100 pages were provisions that came to be known to aggrieved Silver Staters as the "Screw Nevada bill."
A few days earlier on Dec. 17, senior lawmakers met behind closed doors to hammer out parts of the budget bill. On the table was a proposal by Sen. J. Bennett Johnston, D-La., to speed up the government's nuclear waste repository program by letting the Department of Energy narrow candidate disposal sites in three states – Nevada, Washington state and Texas – to one.
The language strongly pushed the choice to Nevada. Among other things, some argued the underground Yucca site was the most suitable because it was not beneath an aquifer as the others were.
When the meeting ended, it was clear that lawmakers from Texas and Washington had succeeded in removing their states from the list – leaving Nevada, which was not represented in the room.
Rep. Al Swift, D-Wash., emerged and called the maneuver "a goddamned outrage" but said he had to protect his constituents.
At the time, Nevada's delegation consisted of Democratic Rep. Jim Bilbray, a freshman; Republican Rep. Barbara Vucanovich, in her fourth year; Republican Sen. Chic Hecht, in his fifth year; and Democratic Sen. Harry Reid.
Far from the figure the Senate majority leader cuts today, Reid in 1987 was a rookie senator, elected less than a year earlier. It fell to him and Hecht, who died in 2006, to try to head off movement on Yucca Mountain. Reid conceded his abilities were limited at the time.
"Being very honest and candid, I was a brand-new member of the Senate," Reid said this week. "I hadn't been in the Senate even a year, and, frankly, I didn't much know what was going on as most brand-new senators don't."
Reid, Hecht and Sen. Brock Adams, D-Wash., had carried out a nine-hour filibuster on Nov. 4 to slow down an energy spending bill that state officials believed targeted Nevada.
Reid spoke for six of the hours, extolling his hometown of Searchlight, Howard Hughes, Butch Cassidy and the beauties of Lake Tahoe.
With other procedural guerrilla tactics, the protesters succeeded in slowing the bill's progress for two weeks but were defeated by Johnston.
"We were kind of at their mercy," Reid said.
At the time, Bryan was content with being Nevada's governor, having achieved his "dream," as he described it.
But rather than stay another term in Carson City, he decided to run for the Senate against Hecht, who "wasn't as energized as Reid" for fighting what would prove to be a marathon battle, he said.
Bryan won the seat in 1988, but Nevada's two senators and two representatives remained greatly outnumbered. The odds of them defeating the powerful nuclear industry lobby's push for the Yucca Mountain site were arguably slim.
Reid, a trial lawyer accustomed to courtroom battles, said he didn't take personally what he recalled as a "jam job by senior senators" in 1987.
But he didn't forget either. The experience provided emotional fuel as Nevada leaders launched years of legal, political and scientific battles against the Department of Energy and pro-Yucca Mountain industry and congressional interests.
As Reid acquired seniority and power, he did not hesitate to use it to undercut the nuclear waste program.
In April 2000, Reid and Bryan persuaded President Bill Clinton to veto a bill that would have fast-tracked nuclear waste to Nevada.
In more recent years, Reid had the power to diminish project budgets, freeze legislation viewed as harmful and place allies in key bureaucratic posts.
Finally, Reid's embrace of presidential candidate Barack Obama in 2008 came after Obama promised to halt the Yucca Mountain Project, which he did shortly after he was first elected.
Reid said nuclear advocates "thought they had a done deal" on Yucca Mountain.
"It didn't happen, and one reason it didn't happen is I became more experienced and knew my way around here, and every time they would try to do something I stopped them," he said.
"I waited around like the tortoise, and when I saw an opening, I was far enough down the road I was able to stop" the project.
A panel of federal appeals court judges is weighing a lawsuit that aims to revive consideration of Yucca Mountain by the Nuclear Regulatory Commission, the final outstanding legal strand by which the project remains alive.
Should the judges order licensing hearings to resume next year, Nevada officials have prepared 219 technical and safety objections to the site, according to Bob Halstead, executive director of the Nevada Agency for Nuclear Projects.
In 1987, Halstead was in Madison, Wis., advising Wisconsin's congressional delegation on nuclear waste. From that vantage point, he had a view of the action by Congress.
"The legislation came out of a smoke-filled room far worse than anyone could have imagined," Halstead said. "It was pretty clear by November (1987) that some kind of 'Screw Nevada bill' was going to come about. Yucca Mountain was always a bad choice."
Today, Halstead said he considers Nevada to be "unscrewed."
"We have a good shot in a fair fight," he said this week.
Bryan, chairman of the Nevada Commission on Nuclear Projects, said he hopes the Yucca Mountain Project never awakens from its comatose condition.
He stopped short of declaring the project dead, though the exploratory tunnel that loops through the ridge has been shuttered for several years, and the once-generous budget that dished out roughly $11 billion from the ratepayers' nuclear waste fund has been zeroed out. The fund consisted of surcharges paid by customers who used electricity generated by nuclear power.
"We are on the cusp of victory," said Bryan. "I feel that we are closer today to victory than at any time in this three-decade struggle."
Contact reporter Keith Rogers at krogers@ reviewjournal.com or 702-383-0308. Contact Stephens Washington Bureau Chief Steve Tetreault at stetreault@stephensmedia.com or 202-783-1760. Follow him on Twitter @STetreaultDC.
Yucca Mountain Timeline