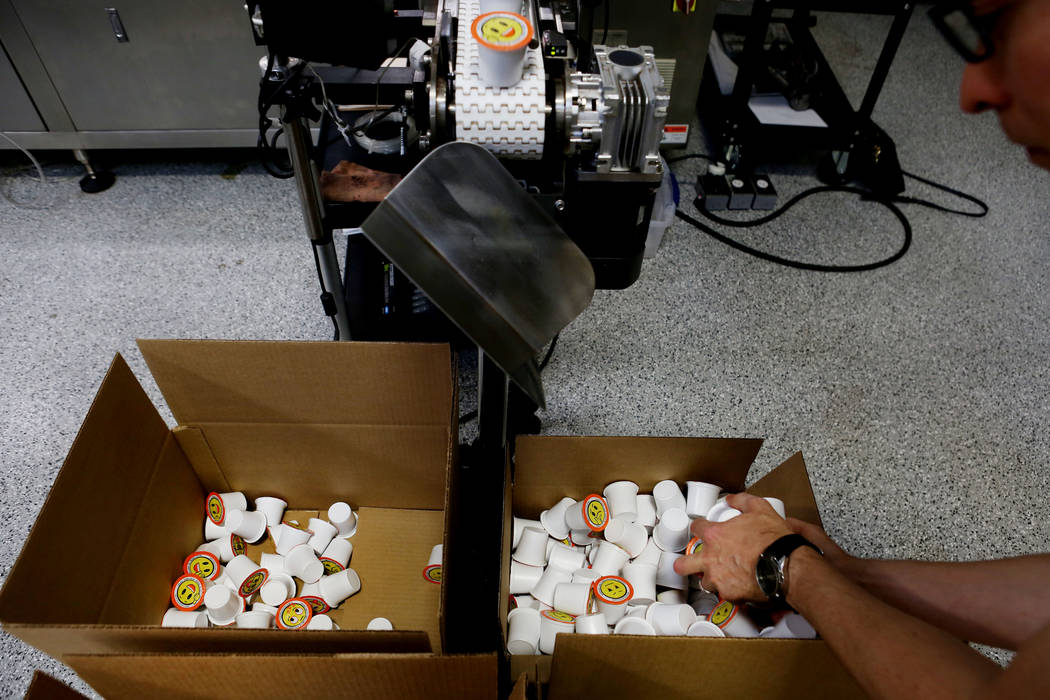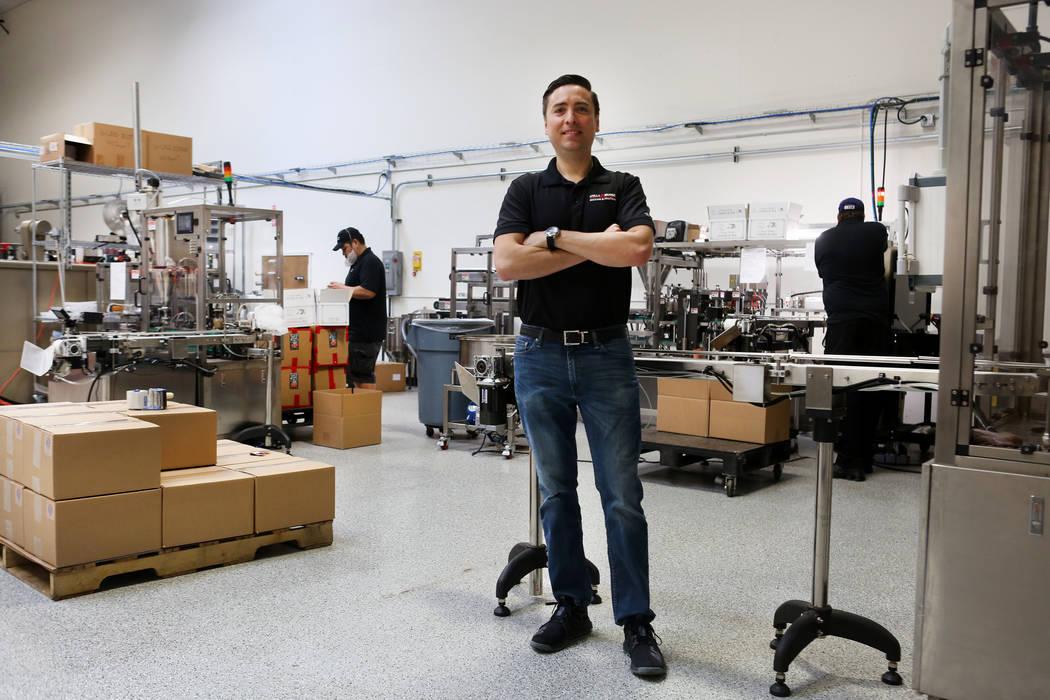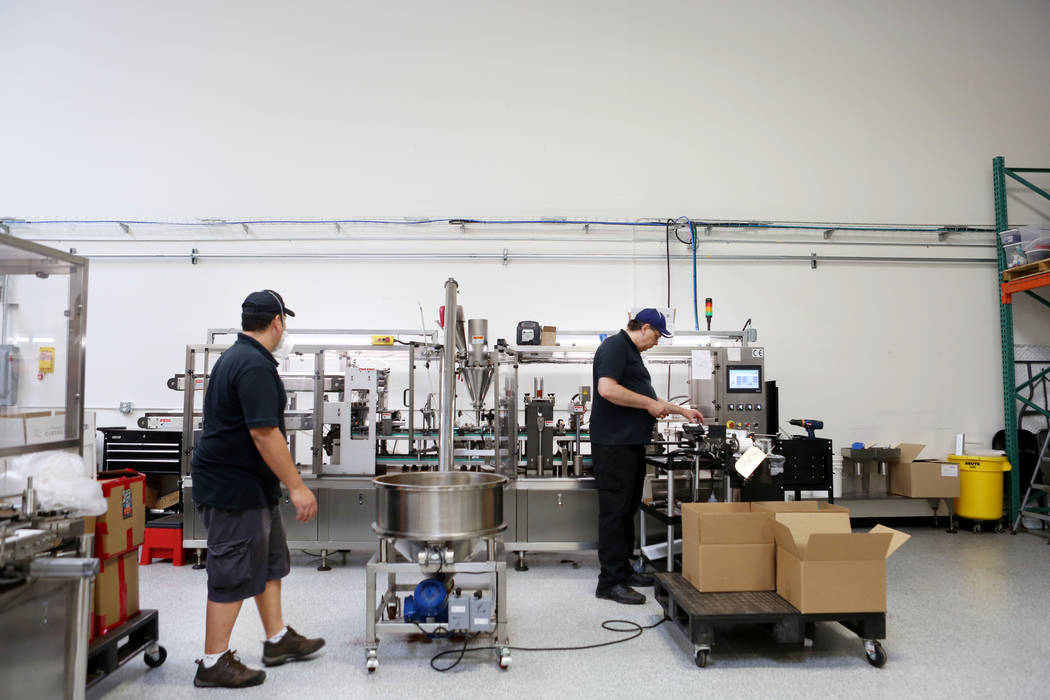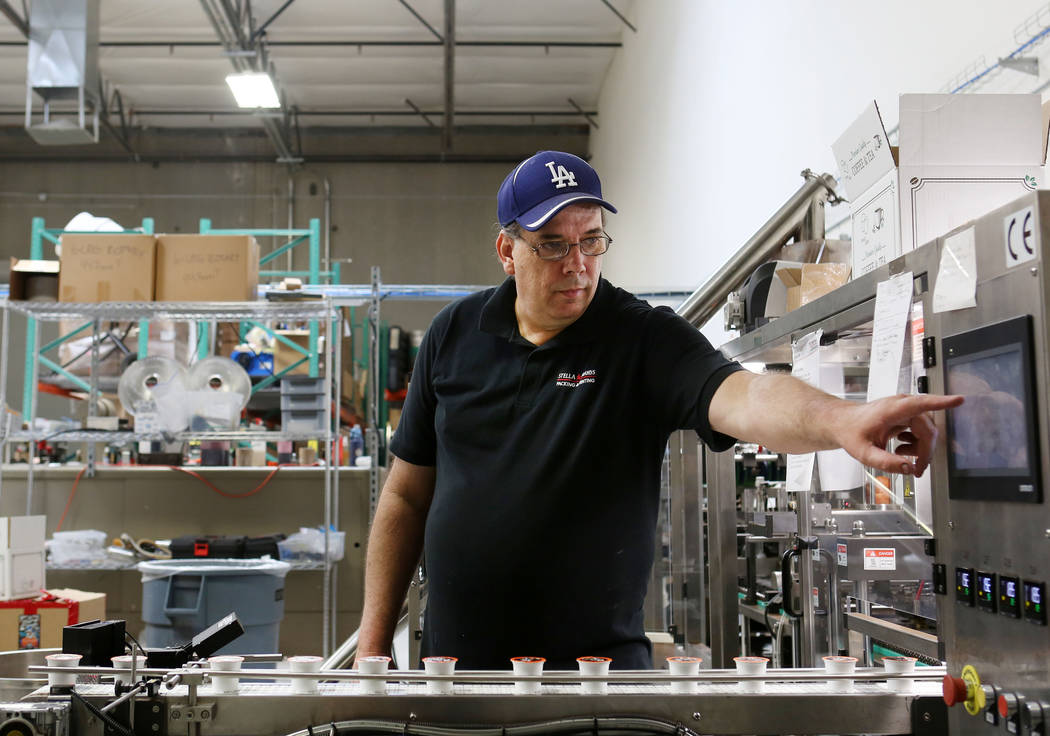 Machine whirs and a coffee bean smell punctuates the manufacturing space inside Stella Brands' suite in an industrial building in the southwestern valley.
Every hour, Stella's machines fill thousands of sealed single-serve containers with coffee beans, containers that only five years earlier would put Stella in the cross hairs of K-Cup maker Keurig's legal team if not for Keurig's patent expiring.
About five workers run Stella's operation, which sells to food distributors, coffee roasters and casinos. But owner Brent Patterson has grander plans. He envisions his containers in Strip resorts as part of the in-room coffee service. He wants a separate subsidiary for a label printing machine that he said gives Stella a competitive advantage.
He said he soon will need more machines to meet demand, not to mention a need for another leased suite and the doubling of his employee count. Patterson, 40, is finally in business for himself after about 17 years of full-time work that has taken him from fast food to tourism software and now manufacturing.
The fuel for his career jumping has been raising enough capital to bring an invention of his to commercial reality. This invention that he patented 10 years ago: a specialized plastic bottle cap to help with mixing powders, gels and formula.
"Sometimes the stars align," he said. "Now more than ever, I'm ready to bring it to market."
Waffle House lessons
Patterson got his first patent for the mixing cap in 2006, about four years into a supervisor training program with diner chain Waffle House.
He had cooked and cleaned toilets and climbed the corporate ladder. He started overseeing one restaurant in the Atlanta area before Waffle House promoted him to manager of three and then nine restaurants.
He graduated from Auburn University in 2000 and decided to get his hands dirty. But around the time he got his patent, he was a year away from what he called the golden handcuffs. He would make so much money, leaving Waffle House would make no sense.
To leave at Patterson's level is a rarity for the program, Waffle House senior recruiting director Iris Jackson said. If a participant left, it usually happened during the first year because he or she couldn't adjust to the demands of running a Waffle House.
Patterson thrived at Waffle House, Jackson said. She remembered working with him to overcome challenges and hearing good feedback on his upbeat attitude. But even in their conversations, he showed such enthusiasm about the prototypes he tinkered with at home.
"We were sad to see him go," she said. "People enjoyed working with him."
Waffle House taught Patterson two important lessons: that no data are too small to measure and to understand the responsibilities of employees at every level.
The restaurant chain measured how many steps employees took to get from grill to counter and how much time it took to seat patrons, measures that Patterson believed helped the bottom line. He has brought the strategy to Stella Brands to ensure the most production in the least amount of time.
He has studied the machines he uses with Stella so that he knows what problems he can expect his employees to solve on their own.
"They can't B.S. me," he said. "As a business owner, I have to be hands-on."
Move to Las Vegas
With his mixing cap patented, Patterson still faced the problem of how much capital he needed to produce large numbers of the cap.
Brother-in-law Barry Shier sold him on moving west to Las Vegas in 2007. Shier, a former executive with New York's Waldorf Astoria and Mirage Resorts, had seen the area transform since 1983. More residents, more international visitors, more hotel rooms, more trade shows.
"Vegas was a great marketplace for entrepreneurs, for a new way to do something," Shier said. "He jumped at the opportunity."
Shier and Patterson wanted to open a craft beer operation called Belly Wash. They put the project on hold when Shier joined plans for an Elvis Presley-themed mixed-use development on the Strip. Then the recession hit. The development busted.
Shier shifted to consulting and started a collective called The Partner House. Patterson, who has a background in information technology, was brought in as the technology expert.
He served as e-commerce vice president for Sofisticado, a travel booking platform aimed at South America, and technology director for destination management company Out of The Box.
But Patterson still tinkered in his garage. He came up with an adhesive to prevent shirt collars from curling, which he dubbed the "No Curl Collar."
Shier sold Sofisticado in 2012. The next year, Patterson made his first appearance on the QVC shopping channel to promote No Curl. He now sells the invention on Amazon for the most part, making at most $600 in a day. He still wears them on his own polos.
"He doesn't get himself pigeon-holed," Shier said. "We're cheerleaders on the sidelines."
K-Cup rush
Around that time, a rush had begun over the expiration of coffee maker Keurig's patent on K-Cups, the single-serve containers of coffee. About 20 years after Keurig debuted the container, private label containers similar in design hit the market.
Patterson started his contribution to the container rush in 2014. He opened Stella Brands' first manufacturing outfit in Boulder City, 1,000 square feet in size, next to Colorado River Coffee Roasters, run by Don Anderson and his family.
Patterson wanted a source of beans and to learn about the business from Anderson. A frequent topic of conversation: Patterson's plastic bottle cap.
"He sees so much opportunity," Anderson said. "Brent is a good friend whether we do business or not, and I'm particular about who are my friends."
Stella Brands hit capacity, and Patterson moved to his current location near the intersection of Warm Springs Road and Rainbow Boulevard, three times the size as that first Boulder City space.
His big goals are grow the printing line and add a mixing cap filling machine. He still tinkers in his garage, sometimes joined now by curious eyes of his infant children, the same gaze he had when he would spend time with his engineer father. Patterson said he's thankful for all the twists his life has taken so far.
"You can't force things," he said. "You have to let them happen on their own time."
Contact Wade Tyler Millward at wmillward@reviewjournal.com or 702-383-4602. Follow @wademillward on Twitter.