North Las Vegas modular home maker opens 2nd factory
Updated January 11, 2023 - 1:34 pm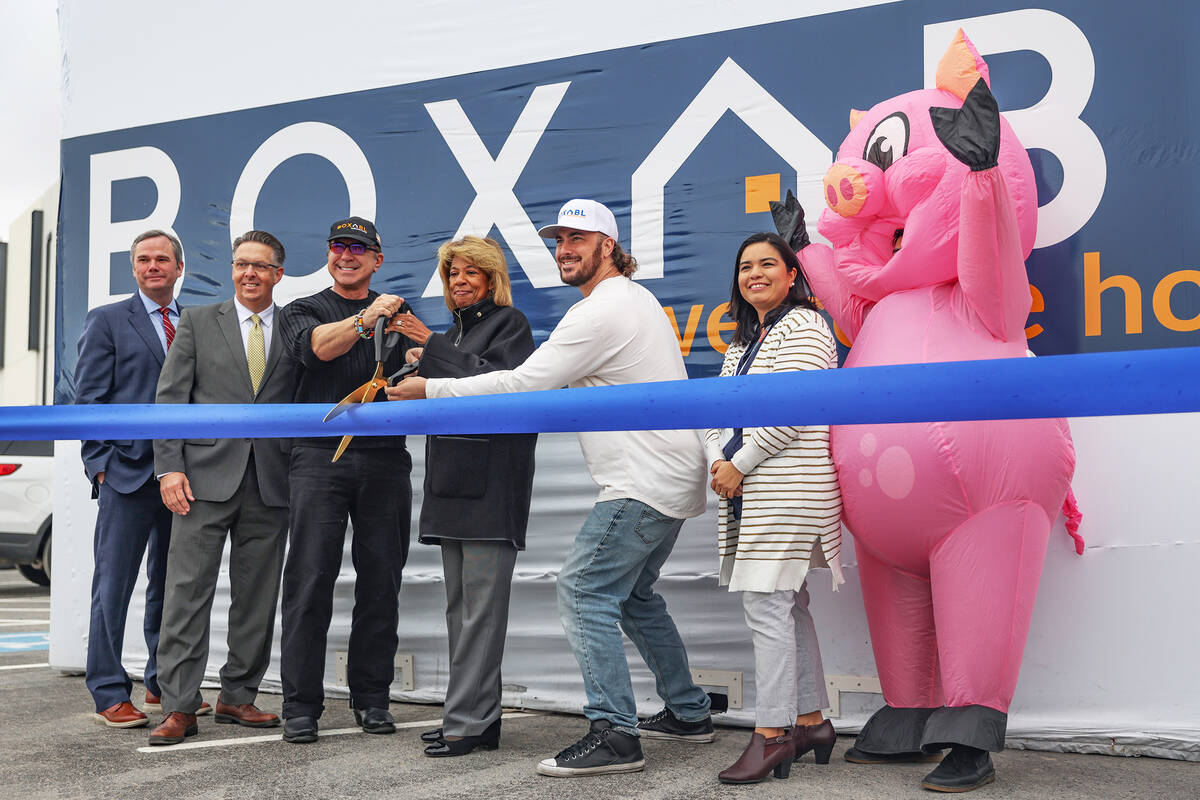 Boxabl, a North Las Vegas-based modular home manufacturer, is expanding its operations with a second manufacturing facility within walking distance from its headquarters.
The new 120,000-square-foot warehouse, dubbed Factory 2, is expected to help the firm increase its production by at least 50 percent and add 100 jobs, bringing its total workforce up to 300.
"Back when we started, I never could have imagined things would be moving this quickly," Boxabl co-founder Galiano Tiramani said. "It's totally crazy."
The company builds 20-by-20-foot studio homes, or casitas, that can be folded into a box and shipped worldwide, opening its first warehouse in 2021. And the addition of a second facility indicates the company is growing quickly, according officials at a Monday morning ribbon cutting ceremony for Factory 2. The company has a waitlist of 150,000 customers.
Christian Kirchen, director of manufacturing at Boxabl, said the new building allows it to "open up space" at its first warehouse, called Factory 1.
"The main part of our new operation is going to be the conveyance system. That's going to get us really on our road to be like automotive manufacturing facilities," Kirchen said.
In 2021, Boxabl CEO Paolo Tiramani told the Review-Journal that it was taking a cue from the auto industry by trying to mass-produce homes on an assembly line while also bringing more affordable homes to the market.
Paolo Tiramani said Monday that its ultimate goal is to have operations worldwide and build a home every 60 seconds. It currently takes an estimated four hours to complete one unit, but Factory 2 will shave the production time down to just 20 minutes once its operational by the end of the year, according to Paolo Tiramani.
So far, the company has manufactured 300 homes. Paolo Tiramani said training employees and figuring out how to manufacture the homes on a larger scale explains the limited output, but noted that more homes will be produced at a quicker rate as more factories come online.
"We had to put in equipment. We had to train new people," Paolo Tiramani said. "We've never seen anything like this — making a product that has never been made before."
Its first Boxabl factory is able to produce 3,000 homes annually, and the addition of Factory 2 will help increase its production to 4,500 and 5,000 homes each year, according to Paolo Tiramani.
Further expansion plans include opening a factory that is at least 1 million square feet within the next three years. Paolo Tiramani said it's looking to expand in Texas or, preferably, stay local such as in North Las Vegas, like at the 350-acre Apex Industrial Park.
"We are local people, and we would like to see that larger facility put in North Las Vegas," Paolo Tiramani said.
North Las Vegas Mayor Pamela Goynes-Brown, who attended the ribbon cutting, had no doubt that the company will keep growing in North Las Vegas and beyond.
"I think as more and more people are aware of the product that they offer, I think they will absolutely (continue to grow)," Goynes-Brown said. "I'm sure they're going to outgrow that second space, just like they've done this space (Factory 1). I'm just looking forward to it."
Contact Sean Hemmersmeier at shemmersmeier@reviewjournal.com. Follow @seanhemmers34 on Twitter.