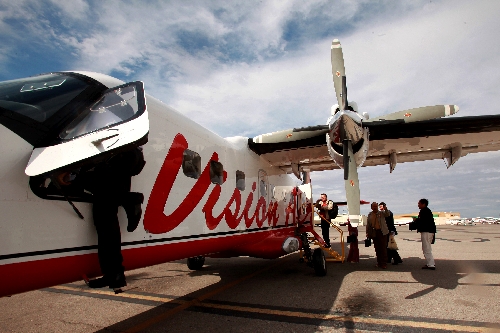 Although Wednesday's stormy weather caused numerous flight delays, Vision Holidays President Larry Siggelkow found himself blindsided by customer complaints from a different source.
Arizona transportation officials had opened the O'Callaghan-Tillman Bridge during the night without any notice, preventing passengers on the company's bus tours from going over the Hoover Dam and taking pictures, as promised in the brochure.
"It's little things like that … ," said Siggelkow, neglecting to complete his sentence. "Welcome to our world of surprises in the tour industry."
But perhaps the biggest source of amazement this year has been the sharp rebound in passenger traffic for Vision Airlines' fixed-wing tour flights to and from the Grand Canyon. After passenger counts at the North Las Vegas Airport terminal had fallen by just more than half in two years through 2009, they have shot up 36 percent during the first eight months of this year, Clark County Department of Aviation statistics show.
Meanwhile, Scenic Airlines' flights from the Boulder City Airport rebounded sharply in 2009 and stayed at that level this year after a steep decline two years ago.
As a result, the two rivals in a specialty niche of the tourist industry have pulled off what many other businesses now consider a lost cause: a robust recovery to the brutal recession.
The rivals used different approaches to rebuild their sales, but share a heavy reliance foreign visitors. Siggelkow estimated that about 80 percent of his passengers come from outside the country, particularly Japanese tour groups, while Marketing Vice President Robert Graff put Scenic's count at 70 percent. Many Asian economies are recovering at a faster clip than the U.S. economy, the companies agree, and the declining value of the dollar against many world currencies has boosted the appeal of "flightseeing."
Also, the flow of international visitors has suffered few disruptions except for the eruption of the Icelandic volcano. Early last year, by contrast, a Japanese government warning against travel to the United States due to swine flu caused a wave of cancellations, Siggelkow said.
Vision has held its prices steady for the past two years and eschewed fuel surcharges even when oil prices rose past the company's threshold of $75 a barrel. Siggelkow said he has stayed away from offering discounts on his website to avoid undercutting the travel agents that sell most of his company's tickets.
"We have to maintain a very delicate balance in the pricing structure to be good for customers and maintain the loyalty of the travel agents," he said.
However, he said, that Vision has not boosted commissions.
"Maintaining the wholesale prices is all the incentive we needed," he said.
Prices start at $259 for West Rim flights that include tours, but can rise by a few hundred dollars with certain options.
Scenic, a part of Papillon Grand Canyon Helicopters, overhauled its price structure early last year. It tossed out dozens of packages and took a cue from the airlines by unbundling trips, starting customers with a base price and then putting up a menu of options at extra charge.
Scenic's basic flights start at $115 to the West Rim. But the a la carte pricing has prompted passengers to spend more than in the past, Graff said.
Contact reporter Tim O'Reiley at toreiley@lvbusinesspress.com or 702-387-5290.