EXECUTIVE SNAPSHOT: Alan Creel Jr., president, Creel Printing
November 17, 2014 - 3:15 am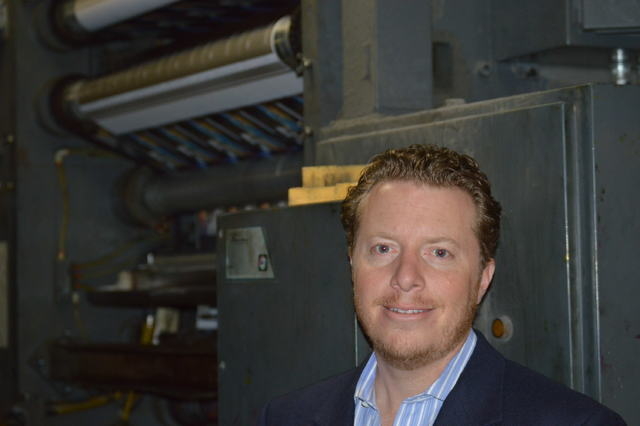 Allan Creel Jr. is a third-generation executive in his family's business, serving as president at Creel Printing. Starting out as a janitor's helper at 13 years old, he has always had a stake in the family business. He went to school at Bentley University in Boston where he earned a degree in business management before returning to Las Vegas and the family business.
The company recently won 11 Gold Ink awards, including five in the consumer magazine category in a national competition.
Q. How has technology changed the nature of printing?
Technology, in our industry printing, is advancing every day. The goal for keeping print relevant is competing with the other mediums for distribution of content. Where printing is excelling is creating content that is customized to the individual. What we're concentrating on right now is one to one marketing. Five hundred years ago when the printing press was invented it was for one reason and that was to produce the exact same thing over and over again so that there wasn't any change in the content. Well, that technology is what is making print irrelevant in today's world of Internet, mass email marketing and big data. So what we do know with the recent technology is we're able to produce a piece, each piece that comes of the press is unique to the individual; so we're getting them content that's relevant to them.
Q. So with the Internet has that increased, decreased or simply changed the printing business?
Printing has changed. Lots of areas have increased and lots of areas have decreased. In our business, which we tend to do a lot of publications and catalogs, 15 years ago, for example, everybody in the country would get the same catalog no matter where you live, what your likes or dislikes, you would receive the same piece. Now that we, the companies that sell to consumers, know so much about the consumer spending habits — what they like what they don't like, where they live, all of their demographics, how old they are, what their income levels are — now we can target to giving them a product that's relevant to them. So if you live in New Hampshire or you live in Phoenix you don't need to be seeing the same types of products the companies are selling. You can reduce the cost by sending (fewer) pages and reduce your transportation and reduce your printing costs. But it can be more directed to the consumer and therefore get a higher rate of response.
Q. What do you say to those who say "print is dead"?
"Print is dead" is a pretty strong statement. Print is definitely changing. There's no doubt that with the advance of tablets and e-readers and things of that nature and more and more people getting their news and content online it has changed and changed dramatically. There is less print being produced today than there was last year, and there was the year before. So it is definitely changing but there (are) certain segments of market that have never been so alive. It's still one of the most proven methods of getting specific content to a consumer. There's a value to print that is difficult to substitute, for instance direct mail. Email marketing has its place but how many emails do we get day to day from companies that we might be interested in or we might not be interested in but what you do is just delete, delete, delete or it goes into the junk mailbox. There's still a value to print, there's still a value to getting in a mailbox or getting in a newspaper or getting in a magazine that people are subscribed to and the rate of response of print is heavily over any sort of email or mass marketing because there's a perceived value there.
Q. How do you stay ahead of the competition, and who is your competition?
We compete on a national level with the large printing companies in the United States. These are companies that have been in business for hundreds of years, large printing companies most of them the same as us with multiple plants throughout the U.S. Where I believe that we differentiate ourselves from our competition is most of our competition is larger corporations. We're one of the largest family owned printing companies in the country. So I think it's the dedication to our clients, the fact that the owners are invested in the business, that we're here everyday, that were concerned, we know all our clients names, we're concerned about their success, we're concerned about our employees success in the company is what differentiates ourselves and all of our clients seem to notice that.