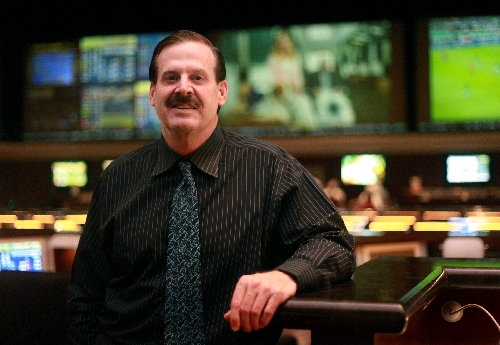 Mark Wayman considers a seat in the VIP section of the Green Valley Ranch Resort's race and sports book his office. The location makes it easy for Wayman to keep tabs on the thoroughbred racehorses in which he maintains a percentage ownership.
But Wayman's places of business are in the executive offices inside casinos and gaming companies.
Wayman is founder and chief executive officer of The Foundation, an executive placement firm focused on gaming and the high-tech industries. He tries to pair up director-level jobs with potential candidates. His company places an average of 40 executives per year at an average annual base salary of $200,000.
Lately, there have been far more applicants than positions.
"It's absolutely brutal out there right now," Wayman said. "There is not a lot of inventory but a lot of people are out looking. I have personal friends that I can't place. Right now I have a dozen really good jobs that I'm working on. I probably would have had 50 of those positions two years ago."
Wayman is considered a master networker, although he doesn't believe the term correctly describes what he does. Wayman has his eyes and ears trained on the casino industry. He'll meet with gaming leaders and keep tabs on the comings and going of businesses and individuals.
It's one reason he's earned the nickname, "Godfather of Las Vegas."
His network includes some 2,500 names and contact information in his ever-expanding Rolodex. Wayman hosts quarterly mixers and get-togethers at exclusive locations where business leaders, charity representatives and celebrities exchange information.
He e-mails a monthly newsletter to his database, which includes news and notes about the gaming industry, charities, job changes and various job listings.
"I talk to a lot of people and that way I find a lot of referrals," Wayman said. "I had a chief compliance officer come in and I sent an e-mail to about 200 people in the business who know what's going on."
Wayman is also active with Las Vegas charities, including Make-A-Wish, Big Brothers Big Sisters, Three Square and the Arthritis Foundation.
Question: How did you get involved with the gaming industry?
Answer: My clients with the technology companies were primarily in gaming. Over the course of 15 years I built a lot of relationships. I started introducing a lot of different people and was able to place people in jobs over the past six years.
Question: In a tight job market, what do you tell people looking for work?
Answer: People with jobs are the A list. They are the ones everyone wants. But most of those people have their heads down because if you were to move from one place to another and it doesn't work out, you have no place to go.
When it was 3 percent unemployment, everybody got to work. It didn't matter if you had a degree, it didn't matter if you had five jobs in the last two years. You got a job. At 14 percent unemployment, all of a sudden lack of a college degree is a problem; if you've moved around a lot, that can become a problem.
Question: Do job candidates need to lower their expectations?
Answer: I just placed someone who had been making $300,000 a year in the same position for $140,000 a year. She needed health insurance. When flat is the new up, we're in a whole different world. If you don't adjust your expectations, you won't get a job. You'll be on the beach for a year or two, you'll be unemployed for a long time and your benefits will run out.
Question: Are gaming employees leaving Las Vegas for casino jobs in other markets?
Answer: I know tons of people who left Las Vegas because they couldn't get jobs. What's interesting is that in the regional, riverboat and Indian gaming markets, executives now believe their model is different enough from Las Vegas. They want people with experience in those markets.
Question: Do you see things changing as casino companies restructure and change ownership?
Answer: I've met with a few groups looking to buy, but there are a lot of tire kickers out there. Everybody seems to be looking at stuff. A lot of job candidates are scared to death about going to work for companies that might be in trouble.
Question: How are you compensated?
Answer: I'm paid on the back end by the employer and I receive 25 percent of the first-year salary. There are people doing this for 10 or 15 percent because they haven't placed anybody in a year. I give 20 percent of what I make to charity.
Question: How has the down economy affected your work with charities?
Answer: It's challenging. We've been able to sell out events but people have retrenched and cut back on what they give. Now it's more important than ever. Three Square is the second-largest food bank in America and (it is) overwhelmed with requests.
Question: What do you hear about the way business is progressing on the Strip?
Answer: Some thought we had seen the worst of it after the first quarter, but the second quarter was abysmal. A lot of people I talk with think we may not be at the bottom just yet.
Question: What keeps you interested in horse racing?
Answer: I've been involved with horse racing one way or another for 30 years. We have a horse, This Is My Day, who is supposed to be pretty good. He's still young and he's got to grow up a little. Horse racing is like boats, pools, fine wine and expensive cigars. It's a great hobby, but you'll never see your money again.
Contact reporter Howard Stutz at hstutz@reviewjournal.com or 702-477-3871.
VITAL STATISTICS
Name: Mark Wayman
Occupation: Chief Executive Officer, The Foundation
Age: 51
Quotable: "If you don't adjust your expectations, you won't get a job. You'll be on the beach for a year or two, you'll be unemployed for a long time and your benefits will run out."
Education: Bachelor of Arts in Business from California State University, Fullerton, 1988; master's of business administration from Texas A&M University, 1995.
Work history: Executive and sales executive with various technology companies; now an entrepreneur operating an executive placement business.
Hobbies: Church, charity, horses, entertainment.
Favorite book: "Your Best Life Now: 7 Steps to Living at Your Full Potential," by Joel Osteen.
Hometown: Born in St. Louis but grew up in Orange County, Calif.
In Las Vegas since: 1995
Mark Wayman can be reached at mwayman@godfatherlv.com