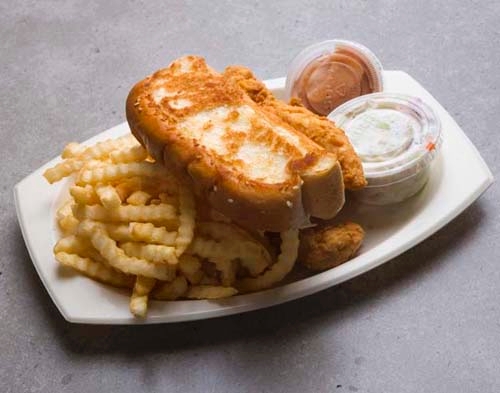 With hundreds of fast-food restaurants in Las Vegas, customers don't lack for choices when it comes to tacos priced at two for 99 cents or hamburger listed on a dollar menu. So it takes a fair amount of chutzpah for four entrepreneurs to embark on a campaign to open five Raising Cane's chicken-finger restaurants.
But when you are marketing a unique concept, it makes the struggle that much tastier.
"I had no desire to do fast food six years ago," said Joe Micatrotto Jr., CEO of the Las Vegas-based Micatrotto Restaurant Group. "But I tasted their food and immediately said, 'yes.' "
Micatrotto, along with his brother, Justin; his father, Joe Sr.; and their partner Michael Santos helped bring the quick-serve delicacy to Southern Nevada in January 2006. Their first franchisee store opened on Charleston and Decatur boulevards and sold more than 395,000 chicken fingers in the first six months.
Micatrotto's love affair with Raising Cane's began in 2005 when Todd Graves, who founded the company in 1996 with his first location near Louisiana State University, flew him to Baton Rouge, La.
He said his father first met Graves in 1996 during a restaurant convention. Joe Micatrotto Sr. was one of the founders of the Buca di Beppo chain of Italian restaurants.
Micatrotto was living in Honolulu, when he received a plane ticket with instructions to visit Graves in Louisiana. After taking the red-eye flight, Micatrotto said, one taste of a chicken finger and a sip of sweet iced tea was enough for him to forget about opening a full-service restaurant and move into the fast-food business.
"I told Graves that nobody is doing what you are doing, especially west of the Rockies," he said. "I give the credit to (our) dad about opening in Las Vegas. I was hesitant in the beginning, but now I can't imagine being located anywhere else."
Micatrotto said after the trip to Baton Rouge in 2005, Micatrotto Restaurant Group was formed in his parent's kitchen in Redondo Beach, Calif. Today, the company has the franchise rights to Nevada and Arizona.
"This is not a cheap concept," he said. "We have no coupons or dollar menu. The menu hasn't changed for 15 years."
Like In-N-Out, Raising Cane's stresses fresh ingredients and offers a simple menu with five basic items: fresh, never-frozen chicken fingers, crinkle-cut french fries, coleslaw, toast and Cane's dipping sauce.
Chicken fingers come plain or as a sandwich, between two buns, and can be accompanied by soft drinks, lemonade, or fresh brewed sweet ice tea. Each restaurant employs between 40 and 60 full- and part-time workers.
Micatrotto said that like In-N-Out Burger, the company has selectively chosen its locations. The business model has been based on scarcity fueling demand.
"With five items, our menu is more simplistic than In-N-Out," he said. "That comment comes with great respect for In-N-Out's concept. But our concept is do what you do and do it correctly."
The group owns five restaurants in Las Vegas and is building three in Arizona. Micatrotto said the privately held company employs 207 workers and has invested $10 to $20 million in Southern Nevada since 2006.
"We are working on stores in Summerlin, Henderson and near Nellis Air Force Base," he said. "I've been working on Summerlin for three years. If I had a site now, I would build it."
Micatrotto expects a total of eight to 10 stores in Las Vegas. The company's initial expansion into Arizona is expected to be completed next year with two locations in Phoenix and one in Tempe.
"We have some interest in Reno, Sparks and Carson City," he said. "We want to spread the brand up north."
The Micatrotto Restaurant Group has self-funded everything when expanding.
"We do not lean on banks or private investors," he said. "The profits we earn are reinvested into the development."
Micatrotto said the goal was to "build a successful family business and have fun."
Contact reporter Chris Sieroty at csieroty@reviewjournal.com or 702-477-3893.