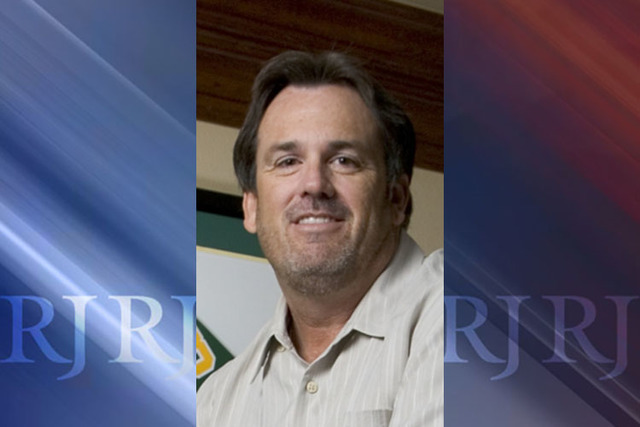 Jeff Guinn, a former governor's son whose real estate lending company went bankrupt after the economy crashed, went to trial Monday with opponents claiming he ran a Ponzi scheme.
Dennis Prince, attorney for Guinn investor Donna Ruthe, said in opening statements in U.S. Bankruptcy Court in Las Vegas that Guinn ran a "complex scheme to defraud" investors. He argued that Guinn, founder of the now-defunct Aspen Financial Services, did not disclose exactly how funds would be spent and that he "failed to exercise safe and sound business judgment."
He also claimed that Guinn "exploited" investors' trust and confidence, lived a lavish lifestyle and was continuously refinancing loans as part of "a Ponzi scheme."
His clients are seeking $6.9 million. The bench trial is expected to last two to three weeks.
A son of the late Kenny Guinn, Nevada's governor from 1999 to 2007, Jeff Guinn filed bankruptcy for Aspen and himself in 2013, months after Nevada regulators deemed the company "insolvent" and suspended its mortgage broker license.
Aspen was one of countless real estate-related companies in the Las Vegas Valley to flop after the bubble burst, and Guinn's civil trial again spotlights a case involving high-profile names, heated accusations and busted development projects.
"Many people have asked, 'Why continue on? He's bankrupt,' " Prince, a senior partner with law firm Eglet Prince, told the court. "Because this is a story that needs to be told."
Prince's opening statement lasted two hours. He gave profiles of Guinn's key deputies at Aspen, including a former cocktail server who, he said, earned about $380,000 in 2006; he displayed excerpts of depositions and mortgage documents on a projection screen; and he delved deep into the details of several Aspen loans.
"Mr. Prince," U.S. Bankruptcy Judge Gary Spraker said an hour and a half into the opening statement, "how much longer do you think you have on this?"
Another 30 minutes, it turned out. He wrapped up by saying that Guinn ran a Ponzi scheme and that he would seek punitive damages, though he did not say for how much.
When approached by a Review-Journal reporter, Guinn said, "Talk to my attorney."
Guinn attorney Joseph Liebman, in his hourlong opening statement, said his client "believed in the loans, and he had no idea that they, or the economy in general, would eventually falter."
Liebman, a partner with law firm Bailey Kennedy, displayed court records and mortgage documents that, he said, showed Aspen did tell investors how funds would be spent.
He said Ruthe's late husband, Chuck Ruthe, was "obviously aware" that he was "getting into a potentially risky venture." Liebman also countered the allegation that Guinn ran a Ponzi scheme in part by saying the loans' collateral — real estate development sites — had a "catastrophic decline" in value.
Donna Ruthe owns brokerage firm Today's Realty; Chuck Ruthe, who died in 2014, was president of casino operator Boyd Gaming Corp. According to court papers, he was a business associate of Kenny Guinn's dating to the 1960s.
Jeff Guinn founded Aspen in 1995. Three or four years later, according to a court filing by Donna Ruthe, Kenny "suggested" the Ruthe family invest in loans that his son's company was making.
Donna Ruthe sued Jeff Guinn in U.S. Bankruptcy Court in 2014, a month before Chuck died. She claimed that Guinn "engaged in a constant pattern of financing and refinancing" loans "at an ever increasing debt level."
His tactics produced "substantial" fees for himself and Aspen, and could "only be described as a Ponzi scheme," she alleged. Once he "lost the ability to refinance, Aspen collapsed," she claimed.
She also claimed in the lawsuit that Guinn "lived a very lavish lifestyle" — multiple multimillion-dollar homes in the Las Vegas area; beach homes in Del Mar, California; a $6 million private jet; and jewelry and other gifts.
Contact Review-Journal writer Eli Segall at (702) 383-0342. On Twitter at @eli_segall.