Friendship fosters venture in Henderson archery business
September 28, 2017 - 5:18 pm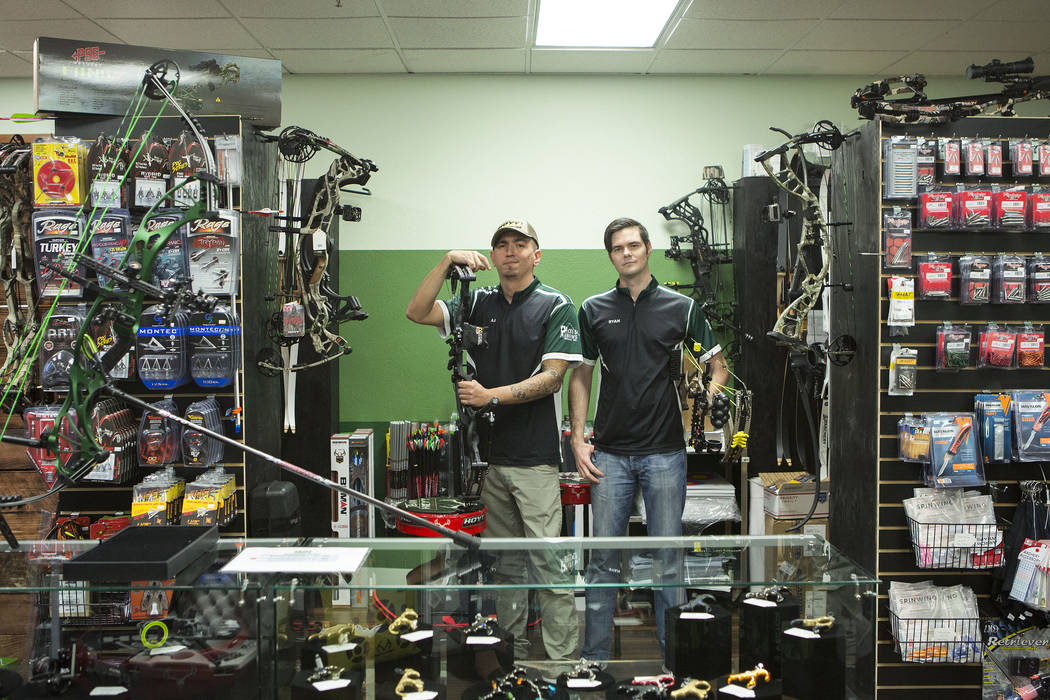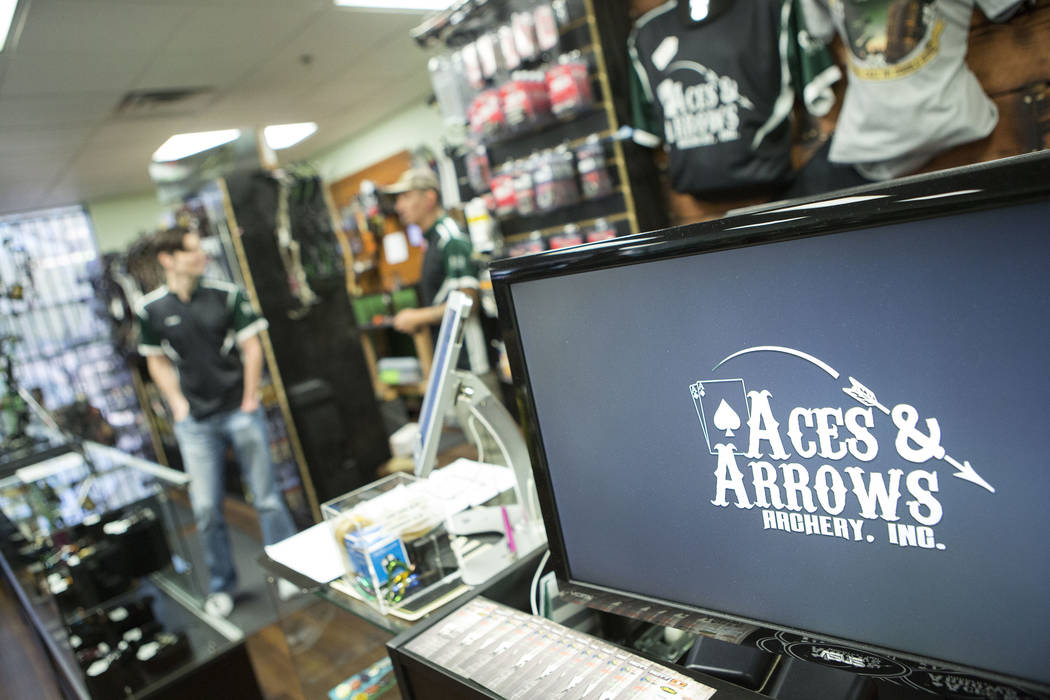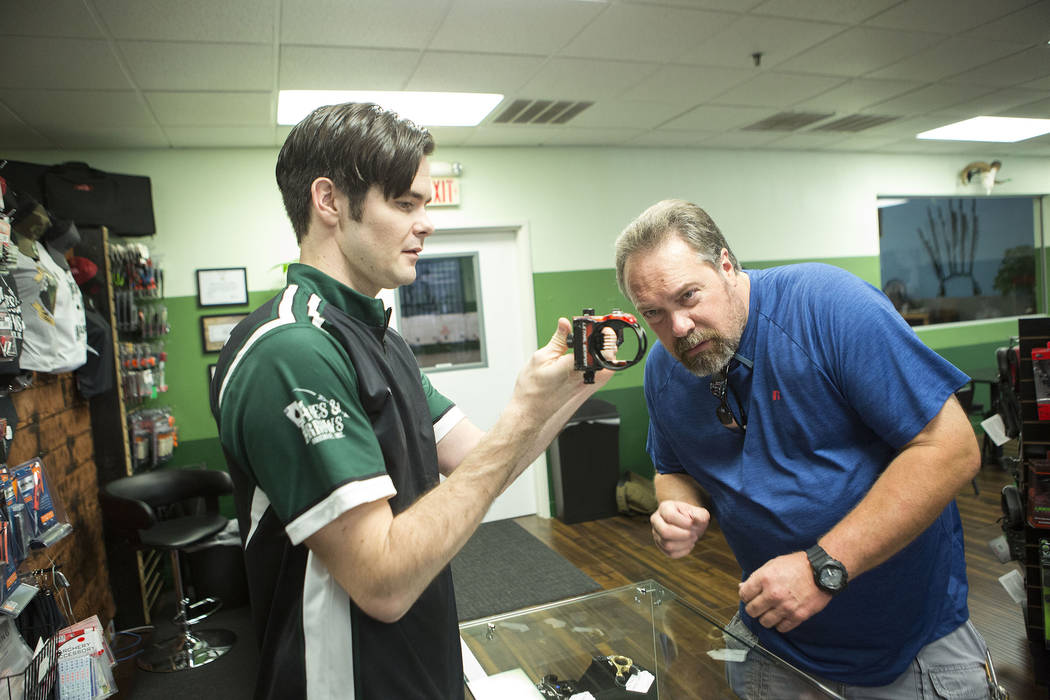 Before Ryan Sidor met his business partner, he never thought he would get into archery.
As a kid, he liked to watch archers on TV and in movies. He bought his girlfriend, also interested in the sport, a bow for her birthday and accompanied her to lessons.
She progressed quickly. But Sidor, born without a left hand, never joined in.
"I don't ever want to do something halfway," the 33-year-old said.
But a fellow customer, AJ Hanagata, saw a workaround. Hanagata, shooting arrows since age 8, helped Sidor tinker with a hunting bow.
After some months, Sidor had a bow he could use. He grips the bow in his right hand, pulls the string back with an attachment on his left arm and uses the end of his arm to release the arrow.
"I wouldn't want anyone telling me I couldn't do anything," said Hanagata, 38.
The friendship has resulted in a joint business venture for the two men, who opened Aces and Arrows Archery in Henderson. The store and 22-lane range fully opened in August.
Community growing
Sidor, who has lived in the valley for more than 10 years, said a small but loyal local archery community exists.
The growth of archery has helped the Clark County Shooting Complex appeal to families and people looking to step into firearms, complex supervisor Steve Carmichael said.
The complex started a basic archery class about two years ago that has since grown beyond just summer because of the popularity, Carmichael said.
The complex has hosted archery-themed birthday parties, and hundreds of students competed in a state- and county-sponsored archery tournament at South Point earlier this year.
Las Vegas is home to The Vegas Shoot, a nearly 50-year-old tournament that bills itself as the largest indoor archery tournament in the world. About 3,500 archers shot at last year's event.
The tournament has been helpful in attracting international customers to the other archery store in the valley, Impact Archery owner Charles Roof said.
Impact has served as a practice range for international competitors in the tournament, some of whom visit when they are back in Las Vegas on vacation. Plus, archers in Las Vegas for work will bring their bows with them for a quick session, Roof said.
His Las Vegas Archers club has about 140 members a year. When archery shows up in pop culture, through movies such as the "Hunger Games" and "Avengers" series, Roof sees a burst of interest that settles down with some new converts to archery.
His business and Aces and Arrows have coordinated schedules for their archery leagues to avoid overlap.
"There is a sense of camaraderie in this community," Roof said. "It's good for the sport. We're competitors, but we'll try to help the archery community grow together."
Risky business
Roof started his business in 2013. He previously worked for Pacific Archery, the range where Sidor and Hanagata met.
After 30 years of business, Pacific closed in February, a sad moment for Sidor and Hanagata.
On Pacific's website and account on the Facebook social media network remains a final message to its customers.
"What we gave was our hearts and soul to everyone," the message said. "I believe it's better to be a rusty old book filled with useful and useless knowledge than a fresh republished copy."
For the owners of Aces and Arrows, Sidor and Hanagata said they expect difficulty in marketing their business.
Archery lacks the flash and pace of football, Hanagata said. He hopes the leagues and venturing to different archery tournaments and sports events will help.
"When you're passionate, it shows," Hanagata said. "We're cultivating a community of our own."
Contact Wade Tyler Millward at wmillward@reviewjournal.com or 702-383-4602. Follow @wademillward on Twitter.