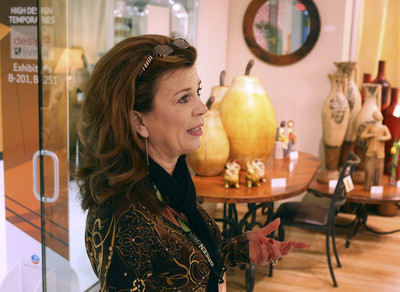 If the battered state of the furniture industry bothers Hersha Lodhia she isn't showing it.
Lodhia, in a brilliant blue patterned dress, smiled and laughed Monday morning as the World Market Center in downtown Las Vegas came to life.
With a coffee in one hand, Lodhia used the other to show off new lines of decorative throw pillows she made in her San Francisco sewing factory.
"This is where to be," she says. "Everyone wants to come and have a good time and do some work."
Like Lodhia, the furniture industry hauled itself to Las Vegas and put on a charming smile for the World Market Center's winter market event.
It's the first of two market events scheduled for 2009 in downtown Las Vegas.
The markets are an opportunity for tenants in the three massive buildings to show off their merchandise to buyers who come from around the world — but mostly the Western United States — to scout products they may want to sell in furniture, lighting and furnishings stores.
Past market events have reportedly attracted 50,000 or more people to town, a significant boost, particularly for downtown.
World Market Center doesn't release attendance figures, but reported advance registration was down by single-digit percentages. And foot traffic Monday, the first day of the four-day event, appeared thinner than at previous markets.
Elevator lines were short, traffic moved smoothly and there were some sparsely populated hallways and dark showrooms in each of the center's three buildings.
It's no surprise considering furniture and the broader category of home furnishings is among the hardest-hit sectors of the economy. In November factory orders dropped 23 percent, according to the industry consulting firm Smith Leonard.
The trade publication Furniture Today distributed during the opening day in Las Vegas had five stories that directly mentioned or focused exclusively on the rough times, shutdowns or cost-cutting.
And many exhibitors and buyers who did make it to the show said they were focusing on short-term survival or lowering costs for themselves and their customers.
Lodhia responded to the economy by discounting what remains of her China-made inventory.
Her company, Shamiana Inc., is instead focusing on what it can produce from its base in San Francisco.
"We need to bring pride back to this country," she said.
She's also differentiating her product by focusing on boutique buyers but offering a lower price.
"I want the customer to feel no guilt buying that pillow," she said.
Jules Deutsch of Creative Dinettes and Barstools of Tampa, Fla., was scouring the show for low-cost merchandise.
Like many buyers and exhibitors at the show, Deutsch is looking to find a niche in the new economy. That means looking for cracks in the shrinking market that aren't already filled by chain stores or cheap imports.
Deutsch specializes in mismatched pieces, for people who want variety in their homes.
"A big chain store will only buy a set one way, that is the way you have to buy it," he said.
The drive to survive is also forcing Deutsch and others into niches they wouldn't have sought to occupy in better days.
"I'm looking for some less expensive things," he said. "If I had my preference I would only be in the high end."
Buyer Dawn Nelemans of Waseca, Minn., was also bargain-hunting. Nelemans is married to a homebuilder and was looking to furnish a 6,000-square-foot model home with Tuscan-style accoutrements.
She said business is down by about half from a peak of about 10 to 12 houses annually.
"The only reason he is building six and most people are not building is because he is honest," she said.
The depressed state of the housing and furnishings industries had Nelemans thinking she might press for bargains on pricing and shipping at the show.
"Everybody is pushing a little bit now," she said.
Even with the apparent elbow room at World Market Center, downtown hotels are still benefiting from the show.
World Market visitors started checking in last Thursday and many will be in Las Vegas the rest of this week.
Lisa Robinson, spokeswoman for Four Queens and Binion's, said market guests are especially welcomed for their long stays. A market guest will likely book four nights, instead of the three-night stays typical of Las Vegas vacationers.
Also, Robinson said the market guests are good for business at steakhouses in both Binion's and Four Queens.
She said occupancy is up at the two properties during the current market. And there was an unusually high number of guests booking through general access Web sites such as Expedia, instead of going through World Market Center groups, she said.
"To us that tells us people were looking for good deals," Robinson said.
World Market Center's operators are already looking forward to their next event in September. They're offering market attendees rates that would have been unthinkable in recent years.
A flier distributed at the event Monday had rooms at Sahara for $29 per night, Golden Nugget for $49, New York New York for $89 and Bellagio for $165.
Contact reporter Benjamin Spillman at bspillman@reviewjournal.com or 702-477-3861.