Gaming regulators reject former casino exec's suitability request
December 5, 2013 - 6:16 am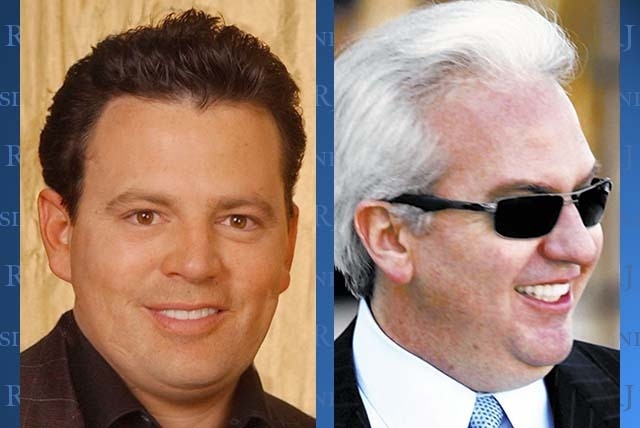 Former Golden Nugget owner and Wynn Resorts Ltd. executive Tim Poster struck out Wednesday to gain a preliminary finding of suitability from Nevada gaming regulators, an initial step toward receiving a full-fledged gaming license.
The Gaming Control Board spent more than 4½ hours grilling Poster at a hearing in Carson City over several issues raised by agents in their investigation, including Poster's past relationship with Rick Rizzolo, a former strip club owner with ties to mob figures, and allegations of hiding evidence from investigators, illegal sports wagering on the Internet and being an agent for an offshore Internet sports book.
The three-person board unanimously rejected Poster's request.
"This was originally a look into if you had any dealings with Mr. Rizzolo," control board Chairman A.G. Burnett said. "It turned into something else."
The Nevada Gaming Commission, when it meets Dec. 19, would need to rule unanimously to overturn the control board's recommendation. The rejection, rather than a denial, allows Poster to still work in the gaming industry as a consultant or in a position that doesn't require licensing.
Control board member Terry Johnson said he was "having a tough time believing" Poster had been "plausible and credible" in his answers to the panel's questions.
Poster, 45, co-owned the Golden Nugget between 2004 and 2005 with longtime friend and business partner Tom Breitling. Poster was employed by Wynn Resorts for several years and was named chief operating officer for several weeks. Poster was seeking suitability for TP Interactive, his own company. Poster said he has an opportunity to work again with Wynn Resorts if gaming regulators find him suitable.
"Tim has been successful in Las Vegas, Tim has given back to the community, and Tim wants to continue to contribute to the industry," attorney Mark Clayton told the control board.
Poster brought along some high-level support for the hearing: Breitling, the current chairman of Ultimate Gaming, Station Casinos board member and Ultimate Fighting Championship owner Lorenzo Fertitta, former Wynn Resorts executive Marc Schorr, and Las Vegas advertising executive Sig Rogich.
Poster co-founded Ultimate Gaming with Breitling, but he is no longer associated with the company, which is majority owned by Station Casinos and operates UltimatePoker.com.
Poster said he resigned his position with Wynn earlier this year because he didn't want the suitability investigation to reflect poorly on the company. He left Ultimate Gaming so the company could move forward with its licensing in New Jersey for interactive gaming.
When he was licensed as an owner of the Golden Nugget, Poster was given a two-year limitation and admonished to end his relationship with Rizzolo, who later was convicted of tax evasion and spent a year in prison.
Poster said that Rizzolo was "a very profitable and sought-after casino customer" and he wagered at the downtown resort. But Poster had an understanding that the limitation didn't bar Rizzolo from being a Golden Nugget customer, and "safeguards" were set up to warn him if Rizzolo was on the property.
"When agents asked in 2013 if I had terminated my relationship, I told them I had," Poster said "I have not been in he company of Mr. Rizzolo in the past nine years."
Clayton said Poster did not hide any additional computers, cellphones and email accounts from investigators. He said Poster's sports wagering habits should not be used against him. Other Nevada licensees have committed the same offense.
Poster told the control board he did not know it was illegal to make sports wagers on the Internet. He thought the law only pertained to the offshore books. Also, he would bet as much as $100,000 on football, often on credit.
The control board members focused heavily on Poster's wagering habits, including the size of the wagers and how he included friends into the wagers.
Poster admitted he continued to place wagers with offshore sports books even after he realized the activity was illegal.
Johnson asked Poster why he didn't reveal that information to those participating in the wagers him.
Johnson also asked Poster if "gambling is something that you struggle with?" Poster said, "No."
Control board members said Poster wagered with Pinnacle Sports, a offshore sports book currently at the center of a New York state and federal investigation into illegal online wagering. Owners of Pinnacle were indicted.
Control board member Shawn Reid read the names of some of the 25 people who were indicted and were associated with Poster and placed wagers with Poster. Reid said several of the those indicted visited Wynn Las Vegas and Encore during the time Poster worked there.
Agents were concerned that Poster was an agent for Pinnacle. Poster told the control board he wasn't a Pinnacle agent.
"New York law enforcement officers advised Tim that he is not a target nor the subject of investigation regarding the Pinnacle Sports case," Clayton said.
Poster told the control board he is owed at least $700,000 to $800,000 by the offshore sports book.
"I wish I had not done what I did," Poster said. "I wish I had not bet on the Internet."
Contact reporter Howard Stutz at hstutz@reviewjournal.com or 702-477-3871. Follow @howardstutz on Twitter.