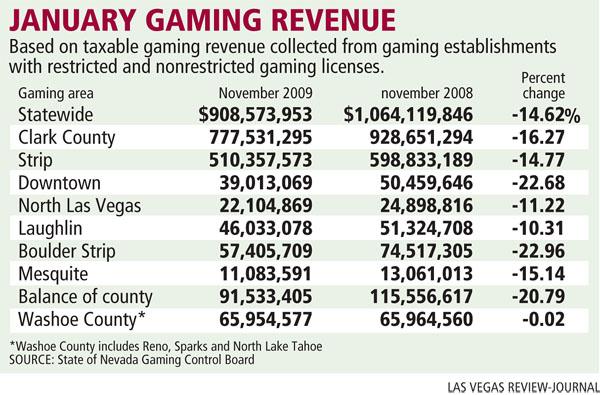 The new year brought Nevada's casino industry the same results as 2008.
For the 13th straight month gaming revenues declined, falling 14.6 percent statewide and nearly 14.8 percent on the Strip during January. Analysts said the amount of money casinos are winning monthly has fallen to levels last seen in 2004.
And with the decline in gaming revenues, casino tax collections were also down.
Nevada collected $47 million in gaming taxes based on January's gaming revenues, a drop of 42.3 percent compared with $81.5 million collected a year ago based on the January 2008 gaming revenues. For the fiscal year, gaming tax collections are down almost 20.3 percent.
The Gaming Control Board released the January figures Tuesday. The month's results included a portion of Chinese New Year and the first half of Super Bowl weekend. The game between the Pittsburgh Steelers and Arizona Cardinals took place Feb. 1.
Frank Streshley, the agency's senior research analyst, said when the February figures are released next month, a clearer picture of how the state's gaming industry is performing will become available.
"We know there was Chinese New Year visitation that fell into February and, last year, the entire Super Bowl weekend took place in February," Streshley said. "We need the two months together to get a better idea of where we stand."
Statewide, casinos reported revenues of $908.6 million, a decline of 14.6 percent compared with the $1.064 billion casinos won from gamblers in January 2008. On the Strip, casinos won $510.4 million from gamblers, a drop of almost 14.8 percent compared with $598.8 million won a year ago.
"In our view, 2009 could be one of the most agonizing years Las Vegas Strip operators have ever experienced," Wachovia gaming analyst Dennis Farrell Jr. said in a report to investors.
The news wasn't good in the rest of Clark County, where gaming revenues on a whole fell more than 16 percent. Casinos on the Boulder Highway, which includes parts of Henderson, saw revenues decline just under 23 percent, downtown casinos were off almost 23 percent, while casinos in the balance of Clark County fell almost 21 percent.
Gaming revenues grew in other parts of the state. Reno and Sparks casinos were both up less than 1 percent, Elko County gaming was up almost 10 percent, Wendover casinos were up just less than 17 percent and the gaming win from Carson Valley casinos was up 3.3 percent.
"The Strip is more than 50 percent of the state's win and the Las Vegas locals market is about 20 percent of the win," Streshley said. "Those two areas impact the whole state."
The amount of money wagered by gamblers in January fell 3.2 percent. Customers wagered $9.6 billion on slot machines, a decrease of 5.6 percent, but table game wagering was $2.7 billion, a 6.6 percent increase.
Statewide, casinos won $579.2 million from slot machines, a decline of 17.5 percent, while the table game win of $316.7 million was a decline of 9.2 percent.
However, gamblers' luck affected January gaming revenue totals, Streshley said. Tables games held 11.67 percent of the money wagered during the month, which was down from the hold percentage of 13.71 percent in January 2008.
Baccarat volume, which is normally high during Chinese New Year, was $893 million, an increase of 40.6 percent, while the revenues from baccarat were $96.2 million, a jump of 17.2 percent. However, the revenues could have been higher as casinos held just 10.77 percent of the amount wagers, versus 12.92 percent held a year ago.
Jacob Oberman, the gaming analyst for CB Richard Ellis' Global Gaming Group, said after looking at the numbers that the Strip will continue to suffer until the national housing market rights itself. He said President Obama's "Making Home Affordable Plan" needs to be given a chance.
"We reiterate that housing price stabilization, particularly in California and Arizona, will be the key catalyst in stabilizing revenue on the Strip." Oberman said in a note to clients. "Mortgage delinquencies are still near the peak, but the president's … plan, which went into effect March 4, could help stave off foreclosures in those hard-hit housing markets and potentially keep underwater homeowners from 'leaving the keys.'"
Contact reporter Howard Stutz at hstutz@reviewjournal.com or 702-477-3871.