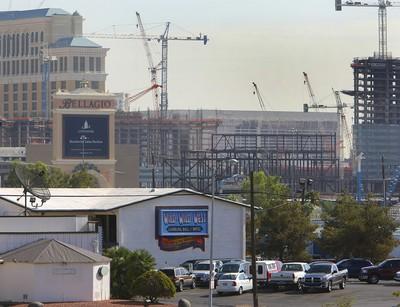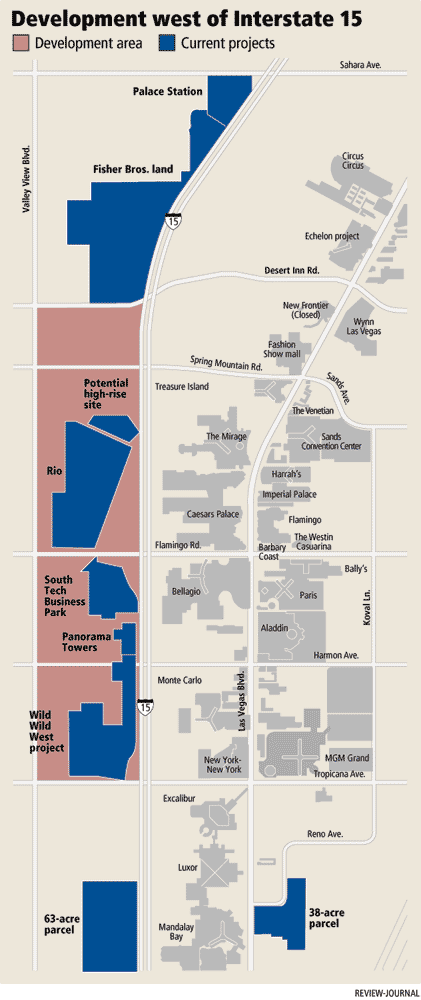 The ink hadn't even dried on MGM Mirage's agreement to acquire 26 acres on the far north end of the Strip — one of the boulevard's last remaining vacant land parcels — when real estate specialists and gaming analysts began pondering where the next wave of Las Vegas resort development will take place.
Their attention has focused on the west side of Interstate 15.
Several large land parcels are on the market and development is either started or planned for additional projects along Dean Martin Drive, stretching south from Twain Avenue toward Russell Road.
Meanwhile, Station Casinos is in partnership with New York-based Fisher Bros., a commercial builder and investor, to develop almost 90 acres running south along I-15 from the Palace Station on Sahara Avenue to where Rancho Road dead-ends. The company also controls a site that is now more than 60 acres, part of which borders Dean Martin and runs to Tropicana Avenue, where it operates the Wild Wild West casino.
Observers believe that over the next decade, the area west of I-15 will feature a combination of gaming projects, mixed-use retail and high-rise residential.
"There is no question that development was eventually going to push out east and west from the Strip," Deutsche Bank gaming analyst Bill Lerner said. "The west side of I-15 is a good example of that push. But that doesn't mean anything else is going to let up. There is still a lot of potential on the Strip, but not a lot of vacant land."
John Knott, the executive vice president of the Global Gaming Group for CB Richard Ellis, said escalating prices in Strip land sales over the past year have forced investors to look away from Las Vegas Boulevard as a way to expand the resort corridor.
During the last 12 months, the value of Strip land has ranged from roughly $17 million per acre up to $35 million an acre, the estimated price New York-based Elad Group is paying to acquire the 34.5-acre site housing the now shuttered New Frontier.
Knott thought the purchase prices and subsequent increase in the potential project scope to secure a return on investment percentage in the mid to high teens will fuel the move west of the Strip. Also, MGM Mirage's $444 million deal in May, in which the casino operator acquired the vacant 26-acre land parcel across from the Sahara, all but sealed up the Strip.
"We had talked about the development potential on the north end of the Strip for about a year, and look how quickly the land disappeared," Knott said, also referring to recent deals for the Sahara and the site that once housed the Wet 'n Wild water theme park.
"This has our clients asking, 'What's next?'" Knott said. "We believe it's the land west of I-15. The initial price for entry is little different and it's accessible to the Strip. Desert Inn (Road) drops you right there and Harmon (Avenue) will become a tremendous connector."
Brian Gordon, a partner in Applied Analysis, a Las Vegas-based financial consulting firm, said a significant number of potential development sites along the Strip have been taken out of play in the past year. That has had a ripple effect on the surrounding land.
"The Strip will eventually extend north and south, but it's limited," Gordon said. "Dean Martin would serve as a natural progression given the price points we're now seeing on the Strip."
David Atwell, president of Las Vegas-based Resort Properties of America, who said he was the initiating broker on the New Frontier transaction, said the bar for land values on the Strip has been raised so high, potential buyers are reassessing their options.
"I've been doing this for 30 years and it makes sense that development would spill over into other areas," he said. "That area (west of I-15) seems to be the next wave."
The Panorama Towers, a residential high rise on Dean Martin near the Harmon Avenue overpass, is already part of the landscape. There are 320 sold-out units in the first tower and the 326-unit second tower is scheduled to open in the summer. A third tower, Panorama North, is under construction with nearly 400 units on the north side of Harmon. A fourth tower is planned on the south side.
The site is directly across from MGM Mirage's $7.4 billion CityCenter development. The Harmon overpass runs directly into CityCenter.
Another potential residential high-rise site along Dean Martin includes a 38.5-acre parcel on which the South Tech office park just south of Flamingo Road now stands. Knott said CB Richard Ellis is trying to sell the land, which is approved for gaming, for between $13 million to $18 million an acre.
Another 25 acres of former industrial land just north of the Rio on Twain Avenue could also be developed into high-rise residences.
Farther south, 63 acres along Dean Martin — facing Mandalay Bay near Hacienda Drive and the Russell Road interchange — is reportedly in escrow with a value of $7.5 million an acre.
"With the access from Hacienda, it's a valuable piece of land," Knott said.
Station Casinos, which has nearly a dozen potential development projects throughout Las Vegas and Reno, could soon become the major casino player west of I-15.
Between its joint venture partnership with Fisher Bros. and a planned redevelopment of the Wild Wild West site, Station plans to make a statement on both Dean Martin and South Rancho. The company has wagered significant development dollars on more than 150 acres.
Station has said little, however, about either site, saying only that it is planning both potential developments. In 2005, company officials said the Wild Wild West would be demolished and the land cleared to give developers an empty canvas. Speculation has also centered on a sports arena being part of the project, which could house the Ultimate Fighting Championship, which Station Casinos executives Frank Fertitta III and Lorenzo Fertitta partly own.
"Obviously, we have a great deal of confidence in what could happen with the west side of I-15," said Scott Nielson, Station Casinos' executive vice president and chief development officer.
The casino operator bought the Wild Wild West in 1998 and quickly began accumulating adjacent land parcels that housed mostly industrial businesses.
"It looks like others are now seeing what we did a few years ago," Nielson said. "There is going to be a string of significant projects in the pipeline for that area. We think this could add together to create a development of the future with better roads and enhanced forms of transportation."
The Wild Wild West site is on a comparable scale with CityCenter (76 acres) and Boyd Gaming Corp.'s $4.8 billion Echelon project (87 acres).
In December, the company announced a joint venture with Fisher Bros. to master plan land along Rancho Road south of the Palace Station into a mixed-use development. The project's timing, cost and scope are still undetermined.
Nielson said land surrounding Palace Station, the company's first casino, would be connected to the Fisher Bros. land.
Atwell brokered the deal a year ago when Fisher Bros. acquired the sites on which the Fletcher Jones Mercedes dealership and the Scandia Family Fun Center had stood. He said the land is zoned to allow several thousand high-rise condominium or hotel units.
Much of the development west of I-15 isn't expected to take place until the current building boom in the resort corridor finishes over the next 10 years.
Almost $29 billion in projects that will bring more than 33,000 hotel rooms and residential units to the market are under construction, including the $1.6 billion Palazzo (expected to open later this year), the $2.1 billion Encore (2008), CityCenter (2009) and Echelon (2010).
While the west side of I-15 is on the horizon, Knott and Lerner both believe the Strip still has real estate potential.
Knott pointed to a T-shaped 38-acre parcel on the Strip's far southern end across from Mandalay Bay that CB Richard Ellis is marketing in partnership with Goldman Sachs for $28 million an acre.
Meanwhile, Lerner said Las Vegas-based casino operators Pinnacle Entertainment and Ameristar Casinos want to acquire a casino with a Strip address. Both companies operate casinos in other American markets but don't own a Strip casino.
Also, he thought MGM Mirage may decide to one day to develop the land between The Mirage and Treasure Island that serves as a driveway for both hotel-casinos.
"There will be a lot happening in other locations, but the Strip is far from done," Lerner said.