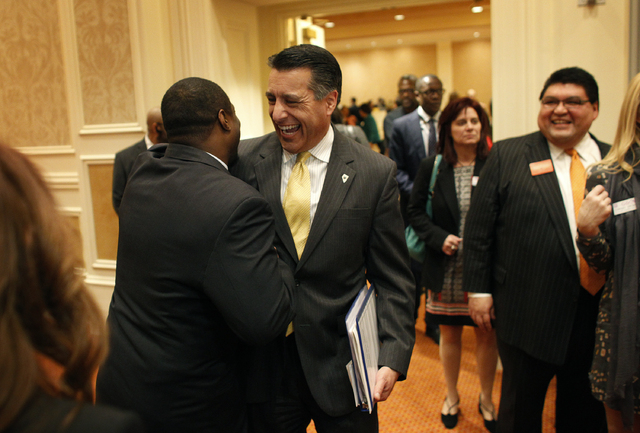 Gov. Brian Sandoval on Thursday touted Nevada's economic comeback under his leadership, telling a joint chambers of commerce luncheon in Las Vegas that the state is emerging from "its darkest hour."
Sandoval credited Nevadans' gritty determination to beat back the recession, which devastated the construction industry, collapsed the housing market and boosted the unemployment rate to the highest in the nation since 2010.
Now, Nevada's unemployment rate has dropped to 8.8 percent, the lowest since 2008, and the state has seen 36 straight months of job growth, according to Sandoval, who said he met his goal of creating 50,000 jobs in his first term.
"A few years ago, many people wondered if Nevada would provide the same opportunities it once did," Sandoval said. "We survived and now we see glimpses of a much better tomorrow."
"As 2014 begins, all indications point to more job growth and lower unemployment," the governor added. "We have a long ways to go, but we should not ignore how far we've come."
Sandoval spoke to the ninth annual joint chambers of commerce lunch presented by the Asian, Latin and Urban chambers. More than 500 business leaders and their guests attended. It was sponsored by Las Vegas Sands Corp. and held at The Venetian.
The Republican governor is running for re-election in 2014. So far he faces only token opposition from several little-known candidates.
The Democratic Party has yet to recruit a top-tier contender, although Clark County Commission Chairman Steve Sisolak is considering jumping into the race. Candidate filing runs March 3 through March 14.
In his 36-minute address, Sandoval used personal examples of successful businesses in Nevada, from an artisan baker from Peru to companies that have relocated or expanded in the state to diversify the economy and add jobs.
He said CustomInk in Northern Nevada, for example, relocated to the Silver State and initially hired 29 employees. Now it has 320 workers after expanding. He said a woman who got a job there after three years of unemployment pulled him aside and said, "I'm living again. I can provide for my family. I can make a house payment. I can make a car payment."
"Nevadans have proved their toughness and their resiliency," Sandoval said. "And as the economic storm that has been raging for the last few years starts to break — and it is starting to break — Nevada is emerging from its darkest hour better than ever."
In Southern Nevada, the governor later in the day promoted the opening of Barclaycard US, the credit card division of Barclays, in Henderson. He said it will open with 400 new jobs and could expand to 1,000 employees in the next couple of years.
The governor noted that Nevada is competing globally, too. Sandoval said he has led trade missions to China, South Korea, Mexico, Canada and Israel. Another mission is planned to Canada this year and possibly Asia, he added.
Sandoval held up 10 pages listing businesses that might move to Nevada, but he said the competition from other states is fierce. He said New York, for example, is offering any business that moves there no taxes for 10 years.
"It's really a battle out there," Sandoval said.
Sandoval said the most important development lately is Nevada becoming one of six states to be selected for testing of drones, or unmanned vehicles. He said it could result in 16,000 jobs over 10 years and billions of dollars in new investment.
"This could be one of the biggest developments in Nevada's economic history," the governor said to applause. "Now, Nevada is on the ground floor of the next big thing in aviation."
The governor tied positive economic growth to improving education in the state, too. He said Nevada is spending its money more wisely, helping preschoolers, kindergartners and English-language learners. The state also is working more closely with colleges and universities to ensure the workforce is properly educated and trained for Nevada jobs, he said.
"Nevada will not survive in the future without a workforce that is educated and trained for the future," he said.
The only negativity in Sandoval's upbeat speech came when he warned the audience about a proposed 2 percent margins tax on business, a 2014 ballot issue touted by the teachers union to fund education. He said it could kill business.
"I humbly believe it could be the worst thing that could happen to business in the state of Nevada," he said. "I urge you to vote against the margins tax."
The pro-business audience applauded.
Asked after his speech whether he had set a new job growth goal, Sandoval said he expected continued expansion.
"We just want to keep the momentum," he said. "I don't want to put a number on it, but I'm optimistic."
Contact reporter Laura Myers at lmyers@reviewjournal.com or 702-387-2919. Follow @lmyerslvrj on Twitter.