Graphics startup puts the writing on the wall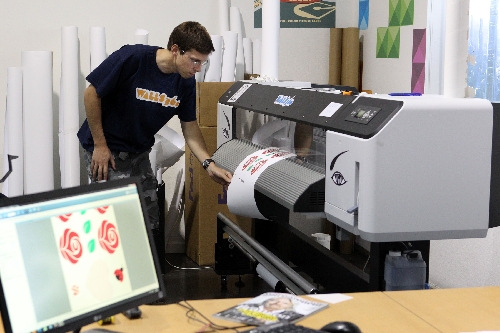 Don't be surprised if you notice potty humor Mad Libs stuck to the mirrors while using the restrooms at Mandalay Bay next week.
"Don't forget to ______ your ______." (Use your imagination.)
That's the work of Walls 360, a Las Vegas-based graphics start-up that will be announcing several content licensing deals at the Licensing Expo at Mandalay Bay Tuesday through Thursday, including a partnership with Mad Libs, which will be exhibiting at the show. Hence, the bathroom art.
Walls 360 moved to Las Vegas last September from San Francisco, lured to the valley by low cost of living and an attractive business climate.
When the company set up shop eight months ago, its sole source of distribution was its own website. Now, Walls 360 has six major distribution partners, including Fab.com, and is preparing to add two more.
"We're at a hypergrowth phase of the company, working literally around the clock," said co-founder John Doffing, who runs the Las Vegas facility with wife and co-founder, Tavia Campbell. Co-founder and creative director Yiying Lu is based in Sydney .
When its two upcoming distribution deals take effect, Walls 360 will ramp up from one to three shifts, daily . At capacity, the 4,200-square-foot facility can produce and ship $50 million in wall graphics per year. The company recently added two employees and is hiring six more.
"Revenues in 2012 will dramatically exceed funding, which is rare for a start-up," Doffing said.
Not bad for a business that was intended to be a typical Internet company.
"Originally, we were never going to touch the product," Doffing said.
The plan was to take graphics orders on a website and outsource printing. But Doffing and Campbell found they needed to provide the products, shipping and customer service in order to be successful.
In its glorified garage near Tropicana Avenue and Arville Street, the company designs, prints, cuts and ships wall graphics. Walls 360 produces art that sticks to most surfaces but can be removed as many as 200 times without leaving a residue. Kids can crumple the stickers up and smooth them back down without so much as a wrinkle.
A big part of Walls 360's business is licensing content used in graphics. Every new deal, like a partnership with Penguin being announced at the trade show next week, adds to the company's catalog. New content, such as images of Marilyn Monroe, Moshi Monsters and vintage art from the Moulin Rouge in Paris, goes live every month.
The biggest slice of the company's business is video game graphics, but business-to-business products such as corporate badges for conventions and step-and-repeat logos subsidize more creative efforts, like tangrams, moveable geometric shape stickers for children. Walls 360 has shipped more than 100,000 logos since opening its production facility.
"We're creating a new medium for kids to interact with their environment," Doffing said.
This year the company started working with Clark County School District on three initiatives, including turning children's artwork into 8-foot-tall wall graphics and donating tangrams to 20 of the district's struggling schools.
"The students love it and the teachers love the materials, because they can be put on a wall, pulled off and reused over and over again. Plus, they tie into the curriculum," said Bridget Phillips, director of the district's school-community partnership program.
The products for children are Doffing's passion.
"He doesn't care about the business aspect – he could talk about the vision all day long," Campbell said with a laugh.
The vision includes downtown Las Vegas. Walls 360 donates graphics to First Friday and encourages employees to attend the weekly Vegas Jelly events at The Beat coffeehouse. If all goes well, the company will scout for a location downtown – maybe a gallery for tourists on Fremont Street to peruse.
Contact reporter Caitlin McGarry at cmcgarry@review
journal.com or 702-387-5273.