Group pursues film studio at Cashman Center
November 15, 2013 - 9:44 pm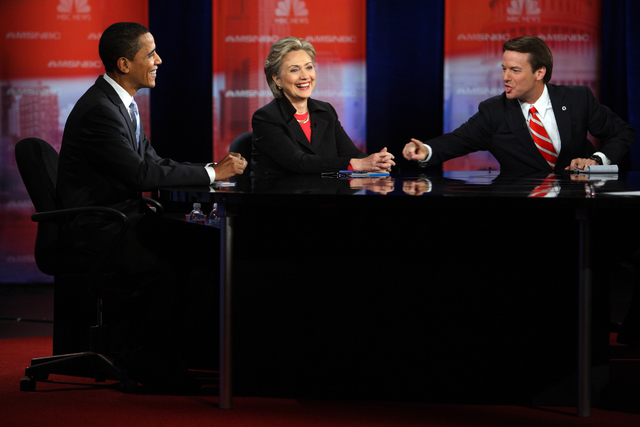 In the near future, Cashman Center could become the new home of a Las Vegas film studio.
A group of stakeholders that includes Las Vegas Mayor Carolyn Goodman and local film industry workers has been meeting every four to six weeks to make that happen.
The group, called the Nevada Film Coalition, has approached the Las Vegas Convention and Visitors Authority about using part of Cashman Center for the studio for four years during a pilot program. Before going any further, Rossi Ralenkotter, the authority's president and CEO, told the group he wanted to see something in writing, Goodman said.
Ideally, the studio would not be owned by any one company so it would be open to multiple productions. But the catch is someone would have to come up with the estimated $750,000 it will take to build out parts of Cashman to make it usable for shooting.
"The best thing would be for a group to gather together and each put up so much money, depending on how resourceful they are," Goodman said.
Previous efforts to bring a film studio to the Las Vegas Valley have fizzled. Then-Lt. Gov. Lorraine Hunt Bono tried it 15 years ago, and the movement has been stalled ever since.
"Nothing has really flown here," Goodman said. "You have too many people in the pot. Government works at a snail's pace."
Before the 30-year-old Cashman Center, 850 Las Vegas Blvd. North, could become any sort of film studio, use of the facility would require approval of the travel board. If the authority were to extend a lease, that would have to be approved by its board of directors. Then it would take an estimated eight weeks for build-out, if the project is funded.
Also, the center is booked. This year it has hosted 156 events, and in 2012, 189 were held. General revenue for Cashman for fiscal 2013 was $1.8 million.
"This discussion keeps going," said Goodman, who is a member of the LVCVA board of directors.
Then there are the Nevada film tax incentives themselves — the reason all this is happening.
On June 11, Gov. Brian Sandoval signed Senate Bill 165 into law, making Nevada the 41st state to offer incentives to attract major motion picture, television and commercial productions.
The application for Nevada's film tax incentives was scheduled to come out Nov. 1 through the Nevada Film Office but isn't ready yet. Incentives are scheduled to be available starting Jan. 1.
Starting Jan. 1, productions that shoot at least 60 percent in-state can earn transferable tax credits of 15 percent to 19 percent of their qualified production expenses, including Nevada cast, crew, labor, gear, rentals and purchases. Productions must spend at least $500,000 in-state, and each production is capped at $6 million in credits.
Jeffrey Spilman, a film and television producer who worked in Michigan and experienced tax incentives there, where the program nose-dived, is also a member of the Nevada Film Coalition.
Goodman said Spilman has been providing guidance to help Nevada avoid any pitfalls to the program.
"A lot of states put programs in place without input from the film industry," Spilman said.
In Michigan, Spilman said incentives were administered inconsistently the first two years, which caused several problems. The film coalition is working with Nevada regulators to clear up some of the law's language so incentives that are offered work for the state and the industry, Spilman said.
"It's a mixed bag having the application up before regulations are up. Nothing can sink this ship faster than inconsistency," Spilman said.
In fiscal 2012, 520 productions filmed in Nevada, bringing a total revenue of $89 million to the state. In fiscal 2011, 479 productions were filmed, and total production revenue was $102.5 million. The Nevada Film Office's records show 2001 as the most lucrative year recently, with 476 productions filmed in the state, bringing in almost $155 million.
With incentives signed into law and 2014 near, Goodman and others have been working overtime to attract movie producers.
When the mayor recently attended the kickoff for the movie "Last Vegas," she asked for business cards from every producer she could find so as the project moves forward, they can be updated.
"It's a really exciting time," Goodman said. "We are waiting for the application, that's the first piece."
In the north, there already is a film studio. Three stages at the Reno-Sparks Convention Center have been repurposed as film stages at a low cost. The new studio is called Reno Tahoe Studios and is maintained through Film Reno Tahoe, a division of the Reno-Sparks Convention and Visitors Authority.
"You have to offer that to productions at far below market price because it's not truly a studio but suitable for filming," said Spilman, who founded S3 Entertainment Group.
Spilman has six film credits to his name on IMDB, all since 2009. He can usually can be found in Michigan, Los Angeles, Reno or Las Vegas. He said he goes where the work is. He has been acting as film liaison for the Reno-Sparks Convention and Visitors Authority, and he was one of the people behind the scenes who helped ensure Nevada film tax incentives passed.
Spilman said that the studio in the north and the proposed project at Cashman are not designed to be profit centers, merely to attract productions with budgets between $2 million to $5 million.
Contact reporter Laura Carroll at lcarroll@reviewjournal.com or 702-380-4588. Follow @lscvegas on Twitter.