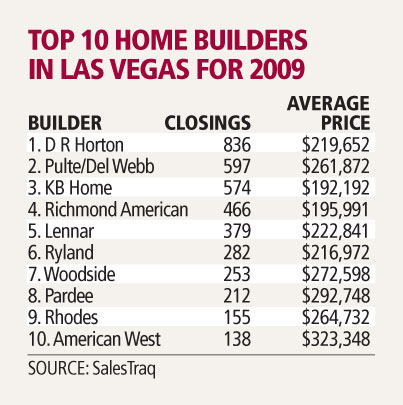 Look for this year to mirror 2006 with zero percent appreciation and home prices skipping along the bottom, housing analyst Larry Murphy said Thursday at his quarterly Crystal Ball presentation.
New-home sales will increase from last year's 5,184 closings, the fewest since 1985, but prices will continue to drop, the president of Las Vegas-based SalesTraq told about 200 real estate professionals at the Suncoast.
Last year, Murphy projected the median price of an existing home in Las Vegas could dip below $100,000, though he didn't think it would. He's reporting a median price of $120,000 in December, down 25 percent from December 2008.
The median price has leveled off since April, when it was $125,000.
"I told people we won't recognize the bottom the day or the month it hits," Murphy said. "It'll take six months to look back over our shoulder and say, 'I think that was the bottom.' I think we're going to see a year pretty much last like year."
Existing-home sales increased 57 percent in 2009 to 48,075 closings, while new-home sales decreased 48 percent. New-home median prices declined 20 percent to $212,883 in December.
Murphy expects to see 26,000 foreclosure homes hit the Las Vegas market in 2010, up a little from 23,981 in 2009, but not the "tsunami" of bank-owned homes some analysts are predicting.
"While foreclosures aren't going to go away in 2010, I don't see a wave of them coming. I see a steady stream," he said.
Irvine, Calif.-based RealtyTrac projected 3.1 million foreclosure filings in 2010, a 2.5 percent increase from 2.8 million in 2009.
"Banks own about 10,000 homes, by my count, that are not on the MLS (Multiple Listing Service)," Murphy said. "People say it's a conspiracy. We love a good conspiracy, but I think this is how long it takes to go through the process. How's that conspiracy been working out for them so far?"
With a median price of $116,900 for foreclosure homes, compared with $150,000 for a short sale, or sale for less than the mortgage balance, Murphy thinks banks will "wise up" and start approving more short sales this year. They'll account for roughly 15 percent of home sales in 2010, he said.
The trend toward "strategic defaults," or people walking away from their mortgage, will continue this year, Murphy predicted.
A home purchased for $300,000 during the boom period has lost about half its value, or $150,000 of negative equity for the homeowner. It will take 20 years at 5 percent annual appreciation to recover that loss.
Steve Bottfeld, principal of Marketing Solutions, said some economic indicators are improving in Las Vegas, including visitor volume, gaming revenue and home sales. 2010 is going to be a year of transition and new standards, he said.
"What will sell in 2010? Foreclosures and short sales," Bottfeld said. "What will prices be in 2010? We're really looking at very flat prices. Stable … that's the word. Will prices go up? Not significantly. Will they go down? Not significantly. They're going to stay close to where they are. We're going to see slow but steady improvement."
Murphy said Las Vegas homebuilders built "way too many" homes in the first half of the decade, about 50,000 more than needed. There weren't as many people moving to Las Vegas as everyone thought and about one-fourth of the homes were purchased by investors and second-home owners.
"We built 38,000 homes in 2005 and we only needed 18,000. That's 20,000 too many," he said. "Now we need to build 50,000 too few homes and that's going to take some time. For the homebuilders out there, I wish I had better news."
The number of active subdivisions in Las Vegas Valley dropped to 230 by the end of last year, compared with 350 at the beginning of the year and 525 in January 2008.
Homes available for sale on the MLS has steadily declined from 23,803 in January 2008 to 10,262 in December, or a 2.6-month supply at the current sales rate, SalesTraq reported.
Contact reporter Hubble Smith at hsmith@reviewjournal.com or 702-383-0491.