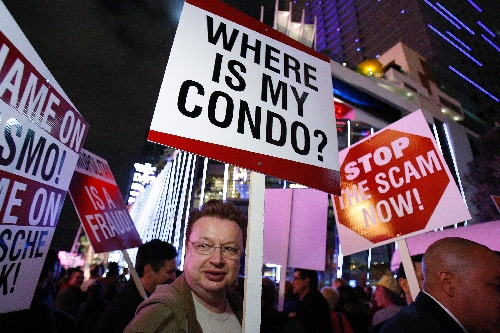 Buyers of condominiums at The Cosmopolitan of Las Vegas will get the opportunity to tour and close escrow on completed units next month, according to a company spokeswoman and lawyer representing a number of investors.
But all is not what it appears to be, said Lisa Lawrence, an attorney with Lurie & Park LLC in Los Angeles, which represents about 150 condominium buyers.
"What appears to be happening is that buyers will be given an hour or two to inspect their condominiums before they have to close on their purchase," Lawrence said. "But they still haven't received all the required real estate disclosures."
She said her clients still had not received a soundproofing report commissioned by The Cosmopolitan and recently completed.
"We have to know if the units are soundproofed to residential standards," she said. "It's required from what I understand. They seem to be pushing buyers into closing on their condominiums."
Lawrence said she had been give different dates in January for when the first units were expected to be ready for inspection and then occupancy. She didn't know how many of her clients would be willing to close on their purchases.
Amy Rossetti, public relations director for The Cosmopolitan, said Tuesday that all Phase 1 units are completed.
She said closing notices started going out last week and tours will begin next month.
"The closings will be sequenced to allow for orderly closings and staffing, beginning in mid-January," said Rossetti, who declined to comment on matters of pending litigation.
An arbitration hearing had been scheduled for Tuesday. Messages left with Andre Sherman, an attorney with the Los Angeles-based law firm Girardi Keese, were not returned.
Sherman, Lawrence and Sigal Chattah, a Las Vegas-based lawyer with the law firm Sigal Chattah P.C., represent condo buyers in their case against the owners of The Cosmopolitan, Deutsche Bank AG and Nevada Property 1.
On Dec. 14, Clark County District Judge Elizabeth Gonzalez granted an injunction that prevents The Cosmopolitan from renting any of the 214 condos still under escrow until the potential owners had a chance to see those units.
Lawrence said the injunction remains in place. She said it was possible she would seek another court order to force the owners of The Cosmopolitan to turn over the soundproofing report.
The condominiums were not included in the 2,000 units that opened on Dec. 15. In April, Cosmopolitan developers competed a $60 million settlement with more than 400 buyers involved in a class action lawsuit.
When Deutsche Bank paid about $1 billion for the half-finished development in August 2008 buyers had paid deposits of 20 percent to secure one of the planned condominiums, which ranged in price from the high six- to low-seven-figures.
One of those buyers was Benny Perry, owner of Perry Enterprise LLC, a Las Vegas-based real estate brokerage firm. In May 2005, he put down a $116,000 deposit on a condominium valued at around $600,000.
"I want them to repay all of my deposit," Perry said Tuesday. "Did they perform on time? Did they deliver the product they promised? I would have to say no. I have a problem with that."
He said his escrow was scheduled to close in early 2008, even though the resort didn't put a completion date in his contract. Perry, 57, said he bought the condominium as an investment.
"I don't know what games they are playing. But this is the worst of the American dream when they try to use their size to force individuals to settle for less," he said.
Perry, who has been negotiating a settlement and the return of his deposit on his own for three years, was undecided Tuesday about whether to hire an attorney to negotiate on his behalf.
Contact reporter Chris Sieroty at csieroty@reviewjournal.com or 702-477-3893.