Default activity in Nevada housing market gained momentum in '15
January 18, 2016 - 3:06 pm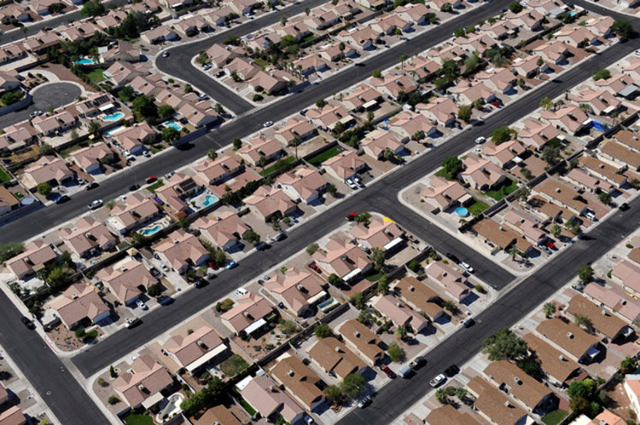 Nevada's foreclosure markets refused to go along in 2015.
Even as U.S. default activity fell to a nine-year low, housing distress in the Silver State gained steam in the year. And local real experts said 2016 will probably bring more of the same.
A report from housing research firm RealtyTrac showed that the share of Nevada homes in some stage of foreclosure jumped 6.6 percent from 2014 to 2015, to 16,533 units, or 1.4 percent of all homes. Nationally, foreclosure activity fell 3 percent, and averaged 0.8 percent of homes.
As it has for the better part of the last decade, Nevada ranked in the top five for default activity. The state's No. 4 ranking was behind only New Jersey, Florida and Maryland.
That's not to say Nevada's default rate hasn't improved in the longer term.
Since its 2010 peak, Nevada's default rate has dropped the third most of any state's, though that's partly because its share of foreclosures was among the highest during the downturn's depths.
Foreclosure activity plummeted 84.4 percent statewide from 2010 to 2015, RealtyTrac reported. Only Arizona (down 88.7 percent) and Montana (down 85.3 percent) saw steeper declines. The national average dropped 62.3 percent.
What's more, among big metro areas, Las Vegas barely registered in the top 20. With 1.5 percent of its homes in default, the city ranked No. 17. The top market, Atlantic City, had nearly triple the foreclosure rate, at 3.4 percent.
RealtyTrac also found that Nevada lenders made noticeable progress completing foreclosures in 2015. Bank-owned home sales soared 52 percent year over year, to nearly 6,200 closings. Foreclosure starts rose 14 percent, to almost 10,300 filings.
Local Realtor Tim Kelly Kiernan said he expects 2016 to "be a mirror image" of 2015.
"The banks still are in no rush to foreclose on the thousands of homes that are in delinquent and foreclosure status in Clark County," he said.
Bank-owned sales made up 8 percent of the market's 37,000 sales in 2015, Kiernan said. But bank-owned homes are just 3.5 percent of homes on the market through the Greater Las Vegas Association of Realtors' Multiple Listing Service, he added.
An uptick in short sales could also cut the default rate. If lenders allow more homeowners to sell their house for less than they owe on the mortgage, fewer locals would be driven into foreclosure.
Short sales have slumped since 2014, when the federal Mortgage Forgiveness Debt Relief Act expired and put homeowners on the hook for income taxes on forgiven home loans. Short sales were 6.8 percent of the market in September, compared with 10.4 percent in September 2014, according to the Realtors' association.
But an extension of the relief law was included in the 2016 federal budget, which now awaits President Barack Obama's signature.
Contact Jennifer Robison at jrobison@reviewjournal.com. Find @_JRobison on Twitter.