KB Home developing subdivision in once-blighted North Las Vegas area
January 10, 2018 - 4:32 pm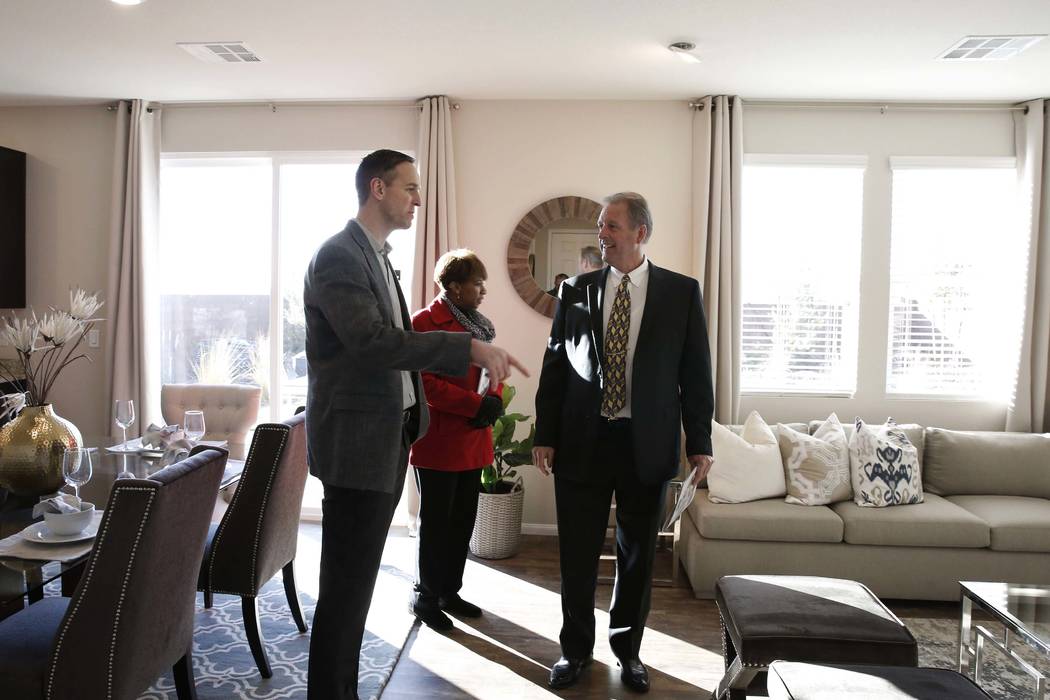 The once-abandoned Desert Mesa project in North Las Vegas was, by all accounts, a scary place.
Workers boarded up the homes, vandals sprayed graffiti and kicked through walls, and squatters moved in. Mayor John Lee said that Desert Mesa was a "scary place to see in the middle of a neighborhood."
"It was an open wound in this community," he said.
Councilwoman Pamela Goynes-Brown, who lives in the area, said it was "depressing" driving by, and when work crews finally tore down the houses last year, she thought: "There is a God in heaven."
Desert Mesa, launched by North Las Vegas' now-defunct housing authority, blighted its neighborhood for more than a decade. But today, KB Home is developing a subdivision there and drawing strong interest, underscoring the valley's expanded home-construction market and giving life to a property that for years was an eyesore.
KB and North Las Vegas officials Wednesday held a grand opening for the project, still called Desert Mesa and located along Carey Avenue between Revere and Commerce streets. Plans call for 123 single-family houses, with prices starting in the $190,000 range.
KB, which bought the 27-acre site in October for around $3.1 million, launched sales this past weekend.
KB's Las Vegas division president, Brian Kunec, said seven houses are under construction. It started building them without buyers lined up first, but six are now under contract, he said.
Also, 250 families are on the waiting list for Desert Mesa, the most locally for KB in a decade, according to Kunec.
"We haven't seen a lead list like this in quite a long time with that many people," he said.
A city of North Las Vegas news release for the event said that Desert Mesa had long been "considered a symbol of the Great Recession" and that construction was "halted due to the 2008 global financial crisis."
But what it didn't mention was that Desert Mesa was started by the North Las Vegas Housing Authority, which mothballed the project while the economy was heating up.
According to news reports, the agency broke ground on Desert Mesa around 2003. It planned to build 123 homes and sell them at affordable prices, with 30 reserved for low-income families.
It built a dozen or so houses, but work stalled by 2004. Crews had discovered caliche, a rocklike soil, and the authority used cash reserves to pay for its removal, depleting the agency's disposable cash, the Review-Journal reported.
Contractors raised their prices amid the delays, and project lender Nevada State Bank froze funding for Desert Mesa. By early 2006, the still-empty homes had been vandalized at the mothballed project.
"It's been vandalized beyond repair," then-Mayor Mike Montandon said at the time.
The housing authority was dogged by mismanagement and other problems and eventually folded into the Southern Nevada Regional Housing Authority. In late 2006, before it was absorbed by the regional agency, it sold the Desert Mesa site, records show.
But the project still went nowhere and changed hands multiple times over the years, including through foreclosure.
The vacant homes were torn down last year. With new ones sprouting, Goynes-Brown, whose ward includes the site, said she was so excited Wednesday that she "can't even put it into words, actually. It's a great feeling."
Contact Eli Segall at esegall@reviewjournal.com or 702-383-0342. Follow @eli_segall on Twitter.