Las Vegas home resales ebb, prices fall, Realtors report notes
November 6, 2014 - 9:28 am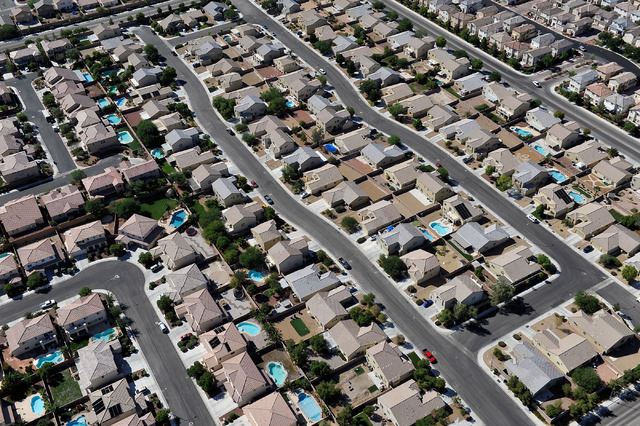 Local home prices retreated month to month as resales slowed, the Greater Las Vegas Association of Realtors reported Wednesday.
The median price of single-family homes sold through the association's Multiple Listing Service dipped in October to $199,900, down 1.3 percent from $202,500 in September, a decline that group officials said wasn't unexpected.
"It's not that surprising to see home prices start to dip as the weather cools off, and we head into the holidays," association President Heidi Kasama said. "Local home prices have been stabilizing for months, and homes are taking longer to sell."
Kasama added that it wouldn't shock her to see slower sales and sluggish prices through the end of 2014 and into early 2015.
To eliminate seasonal fluctuations, observers look at year-to-year changes. The single-family median was up 8.1 percent from $185,000 year over year in October.
Median prices peaked at $315,000 in 2006 and bottomed out at $118,000 in 2012 before gaining 24 percent a year in 2012 and 2013.
The median price of condos and town homes sold locally in October was $99,000, down 5 percent from $104,250 in September and down 1 percent from $100,000 a year earlier.
Fewer homes sold in the month as well, and supply concerns eased. Local Realtors sold 2,861 units, down from 2,982 closings in September and 3,192 sales in October 2013.
The market had 8,880 single-family listings without any offer on them. That was up 8.3 percent from 8,196 homes in September, and up 25.6 percent from 7,072 units in October 2013.
At the current sales pace, the market has a four-month supply of homes. That's about twice the two-month inventory of a year ago, but still below the six months that industry observers consider a balanced market.
Cash buyers, who typically are investors, accounted for 35.1 percent of local homes sold in October. That was up compared with 34.3 percent in September, but well off of the peak of 59.5 percent in February 2013. Cash transactions remain highest among condo and town home buyers, about two-thirds of whom have been paying with cash in recent months, Kasama said.
Contact Jennifer Robison at jrobison@reviewjournal.com. Follow @J_Robison1 on Twitter.