Las Vegas homebuilder buys Penn Jillette's mansion The Slammer
November 15, 2016 - 5:25 pm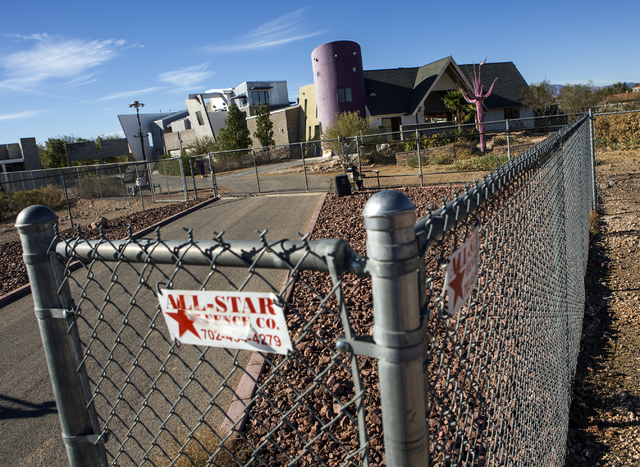 Larry Canarelli has been building homes in Las Vegas for decades and owns thousands of acres of land in the region.
But recently, he says, he acquired the most bizarre property he's ever bought: magician Penn Jillette's multicolored mansion known as The Slammer.
Jillette sold the 8.6-acre property in southwest Las Vegas to Canarelli's American West Homes for $1.88 million. The sale closed Nov. 4, Clark County records show.
The southwest is perhaps the fastest-growing area of the Las Vegas Valley, and the purchase gives Canarelli, one of the biggest builders in that area, more land for new projects.
Jillette and his family moved to Summerlin last year, and he recently tried to start demolishing The Slammer by having someone drive a tank through it. His sale to Canarelli, however, all but ensures the well-known compound would be replaced with more typical, suburban homes.
Canarelli, who founded American West in 1984, told the Review-Journal that he owns land around The Slammer and plans to build homes there on half-acre lots. He still needs county approvals to develop Jillette's former property, 7601 W. Wigwam Ave., but said he expects to start building in about a year.
The Slammer, at about 8,000 square feet, appears mostly intact – the tank that drove through it got stuck and didn't destroy much. Canarelli said he would tear down the rest.
According to Canarelli, prospective homeowners have criticized The Slammer's looks and avoided buying homes near it. The property is a short drive from sprawling subdivisions but is mostly near sparsely developed stretches of desert.
"I think The Slammer was a bit of an albatross sitting in quite a nice area," Canarelli said.
Efforts to get comments from Jillette's manager, Glenn Alai, weren't immediately successful,
The home's listing broker, Luxe Estates &Lifestyles owner Zar Zanganeh, said he got multiple offers on the property. He says he received calls from other homebuilders besides Canarelli and some prospective buyers from Europe, Asia and Australia.
Jillette — the tall, talkative half of the famed Penn &Teller duo — moved to Las Vegas in 1994. He bought an A-frame house in the desert and built around it, creating what became his quirky compound, according to reports.
Its features have included a real prison toilet; at least one firehouse pole; secret rooms; a sound-proof recording studio; an outdoor catwalk; and a driveway entry with two sets of automatic chain-linked fence, reports said.
Last year, around the time he moved to a 7,800-square-foot home in Summerlin, Jillette held a garage sale of sorts at The Slammer. Available items included coffee mugs from talk-show appearances; a human skeleton he acquired from a medical-supply company; and a Jacuzzi "designed to improve a woman's attempt at self-gratification," as then-Las Vegas Sun columnist John Katsilometes, now with the Review-Journal, wrote.
Months later, the United Church of Bacon held a fundraiser at the compound. There was even talk that Jillette was donating the home to the group, which was launched in 2010 at the property.
"A lot of people are saying 'Why the hell are they trying to raise money? Why doesn't Penn just give The Slammer to the Church of Bacon,' and that's a very good question, and the answer is, I did! So shut up, just shut up!" Jillette quipped last year.
Zanganeh said this summer, however, that it was being sold to an unnamed developer. Jillette said he was planning to film a horror movie and wanted to bulldoze The Slammer "in a final, chaotic scene."
Instead of a wrecking ball, he used a tank – but when the armored vehicle tried to smash through last month, it got stuck in the front room, Katsilometes reported.
"I just wanted to destroy a house," Jillette said before the action was shot. "We thought, 'Let's drive a tank through it.'"
Contact Review-Journal writer Eli Segall at (702) 383-0342. On Twitter at @eli_segall