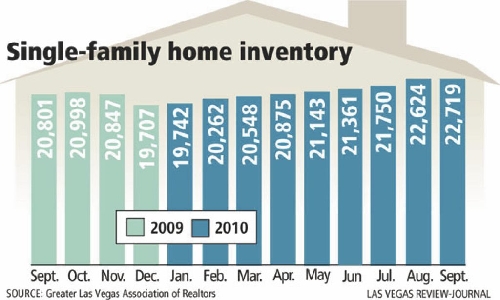 Single-family home sales dropped sharply to 2,806 in September, a 16.4 percent decrease from the same month a year ago, and inventory of homes on the market jumped 9.2 percent to 22,719, the Greater Las Vegas Association of Realtors reported Friday.
The number of homes available without contingent or pending offers increased 50.3 percent from last year to 11,887, the most since the association began tracking them in August 2009. The market added 4,743 homes to the Multiple Listing Service in September.
The steady rise in inventory each month this year is expected and is no reason for concern, Realtors association President Rick Shelton said. Expiration of the federal homebuyer tax credit in April forced a reduction in sales, which resulted in a backlog of inventory, he said.
The median single-family home price fell 2.2 percent from a year ago to $135,000 in September, the association reported. Total dollar volume of sales transactions during the month was $476.5 million, a 15.5 percent decrease from September 2009.
Real estate agents and housing analysts have been saying for about a year now the market is bouncing along the bottom. The downward trends are expected to continue into the traditionally slow winter months.
"We don't like to make predictions about the future of the market," Shelton said. "All we can say with certainty is where we're at today and where we've been. But if the rest of 2010 continues to follow these recent trends, as many housing experts suggest, I think we'll look back on this period and say we are now at or near the proverbial bottom of the housing market."
The association reported 797 sales of condos and townhomes at a median price of $65,000, a decrease of 7.2 percent and 1.1 percent, respectively, from a year ago.
The percentage of homes sold as foreclosures or short sales — bank-approved sales for less than the principal mortgage balance — remained fairly steady in September at 42 percent and 30 percent, respectively. Also, 45.4 percent of sales were all-cash transactions.
There are signs of stability in the numbers, Dave Brownell of Keller Williams Realty said.
The number of bank-owned property closings has ranged between 1,400 and 1,550 for the past six months, and short sales have been between 950 and 1,150 for the same period. The success rate of closed short sales versus pending short sales has increased from one in every 11.88 in escrow in April to one in every 8.53 in escrow in September, Brownell found.
Inventory is still climbing, both overall and specifically in the real estate-owned, or bank-owned, and short sale categories. The last time it was this high was April 2009.
Statistics from the Greater Las Vegas Association of Realtors are based on data collected from the Multiple Listing Service and do not necessarily account for sales by owners, homebuilders and transactions not involving a Realtor.
Contact reporter Hubble Smith at hsmith@reviewjournal.com or 702-383-0491.