Nonprofit running Nevada housing program violated its policies, report finds
Updated March 8, 2018 - 4:14 pm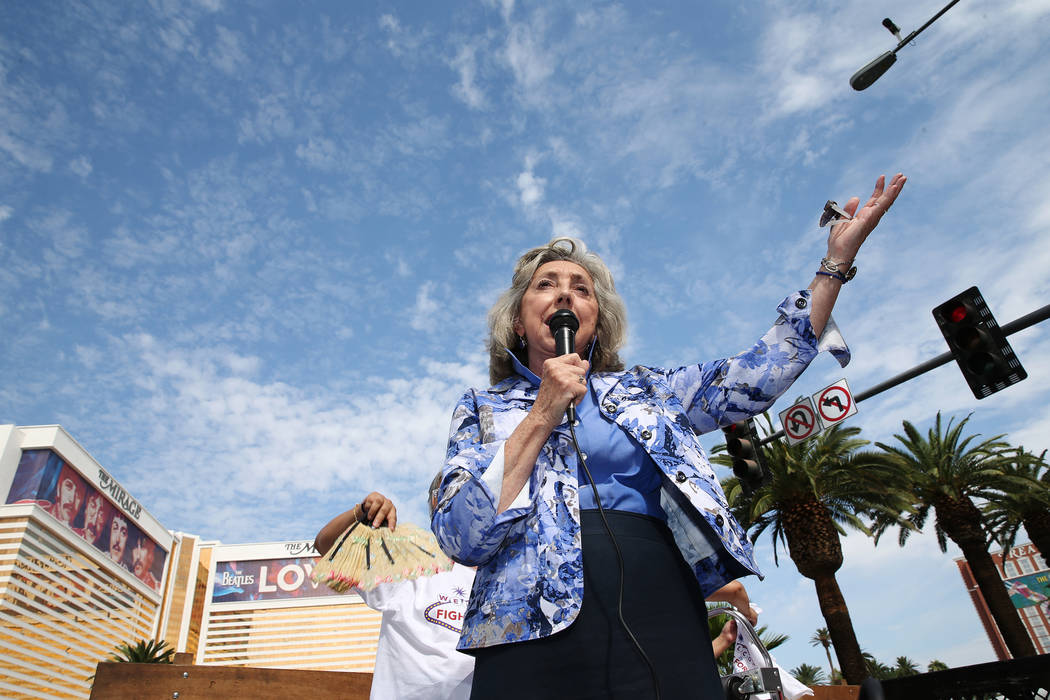 WASHINGTON — A Nevada nonprofit running the state's program to help homeowners struggling with mortgages violated its own policies and awarded contracts without competitive bids, the Special Inspector General for the Troubled Asset Relief Program said Thursday.
The Nevada program was singled out by Christy Goldsmith Romero, the special inspector general for TARP. But she said nationally, most of the Hardest Hit Fund has no federal requirements for competition even though millions of dollars have, and will be, awarded.
"SIGTARP found that the contractor running Nevada's Hardest Hit Fund program recently awarded six(-)figure contracts without request for proposals — a violation of the contractor's own policies," Goldsmith Romero said.
With $2.3 billion in federal funds available to be spent by 19 state agencies until 2021, Goldsmith Romero said the Treasury Department should apply taxpayer protections and federal procurement standards to the Hardest Hit Fund.
The Nevada Hardest Hit Fund is administered by the Nevada Affordable Housing Assistance Corp. (NAHAC).
Verise Campbell, the nonprofit's CEO, said she believes there was compliance with Hardest Hit Fund program requirements and contracts were executed following a prescribed process.
She said an information technology vendor was selected sole-source due to success with the same California program.
"All contracts entered into were done so with full transparency and vote of the NAHAC board of directors during the course of publicly noticed meetings," Campbell said in a statement.
"NAHAC's CEO is not a voting member of the Board of Directors and did not participate in the voting process to approve vendor contracts," her statement read.
Earlier audit findings
In 2016, an audit by the special inspector general found the nonprofit had squandered $8.2 million on parties, gifts and severance packages.
That audit resulted in the firing of the former CEO and a restructuring of the nonprofit to be more responsive to the state. Still, a recent audit found the nonprofit failed to meet thresholds for helping homeowners struggling with mortgage payments due to the housing crisis.
Treasury recently announced that $6.7 million in funds for Nevada would be redistributed to other states as a result of the nonprofit's inability to meet those thresholds.
Campbell disputed the performance review by Treasury earlier this year.
But Rep. Dina Titus, D-Nev., has urged the state to take control of the program, and explore the use of another nonprofit to move more funds from the program to homeowners in need of the federal aid to keep their homes.
Titus urged Nevada Attorney General Adam Laxalt this week to investigate the nonprofit.
Citing past mismanagement and underperformance, Titus said in a March 6 letter to Laxalt that "we will be doing an extreme disservice to our homeowners and taxpayers by letting this behavior continue."
Titus urged the attorney general to act quickly to ensure the state's Hardest Hit Program is operating within state laws "so that more money is not taken away from Nevada's homeowners who are still underwater."
Laxalt responds
Laxalt, in a letter Wednesday to Titus, said he shared the congresswoman's concerns about the problem-plagued administration of the program. He said the special inspector general for TARP has launched an investigation into the mismanagement by the nonprofit. The state has offered its assistance.
"Your ability, as a member of Congress, to request additional information from the Department of Treasury may help uncover valuable information," Laxalt wrote.
In addition, Laxalt said his office has assisted other nonprofits in the state and funded programs to help Nevadans with the housing collapse. He said 200,000 Nevadans were helped by those programs run by nonprofits.
"NAHAC was not among the entities funded by this office," Laxalt wrote
The special inspector general found that reliance on state laws, which may not apply to organizations managing state Hardest Hit Fund programs, "unnecessarily puts federal taxpayers at risk."
In California and Nevada, Goldsmith Romero said, state agencies contracted out administration of the Hardest Hit Fund to third parties not subject to competition requirements.
The Nevada nonprofit has a policy that all contracts over $25,000 are subject to a request for proposals, but it bypassed the requirement and awarded several six-figure contracts in 2016 and 2017.
Some were to former colleagues of the nonprofit's CEO, according to an audit, which was opened based on concerns raised by Titus.
Contact Gary Martin at gmartin@reviewjournal.com or 202-662-7390. Follow @garymartindc on Twitter.