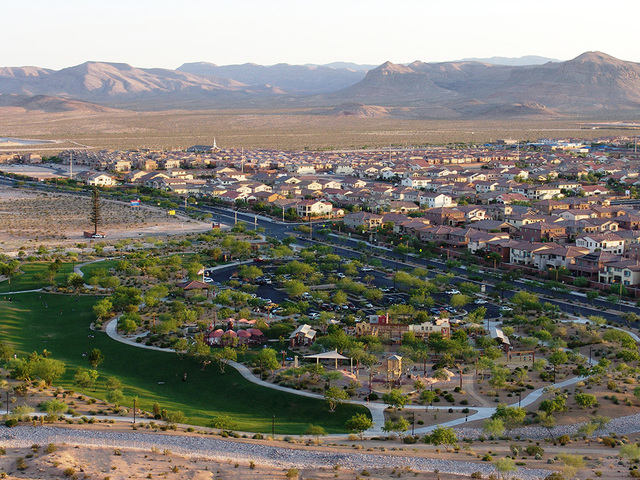 Without job growth, there's little demand for homes.
The Federal Home Loan Bank of San Francisco is in town today to spur both.
The reserve bank for the home-finance industry has scheduled roundtables to discuss small-business expansion and job training in five regional cities, starting with Thursday's event in Las Vegas. Panels in Phoenix, Sacramento, San Francisco and Los Angeles will follow through spring.
The idea, said bank executives, is to find ways to invest $40 million in programs that boost quality jobs that would, in turn, push up languishing homeownership rates.
"Our hypothesis is that one reason you have stagnation in homeownership and growth is because people are not in jobs making high-enough wages or they feel like they can't advance," said Lawrence Parks, senior vice president of legislative and external affairs for the Federal Home Loan Bank of San Francisco. "Businesses are not getting the necessary capital to expand so that they can create higher-paying jobs. We want to look at best practices on moving people up the income ladder."
The five cities would split the $40 million, which may come from grants, revolving-loan funds or community groups. Bank officials will also leverage the catalyst money with matching funds from corporations or nonprofits.
Las Vegas will host the first roundtable partly because the California bank doesn't want leaders in Nevada and Arizona to feel like their states are an afterthought, Parks said.
But more importantly, Las Vegas was the "epicenter of the foreclosure crisis," and its concentration of hospitality jobs plus an influx of new industries such as green energy and electric-car manufacturing have created a dynamic economy, Parks added.
"It made for interesting new growth opportunities, and an expansion of existing opportunities, that we thought made for a nice package to start with," he said.
The public is welcome to attend the discussion inside the Las Vegas Culinary Institute at 710 W. Lake Mead Blvd. from 1-6 p.m. Participants may take questions from the audience.
Leaders scheduled to participate include former Rep. Steven Horsford, D-Las Vegas, now an executive with ad agency R&R Partners; NV Energy executive Tony Sanchez; Karl Bell, a senior vice president of community development financial institution Invest Detroit; D. Taylor, president of labor group UNITE Here; and Virginia Valentine, president of the Nevada Resort Association.
"We wanted a balance of theoreticians and end users (of investments)," Parks said.
Some of those end users might be in leisure and hospitality, and Valentine has gathered input from her 65 resort members.
"We don't get that kind of money for job training every day. How they focus their efforts will be very important," Valentine said. "I'm hoping for some brainstorming on where their efforts can best be focused to benefit the community as a whole."
Horsford, who led the Culinary Training Academy and Nevada Partners before he joined Congress, said he hopes the discussion will "highlight best practices" that might need "additional support."
"Beyond allocation of the $40 million, we need better policies and practices to help people with the resources we have available," Horsford said. "Sometimes it doesn't cost money. It just means better insight into what the solutions need to be."
He cited Culinary Local 226's partnership with hotel-casinos in a trust fund to provide down-payment assistance to resort workers who need help buying a home.
"North Las Vegas, West Las Vegas and Southern Nevada in general are the epicenter of where a lot of the need is," Horsford said. "If we can position ourselves to get programs that work, we should be at the table to do that."
Washington, D.C.-based policy think tank Aspen Institute will release a summer report on findings from all five roundtables. That study will shape the funding criteria and programs the bank supports, Parks said.
"What I want to come out with is an understanding of how we can help people move up the income ladder," he said. "What's successful? What's not successful? We don't really come in here with any presumed outcome except to help people move up."
Contact Jennifer Robison at jrobison@reviewjournal.com. Find @_JRobison on Twitter.