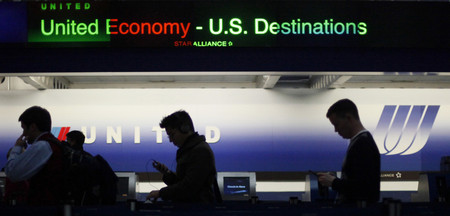 Tropicana Las Vegas names another new vice president
Tropicana Las Vegas has appointed Cynthia Mun as vice president of marketing, property President Thomas McCartney announced Wednesday.
She recently served as executive director of business insights and strategy for MGM Mirage.
Mun replaces Trish Gilbert, who joined the original executive team, coming over from Fontainebleau Las Vegas, when the Tropicana's new owners took control of the Strip property in July.
Gilbert's departure is the fifth of the original 11 vice presidents announced in August to depart.
The property is in the early stages of a $125 million redevelopment and remodeling.
The property is majority owned by Canadian private-equity firm Onex Corp., and former MGM Grand executive Alex Yemenidjian, Tropicana's chairman and chief executive officer.
Arizona steel plant plans to return to production soon
A steel production plant just outside Kingman, Ariz., that shut down nearly seven years ago will return to production within a few months.
Nucor Corp. will use the rolling mill at the plant to produce wire rod and coiled rebar products.
Plant Manager Doug Adams said there's sufficient demand for Nucor to initiate a single-shift operation involving 32 employees to produce about 100,000 tons of the plant's products a year.
"We're seeing in some markets, and wire rod would be one of those, some increase in demand," Adams said. "The biggest driver right now is that inventory levels are low almost across the board in the steel industry, so any type of pickup in demand is felt pretty heavily."
Nucor bought the Kingman plant shortly after its former owner and operator, North Star Steel, mothballed the plant in March 2003.
Adams said Nucor hopes future market demand justifies adding a second shift and at least 30 more workers to increase annual production to 250,000 tons.
WASHINGTON
New-home sales decline in December to end tough year
Sales of new homes fell unexpectedly in December, capping the industry's worst year on record and fueling concern that the housing market turnaround could falter.
Last month's results were the weakest since March and were only 4 percent above the bottom last January. The data showed the housing recovery remains limp despite newly expanded tax incentives to spur sales. Many in the industry, however, expect sales to pick up as the April 30 deadline for the tax credit nears.
Nationwide, new home sales for December fell 7.6 percent to a seasonally adjusted annual rate of 342,000 from an upwardly revised November pace of 370,000, the Commerce Department said Wednesday. Economists surveyed by Thomson Reuters had forecast a pace of 370,000 for December. Only 374,000 new homes were sold last year, down 23 percent from a year earlier.
MINNEAPOLIS
United says business travel improves and loss smaller
United Airlines said business travel is improving, echoing comments from rivals Delta and American, and its fourth-quarter loss was much smaller than a year ago.
UAL Corp., which runs the nation's third-largest airline, lost $240 million during the fourth quarter. That's much smaller than the $1.32 billion loss during the same period last year. Not counting fuel hedges and special items, it lost $1.05 per share.
Analysts surveyed by Thomson Reuters expected it to lose $1.47 per share.
WASHINGTON
Regulators tighten rules for money-market mutual funds
Federal regulators on Wednesday tightened rules for money-market mutual funds to require them to hold some assets that could be easily converted to cash and to disclose new information on fund values.
The Securities and Exchange Commission voted 4-1 at a public meeting to adopt the new rules designed to bolster protection for investors in money-market funds, which hold about $3.2 trillion in assets.
The move came in response to an episode in September 2008, at the height of the financial crisis, in which a $60 billion money fund "broke the buck" and exposed investors to losses.
The value of the Reserve Primary Fund's assets fell to 97 cents per investor dollar — below the dollar-for-dollar level needed for full repayment.
SAN FRANCISCO
Hollywood Video parent may head for bankruptcy soon
Movie Gallery Inc., owner of the Hollywood Video movie rental chain, may file for bankruptcy court protection as soon as next week, a news report suggests.
The company, which has filed for bankruptcy once before, is fighting to stay afloat as consumers increasingly watch movies online instead of going to stores to pick them out to rent.
The chain could seek Chapter 11 protection as early as Tuesday, but the filing could take longer if negotiations continue, The Wall Street Journal reported online Wednesday evening.