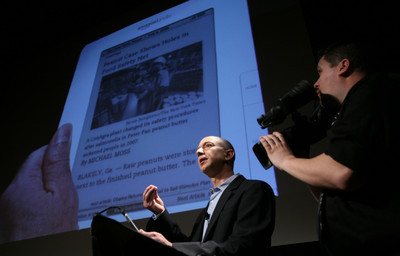 NEW YORK
Amazon's new Kindle slimmer, but still pricey
Amazon.com Inc. is releasing a slimmer version of its Kindle electronic reading device, but it still costs $359 — making it unclear how mainstream even an improved Kindle can be during a brutal recession.
The new Kindle is expected to start shipping Feb. 24.
Amazon CEO Jeff Bezos said there was no way to cut the price given the upgraded components in the Kindle 2, which is a bit more than one-third of an inch thick — about half the thickness of the first Kindle. Its 6-inch screen can display 16 shades of gray, compared with the previous Kindle's four shades.
ATLANTA
On-time performance declines for U.S. fliers
U.S. airlines' on-time performance declined dramatically in December compared with the previous month, but improved slightly over a year earlier, the Transportation Department said Monday. The carriers blamed heavy snowstorms around Christmas and aviation system issues for contributing to some delays.
The DOT added that the airlines had a significantly higher domestic flight cancellation rate and a higher mishandled baggage rate in the final month of 2008 compared with November. Even complaints about airline service were up in December compared with November.
WASHINGTON
Enforcement official exits regulation agency
The top cop at the Securities and Exchange Commission is leaving the government less than a week after receiving an angry dressing-down before Congress over the agency's failure to detect a massive alleged fraud scheme.
The SEC said Monday that Linda Thomsen, who has been the agency's enforcement director since May 2005, is leaving to pursue opportunities in the private sector.
Thomsen became a lightning rod for criticism over the SEC's failure to detect the $50 billion Ponzi scheme allegedly run by Bernard Madoff.
WASHINGTON
Interest rates increase in Treasury auction
Interest rates on short-term Treasury bills rose in Monday's auction to the highest levels since November.
The Treasury Department auctioned $31 billion in three-month bills at a discount rate of 0.34 percent, up from 0.27 percent last week. Another $30 billion in six-month bills was auctioned at a discount rate of 0.48 percent, up from 0.39 percent last week.
NEW YORK
Traders await stimulus resolution; Treasurys up
Treasury prices rose Monday as investors waited for closure on the government's economic stimulus bill.
The benchmark 10-year Treasury note rose 0.03 points to 106.38, and its yield rose to 3.02 percent from 2.98 percent late Friday.
The 30-year bond rose 1.03 points to 115.19. Its yield fell to 3.65 percent from 3.70 percent.