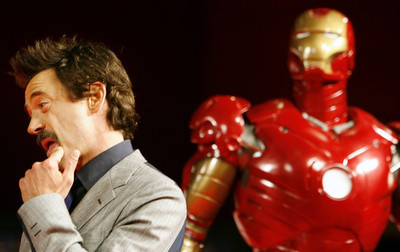 Author to speak at chamber luncheon
Frank Luntz, political pundit and author of "Words That Work" will discuss the impact of the election results Thursday at the Las Vegas Chamber of Commerce's Power Lunch.
The lunch will run 11:30 a.m. to 1 p.m. at the Four Seasons, 3960 Las Vegas Blvd. South.
Tickets are $50 for members, $65 for nonmembers. Call 641-5822, option 2 or visit www.lvchamber.com for information.
HOUSTON
As voters head to polls, oil prices head higher
Oil prices surged above $70 a barrel Tuesday in the final hours of a two-year U.S. presidential campaign, mirroring global stock markets that strengthened from Asia to Europe. A weaker dollar helped, too.
Light, sweet crude for December delivery rose $6.62 to settle at $70.53 a barrel on the New York Mercantile Exchange after rising as high as $71.77.
Oil prices have fallen roughly $80 from their July peak around $147.
NEW YORK
'Iron Man' movie lifts Marvel Entertainment
Strong box office receipts for the film "Iron Man" lifted Marvel Entertainment Inc.'s third-quarter earnings 39 percent, according to a report Tuesday from the movie, licensing and comic-book publishing company.
For the three months ended Sept. 30, New York-based Marvel earned $50.6 million, or 64 cents per share, compared with $36.3 million, or 45 cents per share, a year earlier.
Revenue rose 48 percent to $182.5 million — including about $60 million in earlier-than-expected "Iron Man" revenue — from $123.6 million last year.
NEW YORK
AT&T tests data limits for Internet customers
AT&T Inc., the country's largest Internet service provider, will test the idea of limiting the amount of data that subscribers can use each month and start the test in Nevada.
AT&T will initially apply the limits in Reno and see about extending the practice elsewhere.
Increasingly, Internet providers across the country are placing such limits on the amount of data users can upload and download each month, as a way to curb a small number of "bandwidth hogs" who use a lot of the network capacity. For instance, 5 percent of AT&T's subscribers take up 50 percent of the capacity, spokesman Michael Coe said Tuesday.
D.R. Horton may lose up to $900 million
Homebuilder D.R. Horton Inc. on Tuesday warned investors that it expected to lose up to $900 million in its fourth quarter — about 18 times more than in the prior-year period.
The homebuilder projected the loss for the quarter ended Sept. 30 to range between $800 million and $900 million, including an expected tax benefit of $350 million. That works out to about $2.53 to $2.84 a share.
Analysts polled by Thomson Reuters had been expecting a loss of 58 cents a share on revenue of about $1.6 billion. D.R. Horton will reports its financial results Nov. 25.
As traders await vote results, Treasurys mixed
Treasury prices ended mixed ahead of the election results.
The 10-year note rose 0.28 points to 100.97 and yielded 3.73 percent, down from 3.91 percent.