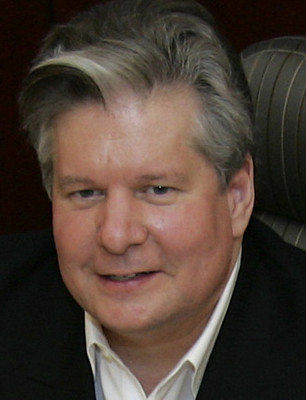 Lanni quits board of major homebuilder
Outgoing MGM Mirage Chairman and CEO Terry Lanni on Tuesday resigned his seat on the board of directors of KB Home.
Earlier this month, Lanni, 65, stepped down from his jobs with MGM Mirage, effective Sunday. Company President Jim Murren was elected to fill the casino operator's chairman and CEO slots starting Monday. Lanni was elected to an outside director position with MGM Mirage.
A day after Lanni's departure, questions arose surrounding his academic credentials.
The KB Home position was Lanni's only corporate board position outside MGM Mirage. He is on the board of trustees for the Ronald Reagan Presidential Foundation, the Board of Overseers of the Keck School of Medicine at the University of Southern California, the board of trustees at Santa Clara University and the Del Mar Thoroughbred Club.
CHICAGO
Developers detail plans for casino in Illinois
The three players in the high-stakes competition for Illinois' unused 10th casino license showed their hands Tuesday, laying out details of plans to build a new gambling destination in Des Plaines, Rosemont or Waukegan.
Executives from three gaming companies publicly presented their bids at an Illinois Gaming Board meeting, promising to deliver much-needed tax revenue for the state, money-sharing arrangements that would benefit other communities and jobs to put people to work.
The gaming board has said a winning bidder will be chosen by year's end for the casino license.
The three finalists are Trilliant Gaming for Rosemont, Waukegan Gaming and Midwest Gaming & Entertainment for Des Plaines.
Trilliant Gaming's bid is the highest with an upfront licensing fee of $435 million, followed by Waukegan Gaming at $225 million and Midwest Gaming at $100 million.
GALLUP, N.M.
Slot machines busy as tribal casino opens
Navajo Nation President Joe Shirley Jr. says patrons of the tribe's first casino injected $1.2 million into slot machines on opening day.
The head of the tribe's gaming enterprise, Bob Winter, would not confirm the amount but says it far exceeded expectations. The Fire Rock Casino, just east of Gallup, opened to the public on Nov. 19.
Up to 4,000 people showed up for the opening, hundreds of them waiting outside. Winter says 75 jackpots of $250 or higher were hit that day.
The casino, which has 472 slot machines, 10 table games, and poker and bingo rooms, is expected to generate $32 million a year for the Navajo Nation, about a fifth of the annual tribal budget.
COLUMBUS, Ohio
Dour economic news pushes oil prices down
Oil prices fell nearly 7 percent Tuesday and gasoline prices fell to levels not seen since 2004 as a raft of lousy news about the economy, housing and the consumer state of mind suggested the U.S. is headed toward the worst recession in decades.
After spiking Monday on news that the U.S. would bail out financial giant Citigroup, light, sweet crude for January delivery on Tuesday tumbled $3.73 to settle at $50.77 a barrel on the New York Mercantile Exchange.
Gasoline prices nationwide continued to decline, falling 2.3 cents overnight to $1.885, their lowest levels since September 2004 when the average price for three days was $1.886, according to auto club AAA, the Oil Price Information Service and Wright Express.
D.R. Horton posts loss; chief sees challenges
D.R. Horton Inc.'s chief executive said Tuesday he expects this fiscal year to be even more challenging than 2008, which ended with a nearly $800 million quarterly loss on slower home sales and more than $1 billion in charges.
The Fort Worth, Texas-based homebuilder reported a net loss of $799.9 million, or $2.53 a share, compared to a loss of $50.1 million, or 16 cents a share, in the year-ago period.
Sales fell 45 percent to $1.75 billion from $3.12 billion.
Analysts polled by Thomson Reuters had forecast a loss of $1.88 a share on revenue of $1.7 billion.
The company sold 6,961 homes in the fourth quarter, down 41 percent from year-ago levels.
NEW YORK
SPAM sales surge, but Hormel profits drop
Consumers looking to slice their food budgets bought more canned SPAM and Dinty Moore stews and shied from more costly microwave meals, Hormel Foods Corp. said Tuesday.
But double-digit sales increases for the company's canned foods couldn't offset significantly higher costs for commodities and a hefty investment loss, leading to a big drop in profit during the period.
Hormel's fiscal fourth-quarter profit fell 33 percent to $67.8 million, or 50 cents per share, from $101.2 million, or 73 cents per share, a year earlier.
Much of the slide came from a $20.4 million investment loss due to financial market turmoil.
Revenue rose 12 percent to $1.86 billion from $1.66 billion, helped by sales of refrigerated and specialty foods.
Hormel Foods shares fell 68 cents, or 2.33 percent, Tuesday to close at $28.56 on the New York Stock Exchange.
SIOUX FALLS, S.D.
Big ethanol producer in buyout discussions
The first salvo may have been fired this week in a long-awaited shakeout for the U.S. ethanol industry.
VeraSun Energy Corp., the nation's No. 2 ethanol producer, announced it had received an unsolicited takeover bid one month after seeking bankruptcy protection, and just hours after the nation's biggest producer, Poet LLC, said it was talking with other companies about buyouts.
Neither Poet nor VeraSun will say if the two are negotiating a deal. VeraSun made the announcement just hours after Poet Chief Executive Jeff Broin told The Associated Press that his company was talking with a number of producers.
Treasury prices higher after report on GDP
Treasury prices rose Tuesday, pushing down rates, after the Commerce Department reported that gross domestic product for the third quarter fell.
The 10-year note rose 2 to 105.53 and yielded 3.09 percent, down from 3.33 percent.
ECHELON BOSS GETS TEMPORARY BORGATA POST
Boyd Gaming Corp. temporarily installed the CEO of its on-hold Echelon development as the president of the Borgata in Atlantic City.
Robert Boughner, who's in charge of the $4.8 billion Echelon development, will run the Borgata until a permanent successor can be found. Boughner will also remain in charge of Echelon during that time.
"BOB WAS THE LOGICAL CHOICE FOR THIS INTERIM POSITION," BOYD GAMING SPOKESMAN ROB STILLWELL SAID. "HE LED THE CREATION OF BORGATA."
STILLWELL SAID BOUGHNER IS STILL INVOLVED IN ECHELON, WHICH WAS PUT ON HOLD AUG. 1 BECAUSE OF THE CREDIT MARKET CRISIS. BOYD GAMING DOESN'T EXPECT TO RESUME DEVELOPMENT OF ECHELON UNTIL 2010 AT THE EARLIEST.
LARRY MULLIN, BORGATA'S CURRENT PRESIDENT, RESIGNED JAN. 5 TO TAKE A POSITION WITH AN AUSTRALIAN CASINO OPERATOR.
LAS VEGAS REVIEW-JOURNAL