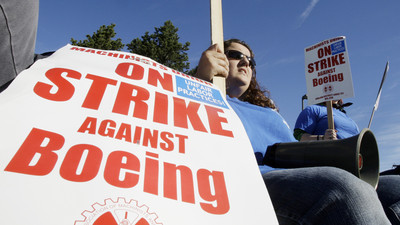 Station Casinos OKs more terminations
Hurting from the economic slowdown, locals casino operator Station Casinos conducted another round of terminations on Friday, the company confirmed Monday.
Company spokeswoman Lori Nelson would not release the number of workers affected, saying "it was a very small percentage" across many properties.
The company wholly owns nine hotel-casinos and is a partner in another.
Nelson said the company is working with the displaced workers to find jobs at other properties and hopes to rehire many at the $675 million Aliante Station, which opens Nov. 11.
Station Casinos laid off nearly 70 corporate-level employees in April.
TV studio, nightclub considered for mall
A television studio and a nightclub could provide a business boost for Neonopolis, a mostly vacant mall on Fremont Street at Las Vegas Boulevard.
On Thursday, the city of Las Vegas Planning Commission will consider special use requests that would allow Telemundo Las Vegas Inc., and Wet Ultra Lounge to do business in Neonopolis, which lately has been called Fremont Square by mall management.
The local Telemundo affiliate is asking the commission to allow it to install satellite dishes that exceed the current size limit of 10 feet in diameter at the location. Wet seeks a waiver to a rule that prohibits taverns within 1,500 feet of a religious facility or a school.
The planning commission is scheduled to consider the requests at 6 p.m. Thursday in the City Council Chambers at City Hall, 400 Stewart Ave.
Long Boeing strike may cause big harm
If the Boeing strike lasts for more than three months, there could be long-lasting harm to the country's exports, economists said.
By dollar value, Boeing Co. ranks at the top of the nation's leading industrial exporters. Exports are one of the few bright spots in the nation's economy. But that could change if the walkout runs beyond three months and customers are spooked, eventually turning to Chicago-based Boeing's European rival, Airbus S.A.S., for future orders of commercial passenger and cargo jets.
Few expect the strike to last that long. Besides, analyst Cai von Rumohr at Cowen and Co. noted on Monday that Airbus has a 4- to 7-year backlog and thus is in no position to take any of Boeing's orders in the near term.
The last two strikes by the International Association of Machinists and Aerospace Workers at Boeing's commercial aircraft operations lasted 24 days in 2005 and 69 days in 1995.
WASHINGTON
Interest rates increase in Treasury action
Interest rates on short-term Treasury bills rose in Monday's auction.
The Treasury Department auctioned $26 billion in three-month bills at a discount rate of 1.69 percent, up from 1.685 percent last week.
Another $25 billion in six-month bills was auctioned at a discount rate of 1.9 percent, up from 1.89 percent last week.
NEW YORK
U.S. Treasury bonds move generally higher
Treasury bonds rose Monday.
In late trading, the benchmark 10-year Treasury note rose 0.25 points to 102.63. Its yield fell to 3.68 percent from 3.69 percent late Friday.
Yields move in the opposite direction from prices.