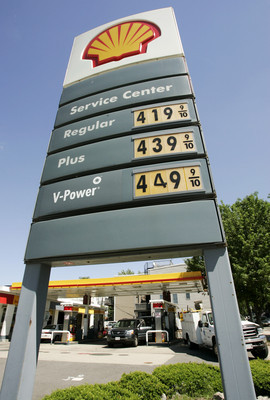 NEW YORK
Prices for oil, gasoline climb to record marks
Oil prices regained their upward momentum Wednesday, rising as crude's biggest drivers — a weak dollar and supply concerns — brought buyers back in force. At the pump, gasoline prices rose to a new record over $4.05 a gallon.
Light, sweet crude rose $5.07 to settle at $136.38 a barrel on the New York Mercantile Exchange after earlier trading as high as $138.30. Oil surged shot up more than $16 over the course of last Thursday and Friday, reaching a trading record of $139.12 before pulling back earlier this week.
Retail gasoline prices, meanwhile, reached another record Wednesday, rising 0.9 cents overnight to a national average of $4.052, according to a survey of stations by AAA and the Oil Price Information Service.
In Las Vegas, the price of a gallon of regular self-serve unleaded gasoline was a record $4.162 on Wednesday, AAA said in its Daily Fuel Gauge report. That's up 13.5 percent from the month-ago price of $3.667 and up 31.1 percent from the year-ago price of $3.175, AAA said.
NEW YORK
Martha Stewart Living exec stepping down
Susan Lyne, who rebuilt the Martha Stewart Living business in the aftermath of the namesake founder's legal woes, has stepped down as chief executive, and the job is being split between two company executives.
The management changes come as Martha Stewart Living Omnimedia navigates through a tough advertising climate and confronts a consumer, saddled with high gasoline and food prices, who may no longer be eager to replicate the home diva's lifestyle with all things Martha Stewart.
Lyne "did a great job dealing with the issues that arose in the wake of Martha Stewart's legal troubles," RBC Capital Markets analyst David Bank said.
BOSTON
Staples at last lands Corporate Express
Staples' four-month campaign to acquire Corporate Express NV finally yielded an agreement Wednesday, a $2.7 billion deal that Staples hopes will put further distance between itself and U.S. rivals Office Depot and OfficeMax. Its two rivals combined would be smaller than Staples once the deal closes.
With U.S. retail sales of office supplies slumping, Staples also hopes to expand in the more profitable business of delivering office supplies to corporate customers — Corporate Express' strength — and build off the Netherlands-based company's clout in Europe.
The agreement thwarts a competing deal Corporate Express had reached three weeks ago to acquire France's Lyreco SAS, which is now expected to receive a $46 million breakup fee from Corporate Express.
PHOENIX
Airline boss says fuel costs double in year
US Airways chief Doug Parker said Wednesday that fuel costs per passenger have doubled since 2007, and the carrier will pay nearly $2 billion more in fuel in 2008.
For every round-trip passenger, "we need to get $650 on average just to break even," Parker told shareholders at an annual meeting in Tempe, Ariz.
"We're nowhere close to that," he said. "Nobody in the business is close to that. This is a major problem."
Rising oil prices have drained profits from the airline industry, forcing carriers to cut jobs, ground less efficient planes and slash the number of flights in hopes of boosting air fares.
US Airways shares fell 58 cents, or 15.34 percent, Wednesday to close at $3.20 on the New York Stock Exchange.
NEW YORK
Treasury prices rise as stocks stumble
Treasury prices ticked higher Wednesday, as a sharp pullback in the stock market gave investors reason to halt this week's bond sell-off.
The benchmark 10-year note rose 0.13 points to 98.38 and yielded 4.07 percent, down from 4.10 percent late Tuesday.
The 30-year long bond rose 0.06 points to 94.84 and yielded 4.69 percent, down from 4.72 percent late Tuesday.