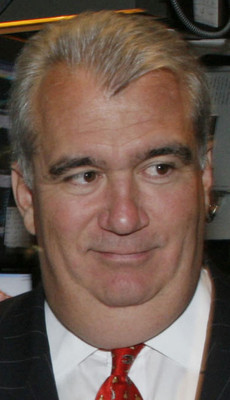 NEW YORK
Oil futures settle at $140.21 barrel
Oil futures climbed to a record near $143 a barrel Friday as the dollar weakened against the euro, confirming expectations that the falling greenback, a major factor in crude's stratospheric rise, will extend its decline and add to oil's appeal.
Retail gasoline prices inched lower overnight, but are likely to resume their own trek into record territory now that oil futures have broken out of the trading range where they had been for nearly three weeks.
Light, sweet crude for August delivery rose as high as $142.99 a barrel on the New York Mercantile Exchange before pulling back sharply in a spate of late-day profit-taking to settle up 57 cents at a record $140.21. On Thursday, the contract shot past $140 and rose more than $5 to a settlement record.
The latest record came as the dollar fell against the euro in afternoon trading, having traded roughly unchanged for much of the day.
WMS chief sees gains in earnings continuing
WMS Industries Chief Executive Officer Brian Gamache expects record earnings at the world's third-largest slot machine maker to continue in 2009.
Casino- and gambling-related stocks are falling because of an "overblown" market reaction to the U.S. economic slowdown and its impact on the Strip, Gamache said Friday. WMS, based in Waukegan, Ill., has lost 18 percent in New York trading this year.
"We have continued to produce record quarterly results the last few quarters," Gamache said. "We have no reason to indicate that trend won't continue into fiscal 2009."
His outlook helped push shares up 1.8 percent. Last month, the company forecast revenue of $640 million to $645 million in the year ending June 30, a 19 percent jump from 2007.
DETROIT
Toyota in position to topple GM in June
Toyota Motor Corp. could overtake General Motors Corp. in monthly U.S. sales for the first time in June, but the victory could be a hollow one as the weak economy continues to pummel the auto industry and even Toyota struggles to meet U.S. consumers' sudden and insatiable demand for hybrid cars.
Analysts are predicting another double-digit dip in June sales, in large part because buyers are shunning big vehicles. Automakers report sales figures Tuesday.
J.D. Power and Associates, a marketing and consulting company, predicts the annualized sales rate for June — which shows what sales would be if they continued at the same rate for a full year — could be 12.5 million vehicles. If so, that would be the lowest monthly rate since 1992.
Jesse Toprak, chief industry analyst for the auto information site Edmunds.com, predicts sales will be down 13 percent in June to 1.26 million, or an annualized rate of 14.9 million. Toprak said GM could see an uptick in the last few weeks because of a zero-percent financing deal that began Tuesday, but it won't be enough to stem the automaker's losses in trucks and sport utility vehicles.
MASHANTUCKET, Conn.
Tribe says workers at Foxwoods laid off
The tribe that owns Foxwoods casino in eastern Connecticut says it has laid off less than 2 percent of its work force because of rising gasoline and food prices.
The Mashantucket Pequots say the layoffs of middle managers and some hourly employees are part of an organizational review that began in January.
The job cuts represent "considerably less" than 2 percent of the 10,000 casino employees, Lori Potter, a tribal spokeswoman, said Friday. She would not disclose the exact number of layoffs.
The workers let go Thursday will get two weeks severance pay for each year they were employed, up to 13 years, and health benefits.
LOS ANGELES
Chinese tourists part of first tour group
They posed with a Bart Simpson look-alike, mugged in front of a real Van Gogh, snapped up Coach bags and gawked at the scantily clad women in the city of stars they had heard so much about.
The 240 Chinese tourists who landed in Los Angeles this week also made history as the first leisure tour group allowed to visit the United States since a new U.S.-China agreement allowing such travel was signed in December.
The new pact is projected to bring in at least 66,000 new Chinese tourists spending $62 million in Los Angeles in the next year. That would represent a 50 percent jump from the previous year and cement the Asian nation's status as the fastest-growing tourist market for Los Angeles and the world.
In the past, business travelers and students have accounted for the bulk of visitors to L.A. from China. But the pact allows Chinese travel agencies to offer group tours to the United States for the first time to residents of Beijing and Shanghai as well as Guangdong and six other provinces.
Advertising was allowed beginning May 15.
NEW YORK
U.S. Treasury prices extend gains for week
Treasury prices extended their gains Friday.
The benchmark 10-year note rose 0.16 points to 98.94 points, and its yield fell to 4.01 percent from 4.03 percent late Thursday, according to BGCantor Market Data.
The 30-year long bond rose 0.41 points to 96.91 points. Its yield fell to 4.56 percent from 4.60 percent on Thursday.