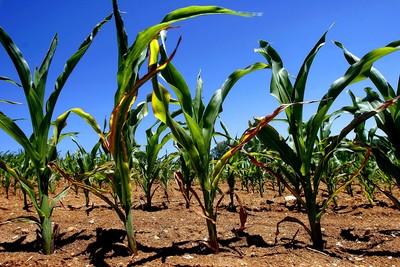 DES MOINES, Iowa
Farmers plant 63-year record corn crop
Farmers this year planted the most corn since the waning days of World War II, outpacing already high expectations for the crop, according to a federal report issued Friday.
Fueled by high demand and high prices for corn as food, feed and fuel, farmers planted an estimated 92.9 million acres of corn, the U.S. Department of Agriculture reported. That's 19 percent more than in 2006 and nearly 3 percent more than an earlier government estimate.
The record for corn planting was 95.5 million acres set in 1944, as American farmers responded to a huge demand for the crop in war-torn Europe.
In March, the Agriculture Department predicted corn growers would plant 90.5 million acres.
That boom has been fueled by sky high corn prices, a result largely attributed to rising production of corn-based ethanol. Corn futures in electronic trading on the Chicago Board of Trade was trending higher, with corn for July delivery up 8 cents to $3.48 a bushel.
CRYSTAL BAY
Boulder Bay LLC buys Lake Tahoe casino
Representatives of Lake Tahoe-based Boulder Bay LLC say the development company has purchased a casino and adjacent properties on Lake Tahoe's north shore for an undisclosed price.
Boulder Bay announced Thursday that it has purchased the Tahoe Biltmore Casino and Hotel and the Crystal Bay Hotel, a motel that's separate from the Crystal Bay Club casino, from a group of investors.
Boulder Bay also said it has purchased the vacant site of the old Mariner Hotel adjacent to the Biltmore, giving the company a large swath of land at Crystal Bay.
Boulder Bay, which is a partnership between International Supply Consortium, Shoreline Capital and Scott Cos., is planning a mixed-use development, though officials for the company said they have not finalized plans.
Vince Scott, president of Scott Cos., said Boulder Bay plans to keep "business as usual" while a specific plan for the properties is developed.
DETROIT
Delphi Corp. workers approve new contract
Workers at struggling auto parts giant Delphi Corp.'s largest union have approved a historic contract agreement that cuts wages for many longtime workers but secures thousands of jobs at plants that once were in jeopardy.
The ratification comes after two years of sometimes contentious negotiations and averts a threatened strike that would have crippled Delphi's former parent, General Motors Corp.
Sixty-eight percent of the workers who voted were in favor of the new four-year pact, while 32 percent were against it, the UAW's leadership said in a statement Friday.
About 17,000 workers at 18 Delphi facilities across the U.S. were eligible to vote on the deal, which also allows some plant closings and cuts wages for longtime workers from around $27 per hour to a pay range for everyone that runs from $14 to $18.50.
A total of 11,225 workers turned out for the vote, with 7,613 in favor and 3,612 voting against it, said a local union official who didn't want to be named because the breakdown of the vote had not been released by the international union.
DEARBORN, Mich.
New Taurus expected to help Ford, exec says
Ford Motor Co.'s efforts to stabilize its shrinking share of the U.S. market will get a boost from a 2008 model-year lineup that includes the revived Taurus sedan and updated crossovers, a top executive said Friday.
Mark Fields, Ford's president of the Americas, said the automaker is making strides toward stabilizing its market share at about 14 to 15 percent — one goal of its "Way Forward" restructuring plan.
Fields noted that Ford's U.S. market share so far this year is about 15.3 percent, but showing signs of stability after a decade of declines. In 1997, Ford had more than 25 percent of the market, according to Autodata Corp.
"We really are starting to deliver products that people will want," Fields said during an event at Ford's Dearborn vehicle testing facilities to showcase Ford, Lincoln and Mercury's 2008 offerings.
In addition to the Taurus sedan, key in the 2008 lineup will be the Taurus X, a re-badged version of the Freestyle crossover and an updated version of the Edge, which has been a recent highlight for Ford. Edge sales have been strong since the crossover made its debut late last year even as Ford's overall U.S. sales have been on the decline, down 12 percent in the first five months of the year.
NEW YORK
Neteller co-founder enters guilty plea
The co-founder of Neteller, which processed billions of dollars in Internet gambling transactions for Americans, pleaded guilty Friday to a charge of criminal conspiracy.
Stephen Lawrence, whose company, Neteller PLC, was once one of the primary ways U.S. citizens placed bets with offshore bookies, acknowledged in a federal courtroom in Manhattan that the operation was illegal.
His lawyers said he was cooperating with U.S. investigators, and had also agreed to be at least partly responsible for the $100 million the government is seeking from people who were involved in the operation.
Lawrence and another Neteller director, John David Lefebvre, were arrested in January as part of a U.S. crackdown.
Both men are Canadian citizens. Their company was based in the Isle of Man and traded on the London Stock Exchange.
Neteller also wasn't directly involved in either placing or taking bets. It essentially served as a financial middleman, through which bettors could send and receive cash from Internet bookies.
LOS ANGELES
KB Home pushing smaller homes
KB Home is discovering that less could be more when it comes to luring skittish buyers in a housing slump.
In recent months, the company has rolled out a new line of smaller, more affordable homes that it hopes will jump-start sagging sales.
"Smaller homes generate lower revenues, but they sell faster, therefore the cash returns are better," said KB Home's chief executive, Jeffrey Mezger.
Despite the new strategy, KB Home wasn't able to avoid a disappointing second-quarter. On Thursday, it reported a second-quarter loss of $148.7 million, or $1.93 per share, as it booked a charge due to unsold inventory.
It also posted a 36 percent decline in revenue compared to the year-earlier quarter.
NEW YORK
U.S. Treasurys rise on tame inflation report
U.S. Treasurys climbed Friday as the market reveled in a benign inflation number and benefited from some safe-harbor buying.
At 5 p.m. EDT, the 10-year Treasury note was up $5.63 per $1,000 in face value, or 18/32 point, from its level at 5 p.m. Thursday. Its yield, which moves in the opposite direction, fell to 5.03 percent from 5.11 percent.
The 30-year bond rose 1 4/32 point. Its yield fell to 5.13 percent from 5.21 percent.
The 2-year note rose 5/32 point. Its yield fell to 4.88 percent from 4.95 percent.