Investors buying Town Square south of Las Vegas Strip, sources say
December 22, 2016 - 5:11 pm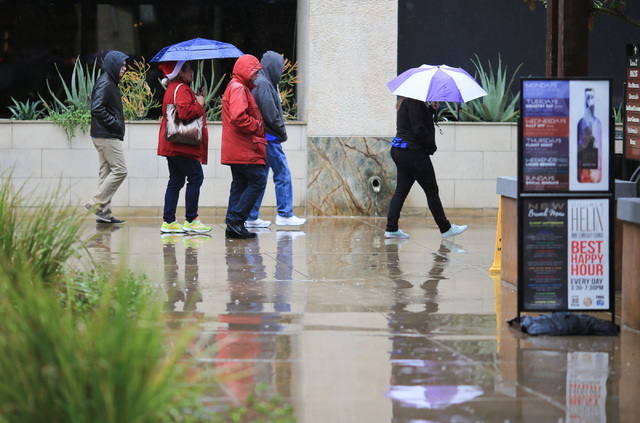 Town Square is a popular place to shop, eat and get drinks, having overcome a string of litigation and financial woes after the economy crashed.
Now, investors are ready to bet that its future can only get brighter.
New York investment giant TIAA and Chicago-based Fairbourne Properties are buying the foreclosed, roughly 100-acre commercial property south of the Strip, people familiar with the matter told the Review-Journal this week.
One source said the buyers were reportedly trying to close the sale by year's end, though another said they were rumored to be aiming for mid- to late-January.
None knew the sales price. But sources said the buyers would not get full ownership of the 1.2 million-square-foot center: original developer Turnberry Associates still holds about 120,000 square feet of offices, which aren't part of the deal.
Fairbourne co-founder and President David Harvey confirmed the pending sale but otherwise declined comment.
"Nothing to report at the moment," TIAA spokeswoman Daisy Okas said in an email, "but I'll be in touch in the new year if we have news."
Jaime Mapes, marketing director for Town Square, also declined to discuss the deal.
"Because the property is under contract, we can't make any comments," he said.
Efforts to reach a Turnberry representative were unsuccessful.
Town Square has no shortage of foot traffic or retailers. But the sale would mark a fresh start of sorts for the mixed-use property, which has been lender-owned since the recession and, like countless other boom-era projects in Las Vegas, was marred by lawsuits and foreclosure proceedings after the economy tanked.
Moreover, it wasn't the only open-air "lifestyle" project in the valley that the recession derailed in some way.
Located on Las Vegas Boulevard South at Sunset Road, near the Interstate 15-215 Beltway interchange, Town Square offers clothing, jewelry and electronics shops, as well as restaurants, bars, a Whole Foods Market and an 18-screen AMC movie theater.
TIAA, founded in 1918 as a pension fund for college professors, now manages $889 billion in assets. It's no stranger to Las Vegas, either.
In 2013, it acquired a 49.9 percent stake in the Grand Canal Shoppes from owner General Growth Properties for $411.5 million in cash. In July, it also bought a 50 percent stake in Fashion Show mall from General Growth for $1.25 billion.
Fairbourne, meanwhile, is a new group whose founders were sued this year by their former employer.
According to a report by Crain's Chicago Business, real estate investment firm M&J Wilkow sued four former executives in late April, alleging the group secretly formed a competing venture that "has drained" about $20 million in revenue from their old firm.
The group, which included Harvey, was accused of creating "the impression that Wilkow was in turmoil" and then offering their new investment and property-management business "as a 'white knight' to longtime Wilkow investment partners," the magazine reported.
A call to Chicago-based M&J Wilkow seeking an update on the case was not returned.
Town Square, developed by Las Vegas-based Centra Properties and Florida's Turnberry, was built during the boom years and opened in November 2007 as the economy was softening. In mid-2010 — after the real estate bubble had burst and the economy had crashed — the property was hit with a default notice, court records show.
Town Square's developers, having taken out a $470 million construction loan, sued in early 2011, claiming a breach of their agreement with lenders to keep ownership of the property.
The center, however, was seized through foreclosure a week after the lawsuit was filed.
Turnberry's owners, siblings Jackie Soffer and Jeffrey Soffer, later sued one of the debt-holders, Five Mile Capital Partners. They claimed in the 2012 case that Five Mile managing directors James Glasgow and David Lattimer were "scheming to steal Town Square" and that their firm "sought to oust the Soffers."
The month before the foreclosure, Five Mile bought $117 million worth of debt on the property. That purchase, combined with sales to "two other vulturesque hedge funds, Oak Tree (sic) Capital and CenterBridge (sic) Partners," meant that hedge-fund operators controlled more than $200 million of Town Square's debt, the lawsuit claimed.
Cleveland-based Forest City, which developed Las Vegas City Hall and co-owns the Galleria at Sunset mall in Henderson, manages Town Square.
Forest City spokesman Jeff Linton said "we are the wrong people to comment on a sale" because the company doesn't own the complex.
Property records indicate that Town Square's ownership group includes New York's Centerbridge Partners; Stamford, Connecticut-based Five Mile Capital Partners; and Los Angeles-based Oaktree Capital Management.
Oaktree declined to comment on the sale. Neither Centerbridge nor Five Mile responded to requests for comment.
The real estate crash derailed projects throughout Southern Nevada, and urban-style properties in the suburbs that offer shopping, dining and office space were no exception.
The 106-acre Downtown Summerlin, at Sahara Avenue and the 215 Beltway, opened in fall 2014 after sitting for years as an abandoned, partially built steel skeleton.
The District at Green Valley Ranch, located on Green Valley Parkway just south of the Beltway in Henderson, was seized through foreclosure in 2011. Lenders sold the property that year for $79 million to two companies, and one bought out the other for $120 million last year.
Tivoli Village, a Mediterranean-themed complex at Rampart Boulevard and Alta Drive, was supposed to open in 2009. But its developers — after they considered mothballing the project — decided to build in phases instead.
The first portion opened in 2011, during the recession. The second phase, which management at one point said was expected to be completed in late 2013, debuted almost two months ago.
Contact Review-Journal writer Eli Segall at 702-383-0342 or esegall@reviewjournal.com. On Twitter at @eli_segall.
HISTORY OF TOWN SQUARE
— Opens November 2007
— Developers file lawsuit on Feb. 25, 2011, claiming a breach of their agreement with lenders to keep ownership of property
— Property seized through foreclosure on March 4, 2011
— Developers file lawsuit on July 25, 2012 claiming a set of debt holders were "scheming to steal Town Square."