Investors likely to favor apartment complexes
November 12, 2007 - 10:00 pm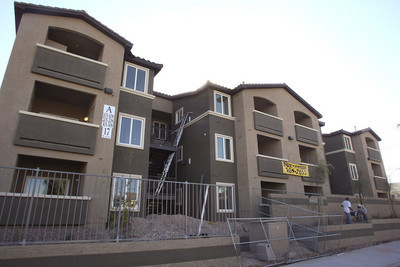 Investors with a long-term growth objective will continue to target apartment properties in Las Vegas, particularly the high-end Class A apartments, Marcus & Millichap regional manager John Vorsheck said.
The median price of apartments in Las Vegas increased 13.6 percent over the past 12 months to $93,500 a unit, a third-quarter apartment report from Marcus & Millichap Real Estate Investment Services shows. Vorsheck said he's got a property in escrow at more than $150,000 a unit.
The report expects delivery of new apartments and vacancy rates to peak during the fourth quarter, with steady absorption and slower construction forecast for 2008. Developers will add 2,500 new units to the market this year, a 2 percent increase in inventory.
Asking rents are expected to gain 3.6 percent to $859 by year's end, while effective rents are raised 3.3 percent to $819 as owners give back some of the rent in concessions. Vacancy is forecast to finish the year at 5.2 percent.
Vorsheck said 14.5 percent of all apartments are offering some kind of concession, whether it's free cable or half off the first month's rent.
"Obviously, C- and D-grade properties have to offer more," he said. "I saw someone offering free iPods. It's only $100, but it's that perception of getting something free when you move in."
CB Richard Ellis brokerage is reporting 7.7 percent apartment vacancy for Las Vegas in September, down from 7.9 percent in August. The Class A segment showed 6.7 percent vacancy for 28,500 units reporting; the middle market (40,000 units) had 8.3 percent vacancy; and the bottom end (27,000 units) reported 7.8 percent vacancy.
"We're certainly being impacted by the number of single-family homes being rented," CB Richard Ellis apartment specialist Spence Ballif said. "Apartments are really getting back to stressing what they offer, the amenities and services and how quickly things get fixed. If you're renting a house from an out-of-town investor and something breaks, good luck getting it fixed."
He said the apartment market will benefit in the long term from stricter lending standards that are making it harder to buy a home.
Average apartment rents in Las Vegas climbed 2.5 percent from a year ago to $865 and average occupancy dropped to 93.6 percent, a third-quarter report from California-based RealFacts showed.
Las Vegas joined Phoenix and Riverside-San Bernardino, Calif., as previous rent growth leaders that have continued to slide in both occupancy rates and annual rent growth.
Overall, occupancy remained above 90 percent in 32 metropolitan statistical areas covered by RealFacts. However, 24 of the markets showed annual occupancy losses. Orlando, Fla., and Phoenix were both down more than 4 percentage points and three markets fell by more than 3 percentage points. Las Vegas was off 2.2 percentage points.
Henderson had the highest average rent in Clark County at $993 (up 3 percent) and North Las Vegas was next at $922 (up 2.3 percent). Clark County as a whole averaged $881.
MEDICAL OFFICE: SR Construction has started work on MacFarlane medical office building at Warm Springs and Gagnier roads, next to the St. Rose Dominican Hospital San Martin campus.
Completion of the three-story, 42,000-square-foot steel structure is expected in first quarter 2008. Estimated construction cost is $6.3 million.
The design-build project was awarded to SR Construction with Moser Architecture Studio service as the architect of record.
NEW SCHOOL: Core Construction is building a new high school at Carey Avenue and Los Feliz Street in North Las Vegas for the Clark County School District. Construction of the $79 million school, which has yet to be named, is expected to be completed in May 2009.
It sits on 49 acres and will have 330,000 square feet of classroom and administrative space with football, baseball and soccer fields. The school is being built to relieve overcrowding at Eldorado, Rancho and Desert Pines high schools.
CARTIER CENTER: Crisci Builders has completed construction of Cartier Business Center at 4910 E. Cartier Ave. in North Las Vegas. The $8 million project by Fratelli Development consists of 10 buildings for a total of 56,000 square feet. The project is 70 percent sold. Tenants include Cutting Edge Cabinets, Sheedy Drayage and Denko Drywall.
Crisci also finished $1 million in tenant improvement work for Fertitta Enterprises, building out 9,000 square feet of office space at Charleston Pavilion, 10801 W. Charleston Blvd.
Contact reporter Hubble Smith at hsmith@reviewjournal.com or (702) 383-0491.
MILLION-DOLLAR HOME SALES
Luxury Homes of Las Vegas reported the following million-dollar home sales last week:
$1.8 million, 4 bedroom, 3.5 bath, 4,281 square feet, city, Strip and mountain views, gated cul-de-sac, gourmet kitchen, pool, spa, covered patio, Southeast.
$1.5 million, 4 bedroom, 4.5 bath, 4,356 square feet, media room, casita, Anthem Country Club.
$1.23 million, 5 bedroom, 4.5 bath, 3,876 square feet, golf, mountain and Strip views, fire pit, Anthem Country Club.
$2.7 million, 4 bedroom, 4.5 bath, 3,557 square feet, Strip and golf views, fully furnished model home, theater, casita, The Ridges.
$2 million, 4 bedroom, 4.5 bath, 3,746 square feet, double fairway and Strip view, infinity pool, spa, courtyard, casita, The Ridges.
$1 million, 5 bedroom, 5.5 bath, 4,083 square feet, mountain, lake and golf views, gourmet kitchen, hardwood floors, courtyard, balconies, Red Rock Country Club.
$1.12 million, 2 bedroom, 2.5 bath, 2,195 square feet, 29th floor, crown molding, surround sound, Turnberry Place.
$17.38 million, 4 bedroom, 7.5 bath, 12,041 square feet, 4.7-acre custom estate, panoramic views, 100-foot lap pool, infinity edge pool, two-story library, maid quarters, Shadow Creek.
$1.05 million, 5 bedroom, 4.5 bath, 5,161 square feet, library, office, casita, basketball court, pool, spa and waterfall, Northwest.