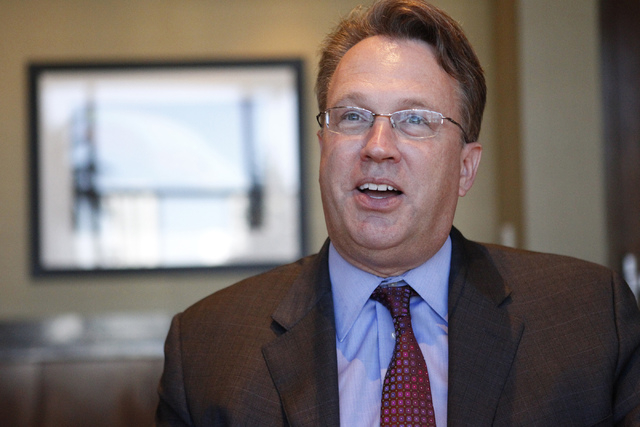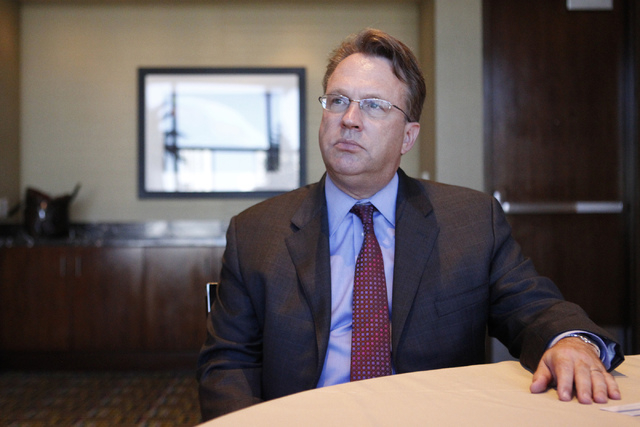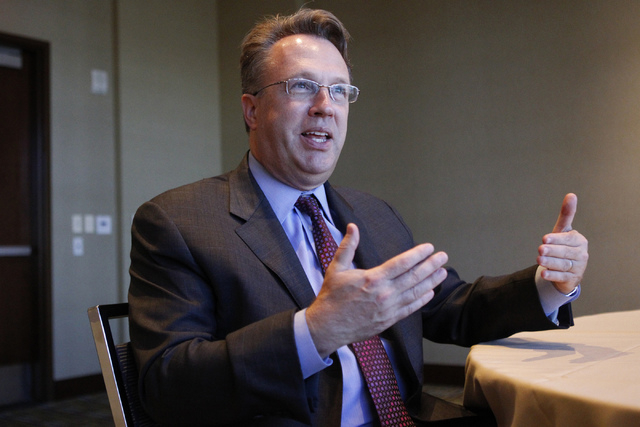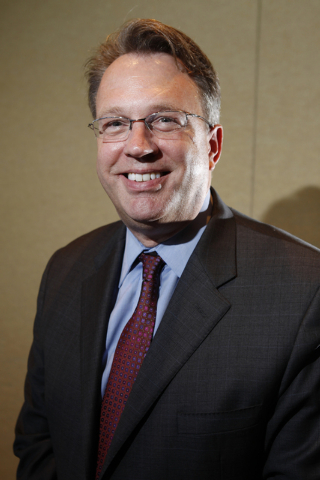 The nation technically put the Great Recession in its rear-view mirror five years ago, but to the president and CEO of the San Francisco's Federal Reserve Bank, which oversees Nevada and eight other states, there's still a ways to go to reach full recovery.
John Williams, in Las Vegas to address business people and community leaders at the Smith Center for the Performing Arts on Thursday, said he wouldn't consider the economy to be fully on track until the unemployment rate hits 5.2 percent and he doesn't see that happening until late next year or early 2016.
Williams will discuss the region's economic outlook as well as the current and future path of monetary policy in his Thursday presentation. He's also meeting with leaders and advisers to Downtown Achieves, an organization building and sustaining the downtown community with educational forums and investment. He also has scheduled a tour of the Switch supernap, a data storage facility in Las Vegas.
Williams believes the local economy is rebounding, but still not at full strength.
"Economists have different ways to gauge where we're at," Williams said in an exclusive interview with the Review-Journal on Wednesday. "They say the recession ended in the middle of 2009. But if you're asking the question that I think is the right question, are we back to full strength and is the economy fully recovered and are we back to where we need to be, my answer to that is, 'Not yet.' But we've made a lot of progress."
'STORM CLOUDS' BEYOND BORDERS
He's more concerned about events beyond the borders of the United States disrupting progress in economic recovery than anything that occur domestically.
"I don't want to pretend there's nothing that keeps me up at night in the U.S. economy," Williams said. "I think we're on a pretty good track with good momentum. It's when I look outside our borders where you see more of the storm clouds."
He said several European economies continue to struggle and while Japan's economy has made progress, it recently hit a rough patch.
"Obviously, when you think about Asia and China, you're always concerned whether they can keep that engine going with all cylinders running," Williams said.
The state of foreign economies is particularly critical to Las Vegas because a healthy economy means more money for tourism and discretionary spending.
For a region that does depend on tourist dollars and foreign tourists coming in with a good amount of money with them, it's a risk, Williams said.
Asked if it's dangerous for Las Vegas to become too dependent on foreign visitors, Williams said it still makes sense to vie for overseas dollars.
"It's not a danger because it's a diversification strategy since you're not relying as heavily on domestic demand," he said. "The bigger picture is working with emerging economies, whether it's China, India or South America.
"In Hawaii, the economy has been buffeted by the Asian economy for decades so there are definitely ups and downs in that so diversification isn't perfect and Hawaii's economy right now is benefiting from a lot of tourism from Asia because there's a lot of money there. It's not a perfect solution, but it makes sense."
SHOULD HAVE SEEN HOUSING CRASH
Other Williams' observations in the wide-ranging interview:
— The U.S. economy is holding its momentum well despite some of the negative impact of political turmoil in Washington. "I personally don't like to pick on Congress as much as the average person, but when we were in that situation when there was a debt-ceiling debate, a government shutdown and threats to default on national debt, those things clearly had big negative effects on confidence and the willingness of people to take on long-term investments and to hire people. Our analysis suggested that it had a big effect on holding back the economy. But that seems to be behind us, at least for the time being."
— The biggest lesson learned from the recession was that there's a real need for regulatory oversight as well as fiscal and monetary policy. "If one of those is missing — and we did have deficient regulation and supervision of the financial system — the whole thing can fall apart the way that led to the boom and the crash. It's a greater recognition that you have to have all of the pieces working together in terms of economic policy for this to be a strong economy."
— The reliance on housing as a primary driver of an economy as a public policy goal for everybody to own homes generates substantial risk. "Politicians like to think of homeownership as a traditional American value, but when it goes too far and people who probably shouldn't be owning homes, it's not going to be a healthy longer-term development."
— Analysts probably should have seen Southern Nevada's housing crash coming. "During the boom years, we were asking why there was so much housing construction in Las Vegas. And they said, 'Well, we need it for all the construction workers who were building all the new hotels.' So we asked, 'Who will be living in these houses once you've built the hotels?' and the answer was, 'Well, we need them for the staff at the hotels.' So in a way, it was a little like a pyramid scheme. All of it was built on the belief that the other part was holding it together."
— The United States has overinvested in housing, but underinvested in infrastructure and education. "Going forward, I think it's an important policy discussion to have about reinvesting in infrastructure and education. Those are the investments that matter. Pre-school, K-12, community colleges, state colleges, universities, all are really important. If you were to ask me about my biggest worry over the scarring effects of the recession and slow recovery, I'd say it's in investments in education being very depressed."
Contact reporter Richard N. Velotta at rvelotta@reviewjournal.com or 702-477-3893. Find him on Twitter: @RickVelotta