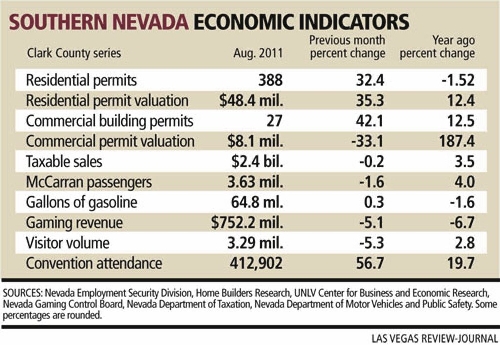 Stop us if you've heard this before.
The Las Vegas economy continues to lag the nation's, with a slumping construction industry and a soft tourism sector keeping a lid on growth here. Oh, and jobs? Few new ones for at least four to six months. Sure, Southern Nevada's economy has reached its bottom. It's just not picking itself up off of the floor.
That's the word according to the latest Southern Nevada Index of Leading Economic Indicators, which gauges the local economy based on factors ranging from building activity to gasoline purchases.
But August's index, released late Thursday, isn't all bad: A flat economy isn't a falling economy, after all, and year long local growth trends are slightly positive, said Steve Brown, director of the Center for Business and Economic Research at the University of Nevada, Las Vegas, which publishes the report. "The economy has stabilized, and there's a general upward trend since late last year," Brown said.
Still, August's figures showed that seven of 10 key metrics contributed negatively to the index, which closed the month basically flat year over year and month to month.
Residential and commercial building permits and permit values all dragged down the region's economic performance in August, as did taxable sales, passenger traffic through McCarran International Airport and visitor volume. Though some of those indicators were up year over year, they didn't look as strong as they looked in August 2010, and that relative weakness hurt the index's results.
On the upside, gasoline consumption, gross gaming revenue and convention attendance all contributed positively to the index.
"The recovery is really concentrated in tourism at this point," Brown said.
That's because the U.S. economy isn't as reliant as Las Vegas is on construction and discretionary spending, so it's significantly outperforming the local economy. That means more tourists for the region.
The Strip's biggest feeder market — California — continues to struggle more than average, though, with the nation's second-highest jobless rate, at 11.9 percent. Only Nevada's unemployment rate is higher, at 13.3 percent.
Throw in a nationwide slump in home equity, which curbs consumer spending, and bigger competition from growing gaming markets outside Nevada, and tourism will continue to grow at a "moderate" pace at best, Brown said. At current expansion rates, it could be three years before spending, room rates and other leisure and hospitality indicators return to pre-recession levels, he added.
Don't expect construction to pitch in on the city's economic revival anytime soon, either. In some areas, including civil construction and specialty contracting, activity was up, and commercial permits rose. But improvements were too small to push the index into positive territory month to month.
Brown said he expects construction to stop dragging down the index in the next few months.
"It's going to be hard for activity to get much lower," he said.
Contact reporter Jennifer Robison at jrobison@reviewjournal.com or 702-380-4512.