Las Vegas close to landing first nonstop China flights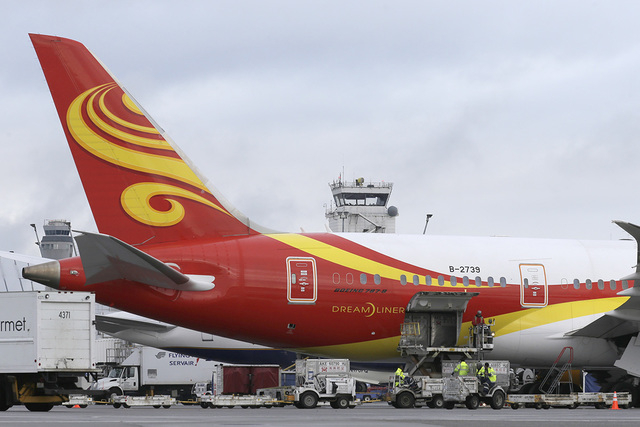 Las Vegas is close to getting its first nonstop flights to and from China after Chinese aviation authorities approved a route requested by one of that country's major air carriers.
The Civil Aviation Administration of China has approved Hainan Airlines' request to fly three round trips a week between Beijing Capital International Airport and McCarran International Airport beginning in September.
Hainan, the fourth-largest air carrier by fleet and the largest privately owned airline in China, is based in Haikou, Hainan, a city on an island just off the country's southern coastline.
Under Hainan's proposal, the airline would fly the route with a 213-seat twin-engine Boeing 787 "Dreamliner" jet.
Final approval of the route is required by the U.S. Department of Transportation, and Hainan has yet to file for authority to fly the Beijing route.
When an airline files an application, the department establishes public comment periods of either 15 or 21 days. The Department of Transportation then weighs several factors in making a determination of whether the application is in the public interest.
The timing of an approval is driven by whether there are responses filed to the application or if the application involves any bilateral agreements between the affected countries. For example, when Hainan filed for authority to serve Chicago's O'Hare International Airport from Beijing in June 2013, there were no objections filed and the application was approved one month later.
Hainan hinted that it was interested in serving Las Vegas in September when an airline executive, vice president Wei Hou, told an aviation conference meeting in Las Vegas that the airline was looking at opportunities to serve secondary U.S. markets. The airline already flies nonstop from China to Seattle and Boston.
At the Boyd Group International Aviation Forecast Summit, Hou explained that under the existing bilateral agreement between China and the United States, Chinese air carriers are limited to 180 flights a week from what are categorized as Zone 1 cities — Beijing, Shanghai and Guangzhou. At the time, Hou said Chinese airlines were flying about 90 percent of the allocated flights within the agreement.
If approved, the route would be the second trans-Pacific Las Vegas flight by an Asian carrier. Korean Air currently offers four flights a week from Seoul, South Korea to McCarran.
Japan Airlines once flew nonstop between Tokyo and Las Vegas and Singapore Airlines flew a route between Hong Kong and McCarran. Japan Airlines withdrew its flights in 2001 after the 9/11 attacks on New York and Washington. Singapore ended service after nine months in 2003 when the Severe Accute Respiriatory Syndrome virus outbreak resulted in a major downturn in Asian travel.
Most of the airport's international routes are now focused on Canada, Mexico and Europe.
Contact Richard N. Velotta at rvelotta@reviewjournal.com or 702-477-3893. Find him on Twitter: @RickVelotta.