Las Vegas Valley retail vacancies rise to 10.5 percent
October 14, 2010 - 11:47 am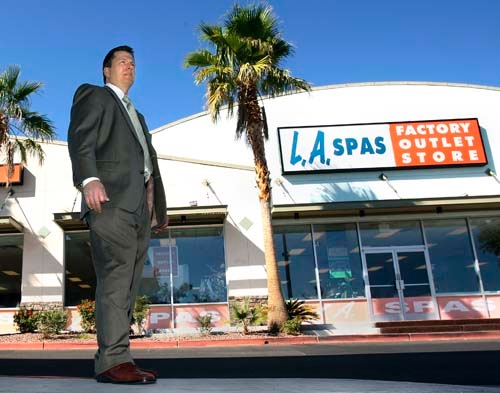 The health of Las Vegas' retail market continued to deteriorate in the third quarter as the vacancy rate rose to a new high of 10.5 percent and nearly 200,000 square feet of retail space was returned to the market, Colliers International brokerage reported.
No new anchored retail centers have been completed in the past two quarters and nothing is likely to be completed for the rest of the year, Colliers research director John Stater said in his third-quarter report.
Asking monthly rents fell to $1.58 a square foot, compared with $1.66 in the previous quarter and $1.83 a year ago.
Retail employment in Las Vegas dropped by 1,600 jobs in the 12-month period through August, though it did increase by 800 jobs between the second and third quarters, Stater said.
"Employment has rebounded since taking a steep dive in the first quarter of this year and taxable sales are showing minor improvement," Stater said. "At this point, the real estate side of the equation is still stuck on recession, but this could change in 2011 if fundamentals continue to trend upward."
Financial analysts predict consumer deleveraging will play out in the collapse of commercial real estate as some $3.5 trillion in debt financing for these properties matures.
Consumers have no choice but to deleverage. Baby boomers have come to the realization they can't retire if they continue to borrow and spend. As consumers purchase $500 billion less goods a year, retailers across the land will suffer.
Chris Cunning, vice president of investments at Marcus & Millichap, said Las Vegas becomes a microcosm of what happens in a deflationary market. Room rates are discounted, commercial real estate values have plummeted and nobody knows when we'll hit bottom, he said.
Cunning said all of his recent sales transactions have been under $5 million. He has a couple in escrow around the $1 million mark and another just below $3 million.
"My average deal size is way off and that's a function of two things," Cunning said. "One, with prices being off, that obviously affects deal size, but two is you can't get any financing for larger deals. A lot of deals fall apart from financing."
The valuation metrics are really telling, Cunning said. Not only are capitalization rates off by 50 percent to 60 percent, but sales price per foot is off by as much as 80 percent.
"Looking at price per foot tells two stories," he said. "One is how much cap rates are off and two is how much lower the income stream is today that is being capitalized due to much lower rental rates."
CB Richard Ellis reported 11.1 percent vacancy in the third quarter for 62.3 million square feet of retail space in the valley. The southwest, northwest, east and north submarkets all posted vacancy rates above 13 percent.
Average monthly lease rates decreased to $1.64 a square foot, down 6 cents from the previous quarter and down 18 cents from a year ago. One bit of positive news was net absorption of 22,684 square feet, CB Richard Ellis reported.
Top lease transactions include Nellis Outlet Furniture taking 4,715 square feet on Nellis Boulevard; Run Plus Fun leasing 4,320 feet on Eastern Avenue; Davinci's Pasta Factory occupying 4,200 feet on Decatur Boulevard; and Harold's Chicken Shack signing for 2,400 feet on Cheyenne Avenue.
The commercial market is resetting values right now and nothing will stop it, Cunning said. As investors look to minimize downside risks, top-grade listings will receive the most bids in the later part of the year, helping to increase single-tenant sales activity.
Cunning has a 5,600-square-foot, bank-owned building for sale at Tropicana Avenue and Fort Apache Road, now occupied by L.A. Spas, with the price just reduced to $895,000 from $1.1 million.
"The attraction for investors coming to Vegas today is low sales prices per foot," he said. "When you can buy a property at such a low price that you are well below replacement cost and you can rent space at under a buck a foot and make money, the odds are quite high that over time you will have made a good investment."
Real estate research firm Applied Analysis put the third-quarter retail vacancy rate at 10.7 percent, unchanged from the previous quarter and up from 10.4 percent in the year-ago period. Average asking rent was $1.60 a square foot, a decrease of 8 cents from the previous quarter and 35 cents a year- ago.
The firm also reported positive net absorption of 47,200 square feet during the quarter, the second straight quarter that retailers moved into more space than out.
Construction activity is limited to Tivoli Village, a mixed-use retail and office project at Rampart Boulevard and Alta Drive, and Caroline's Court, 74,000 square feet of inline and pad space at the Lowe's-anchored retail center at U.S. Highway 95 and Durango Drive.
With taxable sales showing few increases during the Great Recession and consumer confidence near record lows, retailers will likely continue waiting before pursuing further growth opportunities in Southern Nevada, Applied Analysis project manager Jake Joyce said.
"The upcoming holiday season, when most retailers turn an annual profit, will be a vital measurement in determining the strength and sustainability of the recovery in the local retail market," he said.
Contact reporter Hubble Smith at hsmith@reviewjournal.com or 702-383-0491.