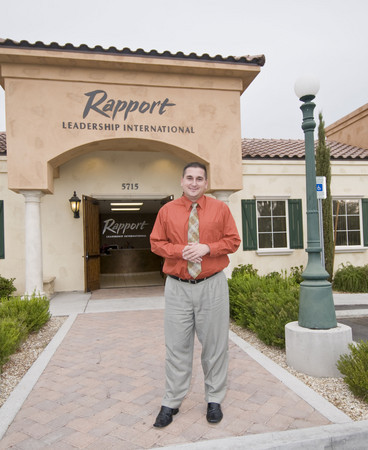 Jason Lindstrom saved a soldier's life by reading a letter, a letter the soldier had written to his mother in case he didn't come home.
While serving for the U.S. Army in an isolated station in the Middle East, one of Lindstrom's comrades collapsed and started convulsing while on guard duty in 130-degree heat.
While others worked to cool and hydrate the soldier with intravenous therapy, the soldier told Lindstrom to make sure "his mother got his letter."
Lindstrom is not sure why he did what he did next, but he took the soldier's letter out of his pocket and began to read it to him.
"All of a sudden, he started being more calm, his body stopped shaking, he was focused on me," Lindstrom said. "He is still alive today and he gives credit to that situation that it saved his life."
This event is one of three stories that will be in a book Lindstrom is writing about the power of letters. Material in the book comes from a letter he wrote to his wife, the soldier's letter, and a letter his young daughter, who is dealing with a medical condition, wrote about life.
Lindstrom is chief executive officer of Rapport Leadership International, a leadership-training company based in Las Vegas. He works with a variety of businesses, from the Fortune 500 companies down to home-based businesses. Some of the Las Vegas businesses Lindstrom has worked with are construction company Tutor Perini, public relations firm Purdue Marion & Associates, and casino companies Station Casinos and MGM Mirage.
Lindstrom divides his life so far into three chapters: serving 10 years in the U.S. Army; working in real estate; and working at Rapport. All three, he says, have to do with serving people.
Question: You said your first dream was to be a police officer. What happened?
Answer: When I was a junior and senior in high school, I volunteered as a cadet for the Sacramento, Calif., police department with the intent of going to Sacramento City College to get a two-year criminal justice degree. At 18, I was waiting for the day I could take the written test, be invited to a board of people who were hiring police officers. I passed the test, I went to a board and I realized in about 45 minutes that I was too immature and I wasn't ready for that kind of commitment.
Question: Why did you join the Army?
Answer: The police board let me know my best bet was to go to school or go into the military, mature and grow as a person. Then they would invite me back. I went to my girlfriend's house, and her dad got to talking with me, and said, "Hey, what did you learn about that?" He was a good mentor for me, my father-in-law. He taught me that when you hit the ground, be excited about it, pull the lesson out of it, and then apply it in your life. He planted the seed in a nice way to join the military. Introducing the military to me was probably the best decision professionally that I have ever made in my life, outside of marrying my wife when I was 18.
Question: Did you get married before you joined the Army?
Answer: After the police board, over the next couple weeks I decided to go get a ring and propose without his permission. I went and picked up my girlfriend. At 9 o'clock at night, we went to Taco Bell. I proposed in the drive-through. I proposed to her with "Ice Ice Baby" as the song, at Taco Bell ready to order in Spanish, because I took Spanish in high school and I wanted her to be proud. She said yes and we went home to give the news to her dad. That didn't go over well. Basically, I had two options, go to school or enlist in the Army if I wanted to provide for his daughter.
May 1, 1992, I enlisted, May 6, I left. Thirteen weeks later, I came back from basic training. I married my wife and I moved to Fort Benning, Ga., and our life began. We go to Taco Bells on our anniversaries.
Question: Who and what in your upbringing steered you toward serving people?
Answer: My mom always, by word or by action, taught me to find the value and the gift in other people. "Find the brilliance" is a phrase she uses a lot. I noticed when I was growing up that she wouldn't ever come from a place of judgment; she would always find the benefit of a human being, appreciating that we're all different. As a young person that grew on me. I began to realize that being a servant in leadership, giving to you as a person first, mattered to me. I enjoy the gifts people bring.
Question: How did you come to Rapport?
Answer: After attending a Rapport seminar in 2004, I came alive all over again in my life. I proceeded to put myself through all the courses. Then I began to invest as a business owner in the training Rapport offered with the real estate company I was in. I was promoted. We grew from one office to 21 offices. To 212 people to 4,500 people, all in about in an 18-month span, through growth and acquisitions. And I give all the credit to Rapport. Through that, I got an opportunity to come to the company a year and a half ago to be an executive and run business development. Four months later I was asked to move into the president's role. In January this year they promoted me to CEO.
Question: How do you gear what Rapport does toward business?
Answer: We believe companies are broken down into three key areas: people; skills and process; and tools and equipment. We focus in our relationships with our clients on the people. Specifically in areas of teamwork, confidence, unleashing potential, self-awareness, mission and vision values — a lot of things that will help people come alive. This is because it is our belief that at the end of the day it's the people that will help you succeed.
Question: How has the economy changed the businesses you work with?
Answer: I believe there are two types of leaders out there. There are those who are saying, "Now is the time to invest in my people and bring the best out of them. And we're going to get more from them, therefore we're going to move through this." And there are those who are not investing. What the noninvestors are not realizing is that people are sitting back afraid because they feel unimportant. So they are not giving their best and their companies are struggling. I look at results from organizations and those that are skyrocketing, their people are their priority. Those who are not have forgotten about the people element and how important those people are to an organization.
Contact reporter Arnold M. Knightly at aknightly@reviewjournal.com or 702-477-3893.
VITAL STATISTICS
Name: Jason Lindstrom.
Age: 35.
Quote: "My mom always, by word or by action, taught me to find the value and the gift in other people. 'Find the brilliance' is a phrase she uses a lot."
Position: Chief executive officer, Rapport Leadership International.
Family: Wife, Masie; daughters, Makayla, Courtney, LeAnn.
Education: Multiple military leadership courses; Rapport master graduate.
Work history: U.S. Army, May 1992 to February 2002; real estate, 2002-08; Rapport Leadership International, 2008-present.
Hobbies: Camping, boating, reading, taking daughters to Disneyland.
Favorite book: "The 17 Indisputable Laws of Teamwork: Embrace Them and Empower Your Team" by John C. Maxwell.
In Las Vegas since: 2006.
Rapport Leadership International is at 5715 Sandhill Road and can be reached at 697-5334 or www.rapportleadership.com.