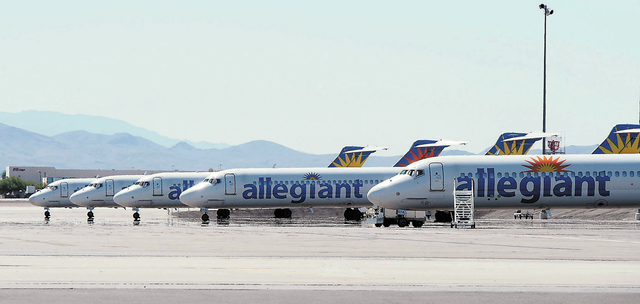 Allegiant Travel Co. is a Wall Street darling.
It's turned a profit 46 consecutive quarters and operates Allegiant Air, a leisure-based airline that has grown from a single plane flying between Fresno, Calif., and Las Vegas to a low-cost giant with 70 jets and 99 routes linking small cities nationwide to resort destinations.
And Andrew Levy was there every step of the way.
But early this month, Levy, the former president of Allegiant, stunned Southern Nevada's tourism industry and the aviation world by suddenly announcing his resignation from the company.
Did he have a falling-out with founder, chairman and CEO Maurice Gallagher?
Did Frontier Airlines, which is trying to mimic Allegiant's success with a similar business model, snatch him away?
Did he decide to leave to address a family tragedy?
None of the above.
Levy, 44, who has been with Allegiant for 13 years, seven of them as chief financial officer and had been president and chief operating officer of the company since October 2009, simply wanted a new challenge.
With Gallagher poised to stay active with Allegiant for the long haul, Levy didn't see much opportunity to expand his role.
"Obviously, I was positioned to become the successor to Maury, but I'll be honest with you, Maury isn't going anywhere," Levy said in a telephone interview.
"That's part of it, in all honesty. I want to take on and do more and my ability to do that at Allegiant is going to be limited for some time. That's fine and that makes sense. Maury has been a fantastic partner and we've done amazing things together and he's obviously a huge investor in the company and he's going to stay actively involved for who knows how long, probably many years in the future."
Levy has accepted the reality of needing to go elsewhere to advance his career.
"For me to really do something that would get me excited and stimulated professionally, it just made sense to look for that somewhere else," he said. "We're leaving as friends, the company's in terrific shape and so I feel really good about this being the time to pursue other things. But I can understand why people were surprised."
Levy isn't even sure what kind of work he's going to do.
"I'm not going to limit myself to airline- or aviation-related pursuits," he said. "I'm just going to take a little time after 20 years of working really hard to rest for awhile and clear my head and really just think about what do I want to do next."
Working for another airline doesn't appear to be in his immediate future since his contract with Allegiant included a two-year noncompete clause that prevents him from working for all but a handful of the largest airlines in the United States.
Levy said he has transferable skills that would enable him to go to a large company, start and operate a small company, run a business or manage a publicly traded company. Prior to working in the airline business, he was in telecommunications.
He said in the next two months, he expects to talk with several people about his prospects.
"I'm not the kind of person who can stay really quiet for a long time," he said. "I expect to be pretty busy talking with people. I'm not the kind of person who is going to sit and play golf and live the life of leisure. That's not me."
Although Levy was the architect of several initiatives that has grown Allegiant into the financial powerhouse it is, he said his proudest moment came early in the airline's life in 2002 when the company had just three planes.
"We were determined to not have to put more money into the business," Levy recalled. "That was the first full year we operated in and we broke even with three airplanes. That's something that most people would never think you could ever do in this industry. We took a lot of pride in that."
A close second was Allegiant continuing to maintain profitability when the price of fuel spiked in 2008.
"No other airline was able to do that without (fuel) hedging," he said. "But we did it."
Gallagher said he and several other Allegiant executives would split Levy's responsibilities in the short term before searching for a replacement. For Levy, it's a matter of waiting for the next opportunity.
"I'm looking at a clean slate and wherever that takes me, we'll see."
Contact reporter Richard N. Velotta at rvelotta@reviewjournal.com or 702-477-3893. Follow @RickVelotta on Twitter.